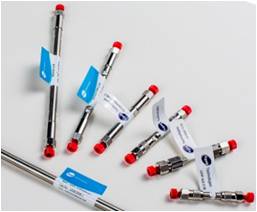 Bonna-Agela HPLC columns cover a broad field of chemistry to meet nowadays challenging needs of rapid HPLC analysis, LC-MS application, separation in extreme pH conditions as well as conventional applications in pharmaceutical, environmental and food industries. Our HPLC columns are manufactured with innovative technologies in both media manufacturing and column packing steps for unique selectivity and unsurpassed reproducibility. Bonna-Agela HPLC columns are classified into eight catogories:
Unisol C18 – A type of true universal reversed phase column for separation of a broad range of molecules such as acidic, basic and neutral organic compounds. It is under a superior performance compared to other branded C18 phases in almost every aspect.
Unisol C18(2) The improved version of Unisol C18 phase. It has excellent balance of hydrophobicity, retention, resolution and contamination tolerance, and provides excellent reproducibility because it is  less affected by the pH of  the mobile phase and buffer concentration.
Unisol Amide – It has a unique HILIC mechanism to retain and separate molecules of strong polarities. Also it can be used as either a reversed-phase or normal phase column. It outperforms any other columns on the market in the HILIC category and is a top choice to separate very polar compounds for optimized retention.
Optimix Series –A class of column provides optimized selectivity and balanced retention for hydrophilic and hydrophobic organic compounds with mixed different phases,such as SCX/C18, SAX/C18, HILIC/C18, C8/C18. It extends the retention for polar molecules while decreasing excessive retention for very hydrophobic compounds.
Durashell Series – A class of column that can be used in different pH conditions ranged from pH1.0 to pH12.0.
Venusil ASB Series – This class of column is tailored for acidic (from pH0.8 to pH3) operation. It applies a stable bonding technology to ensure low bleeding of the stationary phase, so guarantees minimum baseline noise of LC-MS application.
Bonshell Columns – Bonshell columns represent a new level of performance through a core-shell structure. They  are the best choice if you  want to speed up your HPLC analysis without an expensive UHPLC instrument.
Innoval Columns-Innoval columns are packed with ultra pure silica particles which are prepared by an aggregation of ultra pure silica sols. This class of column from Bonna-Agela shows excellent reproducibility and high efficiency
Bonna-Aglea also carries a line of accessories, such as ultra-low dead volume guard columns, fittings, column selectors and thermostat chambers, etc.  Moreover, Bonna-Agela HPLC column products are backed by industry-leading customer support.
| Column Type | Dimension (mm) | Particle Size (µm) | UPLC Innoval C18 |
| --- | --- | --- | --- |
| | | | low pH tolerance (1.5-9.0); metal impurity <30ppm, 100 Å, 220m2/g; double end-capping; carbon loadng:14%. |
| Analytic | 2.1×30 | 1.9 | IX920302-0 |
| Analytic | 2.1×50 | 1.9 | IX920502-0 |
| Analytic | 2.1×75 | 1.9 | IX920802-0 |
| Analytic | 2.1×100 | 1.9 | IX921002-0 |
| Guard column | 2.1X10, 4/PK | 1.9 | IX920102-0 |
| Analytic | 3.0×30 | 1.9 | IX920303-0 |
| Analytic | 3.0×50 | 1.9 | IX920503-0 |
| Analytic | 3.0×75 | 1.9 | IX920803-0 |
| Analytic | 3.0×100 | 1.9 | IX921003-0 |
| Guard column | 3.0X10, 4/PK | 1.9 | IX920103-0 |
| Analytic | 4.6×30 | 1.9 | IX920305-0 |
| Analytic | 4.6×50 | 1.9 | IX920505-0 |
| Analytic | 4.6×75 | 1.9 | IX920805-0 |
| Analytic | 4.6×100 | 1.9 | IX921005-0 |
| Guard column | 4.6X10, 4/PK | 1.9 | IX920105-0 |
| | | | low pH tolerance (0.8-7.5); metal impurity <30ppm, 100 Å, 220m2/g; no end-capping; carbon loadng:12%. |
| Analytic | 2.1×30 | 1.9 | IS920302-0 |
| Analytic | 2.1×50 | 1.9 | IS920502-0 |
| Analytic | 2.1×75 | 1.9 | IS920802-0 |
| Analytic | 2.1×100 | 1.9 | IS921002-0 |
| Analytic | 3.0×30 | 1.9 | IS920303-0 |
| Analytic | 3.0×50 | 1.9 | IS920503-0 |
| Analytic | 3.0×75 | 1.9 | IS920803-0 |
| Analytic | 3.0×100 | 1.9 | IS921003-0 |
| Analytic | 4.6×30 | 1.9 | IS920305-0 |
| Analytic | 4.6×50 | 1.9 | IS920505-0 |
| Analytic | 4.6×75 | 1.9 | IS920805-0 |
| Analytic | 4.6×100 | 1.9 | IS921005-0 |
| Column Type | Dimension (mm) | Particle Size (µm) | UPLC Innoval AQ C18 |
| | | | low pH tolerance (1.5-9.0); metal impurity <30ppm, 100 Å, 220m2/g; single end-capping; carbon loadng: 12%. |
| Analytic | 2.1×30 | 1.9 | IA920302-0 |
| Analytic | 2.1×50 | 1.9 | IA920502-0 |
| Analytic | 2.1×75 | 1.9 | IA920802-0 |
| Analytic | 2.1×100 | 1.9 | IA921002-0 |
| Analytic | 3.0×30 | 1.9 | IA920303-0 |
| Analytic | 3.0×50 | 1.9 | IA920503-0 |
| Analytic | 3.0×75 | 1.9 | IA920803-0 |
| Analytic | 3.0×100 | 1.9 | IA921003-0 |
| Analytic | 4.6×30 | 1.9 | IA920305-0 |
| Analytic | 4.6×50 | 1.9 | IA920505-0 |
| Analytic | 4.6×75 | 1.9 | IA920805-0 |
| Analytic | 4.6×100 | 1.9 | IA921005-0 |
| | | | low pH tolerance (2.0-8.0); metal impurity <30ppm, 100 Å, 220m2/g; no end-capping; carbon loadng: 8%. |
| Analytic | 2.1×30 | 1.9 | IH920302-0 |
| Analytic | 2.1×50 | 1.9 | IH920502-0 |
| Analytic | 2.1×75 | 1.9 | IH920802-0 |
| Analytic | 2.1×100 | 1.9 | IH921002-0 |
| Analytic | 3.0×30 | 1.9 | IH920303-0 |
| Analytic | 3.0×50 | 1.9 | IH920503-0 |
| Analytic | 3.0×75 | 1.9 | IH920803-0 |
| Analytic | 3.0×100 | 1.9 | IH921003-0 |
| Analytic | 4.6×30 | 1.9 | IH920305-0 |
| Analytic | 4.6×50 | 1.9 | IH920505-0 |
| Analytic | 4.6×75 | 1.9 | IH920805-0 |
| Analytic | 4.6×100 | 1.9 | IH921005-0 |
| | | | low pH tolerance (2.0-8.0); metal impurity <30ppm, 100 Å, 220m2/g; no end-capping. |
| Analytic | 2.1×30 | 1.9 | ISi920302-0 |
| Analytic | 2.1×50 | 1.9 | ISi920502-0 |
| Analytic | 2.1×75 | 1.9 | ISi920802-0 |
| Analytic | 2.1×100 | 1.9 | ISi921002-0 |
| Analytic | 3.0×30 | 1.9 | ISi920303-0 |
| Analytic | 3.0×50 | 1.9 | ISi920503-0 |
| Analytic | 3.0×75 | 1.9 | ISi920803-0 |
| Analytic | 3.0×100 | 1.9 | ISi921003-0 |
| Analytic | 4.6×30 | 1.9 | ISi920305-0 |
| Analytic | 4.6×50 | 1.9 | ISi920505-0 |
| Analytic | 4.6×75 | 1.9 | ISi920805-0 |
| Analytic | 4.6×100 | 1.9 | ISi921005-0 |
| Column Type | Dimension (mm) | Particle Size (µm) | Bonshell C18 |
| --- | --- | --- | --- |
| | | | Alternative to Agilent Poreshell columns. Pore size 90Å; surface area 150 m2/g; carbon loading C%=10%. |
| Fast analysis | 2.1×30 | 2.7 | SC920302-0 |
| Fast analysis | 2.1×50 | 2.7 | SC920502-0 |
| Fast analysis | 2.1×75 | 2.7 | SC920802-0 |
| Fast analysis | 2.1×100 | 2.7 | SC921002-0 |
| Fast analysis | 4.6x30 | 2.7 | SC920305-0 |
| Fast analysis | 4.6x50 | 2.7 | SC920505-0 |
| Fast analysis | 4.6x75 | 2.7 | SC920805-0 |
| Fast analysis | 4.6×100 | 2.7 | SC921005-0 |
| Column Type | Dimension (mm) | Particle Size (µm) | Bonshell ASB C18 |
| | | | Alternative to Agilent Poreshell columns.Non End-capped. Pore size 90Å; surface area 150 m2/g; carbon loading C%=8%. |
| Fast analysis | 2.1×30 | 2.7 | SS920302-0 |
| Fast analysis | 2.1×50 | 2.7 | SS920502-0 |
| Fast analysis | 2.1×75 | 2.7 | SS920802-0 |
| Fast analysis | 2.1×100 | 2.7 | SS921002-0 |
| Fast analysis | 4.6x30 | 2.7 | SS920305-0 |
| Fast analysis | 4.6x50 | 2.7 | SS920505-0 |
| Fast analysis | 4.6x75 | 2.7 | SS920805-0 |
| Fast analysis | 4.6×100 | 2.7 | SS921005-0 |
Column Type
Dimension (mm)
Particle Size (µm)
Innoval ODS-2
General C18(2),
100Å, 320
m2/g; C%=14
Analytical
2.1×30
5
IX950302-2
Analytical
2.1×50
5
IX950502-2
Analytical
2.1×100
5
IX951002-2
Analytical
2.1×150
5
IX951502-2
Analytical
3.0x30
5
IX950303-2
Analytical
3.0x50
5
IX950503-2
Analytical
3.0x100
5
IX951003-2
Analytical
3.0x150
5
IX951503-2
Analytical
4.6×50
5
IX950505-2
Analytical
4.6×100
5
IX951005-2
Analytical
4.6×150
5
IX951505-2
Analytical
4.6×200
5
IX952005-2
Analytical
4.6×250
5
IX952505-2
Guard cartridge,
4.6×10 pack of 4
5
IX950105-2
Guard cartridge Holder
ID: 2.1, 3.0, 4.6
CH-100
Semi-preparative
10×150
5
IX951510-2
Semi-preparative
10×250
5
IX952510-2
Preparative
20×50
5
IX950520-2
Preparative
20×100
5
IX951020-2
Preparative
20×150
5
IX951520-2
Preparative
20×250
5
IX952520-2
Preparative
30×100
5
IX951030-2
Preparative
30×150
5
IX951530-2
Preparative
30×250
5
IX952530-2
Semi-preparative
10×150
10
IX901510-2
Semi-preparative
10×250
10
IX902510-2
Preparative
20×150
10
IX901520-2
Preparative
20×250
10
IX902520-2
Preparative
30×150
10
IX901530-2
Preparative
30×250
10
IX902530-2
Preparative
50x150
10
IX901550-2
Preparative
50x250
10
IX902550-2
Preparative Guard
20x10
10
IX900120-2
Preparative Guard
20x20
10
IX900220-2
Preparative Guard
20x10
5
IX950120-2
Preparative Guard
20×20
5
IX950220-2
Column Type
Dimension (mm)
Particle Size (µm)
Innoval -C8
General C8, 100Å, 220 m2/g; C%=10
Analytical
2.1×30
5
IX850302-0
Analytical
2.1×50
5
IX850502-0
Analytical
2.1×100
5
IX851002-0
Analytical
2.1×150
5
IX851502-0
Analytical
3.0x30
5
IX850303-0
Analytical
3.0x50
5
IX850503-0
Analytical
3.0x100
5
IX851003-0
Analytical
3.0x150
5
IX851503-0
Analytical
4.6×50
5
IX850505-0
Analytical
4.6×100
5
IX851005-0
Analytical
4.6×150
5
IX851505-0
Analytical
4.6×200
5
IX852005-0
Analytical
4.6×250
5
IX852505-0
Guard cartridge,
4.6×10
5
IX850105-0
Guard cartridge Holder
ID: 2.1, 3.0, 4.6
CH-100
Column Type
Dimension (mm)
Particle Size (µm)
Innoval AQ C18
Reverse Phase Columns for Small Molecules
General C8, 100Å, 220 m2/g; C%=15
Analytical
2.1×30
5
IA950302-0
Analytical
2.1×50
5
IA950502-0
Analytical
2.1×100
5
IA951002-0
Analytical
2.1×150
5
IA951502-0
Analytical
3.0x30
5
IA950303-0
Analytical
3.0x50
5
IA950503-0
Analytical
3.0x100
5
IA951003-0
Analytical
3.0x150
5
IA951503-0
Analytical
4.6×50
5
IA950505-0
Analytical
4.6×100
5
IA951005-0
Analytical
4.6×150
5
IA951505-0
Analytical
4.6×200
5
IA952005-0
Analytical
4.6×250
5
IA952505-0
Guard cartridge,
4.6×10
5
IA950105-0
Guard cartridge Holder
ID: 2.1, 3.0, 4.6
CH-100
Guard cartridge,
4.6×10 , 4/pk
5
IX550105-0
Guard cartridge Holder
Holder 2.1,3.0,4.6
CH-100
Column Type
Dimension (mm)
Particle Size (µm)
Innoval-Silica
high purity; 100A; 220m2/g
Analytical
2.1×30
5
ISi950302-0
Analytical
2.1×50
5
ISi950502-0
Analytical
2.1×100
5
ISi951002-0
Analytical
2.1×150
5
ISi951502-0
Analytical
3.0x30
5
ISi950303-0
Analytical
3.0x50
5
ISi950503-0
Analytical
3.0x100
5
ISi951003-0
Analytical
3.0x150
5
ISi951503-0
Analytical
4.6×50
5
ISi950505-0
Analytical
4.6×100
5
ISi951005-0
Analytical
4.6×150
5
ISi951505-0
Analytical
4.6×200
5
ISi952005-0
Analytical
4.6×250
5
ISi952505-0
Guard cartridge,
4.6×10 , 4/pk
5
ISi950105-0
Guard cartridge Holder
Holder 2.1,3.0,4.6
CH-100
Semi-preparative
10×150
5
ISi951510-0
Semi-preparative
10×250
5
ISi952510-0
Preparative
20×50
5
ISi950520-0
Preparative
20×100
5
ISi951020-0
Preparative
20×150
5
ISi951520-0
Preparative
20×250
5
ISi952520-0
Preparative
30×100
5
ISi951030-0
Preparative
30×150
5
ISi951530-0
Preparative
30×250
5
ISi952530-0
Semi-preparative
10×150
10
ISi901510-0
Semi-preparative
10×250
10
ISi902510-0
Preparative
20×150
10
ISi901520-0
Preparative
20×250
10
ISi902520-0
Preparative
30×150
10
ISi901530-0
Preparative
30×250
10
ISi902530-0
Preparative
50x150
10
ISi901550-0
Preparative
50x250
10
ISi902550-0
Preparative Guard
20x10
10
ISi900120-0
Preparative Guard
20x20
10
ISi900220-0
Preparative Guard
20x10
5
ISi950120-0
Preparative Guard
20×20
5
ISi950220-0
Column Type
Dimension (mm)
Particle Size (µm)
Innoval -NH2
high purity; 100 Å, 320m2/g,
Analytical
2.1×30
5
IX750302-0
Analytical
2.1×50
5
IX750502-0
Analytical
2.1×100
5
IX751002-0
Analytical
2.1×150
5
IX751502-0
Analytical
3.0x30
5
IX750303-0
Analytical
3.0x50
5
IX750503-0
Analytical
3.0x100
5
IX751003-0
Analytical
3.0x150
5
IX751503-0
Analytical
4.6×50
5
IX750505-0
Analytical
4.6×100
5
IX751005-0
Analytical
4.6×150
5
IX751505-0
Analytical
4.6×200
5
IX752005-0
Analytical
4.6×250
5
IX752505-0
Guard cartridge,
4.6×10 , 4/pk
5
IX750105-0
Guard cartridge Holder
Holder 2.1,3.0,4.6
CH-100
Innoval ASB Series
Column Type
Dimension (mm)
Particle Size (µm)
Innoval ASB C18
General C18,
100Å, 220
m2/g; C%=12
Analytical
2.1×30
5
IS950302-0
Analytical
2.1×50
5
IS950502-0
Analytical
2.1×100
5
IS951002-0
Analytical
2.1×150
5
IS951502-0
Analytical
3.0x30
5
IS950303-0
Analytical
3.0x50
5
IS950503-0
Analytical
3.0x100
5
IS951003-0
Analytical
3.0x150
5
IS951503-0
Analytical
4.6×50
5
IS950505-0
Analytical
4.6×100
5
IS951005-0
Analytical
4.6×150
5
IS951505-0
Analytical
4.6×200
5
IS952005-0
Analytical
4.6×250
5
IS952505-0
Guard cartridge,
4.6×10 pack of 4
5
IS950105-0
Guard cartridge Holder
ID: 2.1, 3.0, 4.6
CH-100
Semi-preparative
10×150
5
IS951510-0
Semi-preparative
10×250
5
IS952510-0
Preparative
20×50
5
IS950520-0
Preparative
20×100
5
IS951020-0
Preparative
20×150
5
IS951520-0
Preparative
20×250
5
IS952520-0
Preparative
30×100
5
IS951030-0
Preparative
30×150
5
IS951530-0
Preparative
30×250
5
IS952530-0
Semi-preparative
10×150
10
IS901510-0
Semi-preparative
10×250
10
IS902510-0
Preparative
20×150
10
IS901520-0
Preparative
20×250
10
IS902520-0
Preparative
30×150
10
IS901530-0
Preparative
30×250
10
IS902530-0
Preparative
50x150
10
IS901550-0
Preparative
50x250
10
IS902550-0
Preparative Guard
20x10
10
IS900120-0
Preparative Guard
20x20
10
IS900220-0
Preparative Guard
20x10
5
IS950120-0
Preparative Guard
20×20
5
IS950220-0
Column Type
Dimension (mm)
Particle Size (µm)
Innoval ASB C8
General C8, 100Å, 220 m2/g; C%=10
Analytical
2.1×30
5
IS850302-0
Analytical
2.1×50
5
IS850502-0
Analytical
2.1×100
5
IS851002-0
Analytical
2.1×150
5
IS851502-0
Analytical
3.0x30
5
IS850303-0
Analytical
3.0x50
5
IS850503-0
Analytical
3.0x100
5
IS851003-0
Analytical
3.0x150
5
IS851503-0
Analytical
4.6×50
5
IS850505-0
Analytical
4.6×100
5
IS851005-0
Analytical
4.6×150
5
IS851505-0
Analytical
4.6×200
5
IS852005-0
Analytical
4.6×250
5
IS852505-0
Guard cartridge,
4.6×10
5
IS850105-0
Guard cartridge Holder
ID: 2.1, 3.0, 4.6
CH-100
Column Type
Dimension (mm)
Particle Size (µm)
Innoval ASB AQ
Reverse Phase Columns for Small Molecules
General C8, 100Å, 220 m2/g; C%=10
Analytical
2.1×30
5
IS450302-0
Analytical
2.1×50
5
IS450502-0
Analytical
2.1×100
5
IS451002-0
Analytical
2.1×150
5
IS451502-0
Analytical
3.0x30
5
IS450303-0
Analytical
3.0x50
5
IS450503-0
Analytical
3.0x100
5
IS451003-0
Analytical
3.0x150
5
IS451503-0
Analytical
4.6×50
5
IS450505-0
Analytical
4.6×100
5
IS451005-0
Analytical
4.6×150
5
IS451505-0
Analytical
4.6×200
5
IS452005-0
Analytical
4.6×250
5
IS452505-0
Guard cartridge,
4.6×10
5
IS450105-0
Guard cartridge Holder
ID: 2.1, 3.0, 4.6
CH-100
Guard cartridge,
4.6×10 , 4/pk
5
IS450105-0
Guard cartridge Holder
Holder 2.1,3.0,4.6
CH-100
Column Type
Dimension (mm)
Particle Size (µm)
Innoval ASB CN
high purity; 100 Å, 320m2/g, C%=5
Analytical
2.1×30
5
IC950302-0
Analytical
2.1×50
5
IC950502-0
Analytical
2.1×100
5
IC951002-0
Analytical
2.1×150
5
IC951502-0
Analytical
3.0x30
5
IC950303-0
Analytical
3.0x50
5
IC950503-0
Analytical
3.0x100
5
IC951003-0
Analytical
3.0x150
5
IC951503-0
Analytical
4.6×50
5
IC950505-0
Analytical
4.6×100
5
IC951005-0
Analytical
4.6×150
5
IC951505-0
Analytical
4.6×200
5
IC952005-0
Analytical
4.6×250
5
IC952505-0
Guard cartridge,
4.6×10 , 4/pk
5
IC950105-0
Guard cartridge Holder
Holder 2.1,3.0,4.6
CH-100
Column Type
Dimension (mm)
Particle Size (µm)
Innoval ASB Phenyl
high purity; 100 Å, 320m2/g, C%=8
Analytical
2.1×30
5
IS650302-0
Analytical
2.1×50
5
IS650502-0
Analytical
2.1×100
5
IS651002-0
Analytical
2.1×150
5
IS651502-0
Analytical
3.0x30
5
IS650303-0
Analytical
3.0x50
5
IS650503-0
Analytical
3.0x100
5
IS651003-0
Analytical
3.0x150
5
IS651503-0
Analytical
4.6×50
5
IS650505-0
Analytical
4.6×100
5
IS651005-0
Analytical
4.6×150
5
IS651505-0
Analytical
4.6×200
5
IS652005-0
Analytical
4.6×250
5
IS652505-0
Guard cartridge,
4.6×10 , 4/pk
5
IS650105-0
Guard cartridge Holder
Holder 2.1,3.0,4.6
CH-100
| Column Type | Dimension (mm) | Particle Size (µm) | Durashell C18 |
| --- | --- | --- | --- |
| | | | Reverse Phase Columns for Small Molecules |
| Analytical | 2.1×30 | 5 | DC950302-0 |
| Analytical | 2.1×50 | 5 | DC950502-0 |
| Analytical | 2.1×100 | 5 | DC951002-0 |
| Analytical | 2.1×150 | 5 | DC951502-0 |
| Guard cartridge | 2.1×10 ,4/pk | 5 | DC950102-0S |
| Guard cartridge | 2.1×10 ,4/pk | 5 | DC950102-0 |
| Analytical | 3.0x30 | 5 | DC950303-0 |
| Analytical | 3.0x50 | 5 | DC950503-0 |
| Analytical | 3.0x100 | 5 | DC951003-0 |
| Analytical | 3.0x150 | 5 | DC951503-0 |
| Analytical | 4.6×50 | 5 | DC950505-0 |
| Analytical | 4.6×100 | 5 | DC951005-0 |
| Analytical | 4.6×150 | 5 | DC951505-0 |
| Analytical | 4.6×200 | 5 | DC952005-0 |
| Analytical | 4.6×250 | 5 | DC952505-0 |
| Guard Cartridge | 4.6×10, 4/pk | 5 | DC950105-0S |
| Guard Cartridge | 4.6×10, 4/pk | 5 | DC950105-0 |
| Fast analysis | 2.1×30 | 3 | DC930302-0 |
| Fast analysis | 2.1×50 | 3 | DC930502-0 |
| Fast analysis | 2.1×100 | 3 | DC931002-0 |
| Fast analysis | 2.1×150 | 3 | DC931502-0 |
| Guard cartridge | 2.1×10 ,4/pk | 3 | DC930102-0S |
| Guard cartridge | 2.1×10 ,4/pk | 3 | DC930102-0 |
| Analytical | 3.0x30 | 3 | DC930303-0 |
| Analytical | 3.0x50 | 3 | DC930503-0 |
| Analytical | 3.0x100 | 3 | DC931003-0 |
| Analytical | 3.0x150 | 3 | DC931503-0 |
| Guard cartridge | 3.0×10 ,4/pk | 3 | DC930103-0S |
| Guard cartridge | 3.0×10 ,4/pk | 3 | DC930103-0 |
| Fast analysis | 4.6×50 | 3 | DC930505-0 |
| Fast analysis | 4.6×100 | 3 | DC931005-0 |
| Fast analysis | 4.6×150 | 3 | DC931505-0 |
| Guard cartridge | 4.6×10;4/pk | 3 | DC930105-0S |
| Guard cartridge | 4.6×10;4/pk | 3 | DC930105-0 |
| Cartridge Holder | 2.1, 3.0, 4.6 | | CH-100 |
| Semi-preparative | 10×150 | 5 | DC951510-0 |
| Semi-preparative | 10×250 | 5 | DC952510-0 |
| Preparative | 20×50 | 5 | DC950520-0 |
| Preparative | 20×100 | 5 | DC951020-0 |
| Preparative | 20×150 | 5 | DC951520-0 |
| Preparative | 20×250 | 5 | DC952520-0 |
| Preparative | 30×100 | 5 | DC951030-0 |
| Preparative | 30×150 | 5 | DC951530-0 |
| Preparative | 30×250 | 5 | DC952530-0 |
| Guard cartridge | 10×10 | 5 | DC950110-0S |
| Guard cartridge | 20×10 | 5 | DC950120-0 |
| Guard cartridge | 20×20 | 5 | DC950220-0 |
| Semi-preparative | 4.6x150 | 10 | DC901505-0 |
| Semi-preparative | 10×150 | 10 | DC901510-0 |
| Semi-preparative | 4.6X250 | 10 | DC902505-0 |
| Semi-preparative | 10×250 | 10 | DC902510-0 |
| Preparative | 20×50 | 10 | DC900520-0 |
| Preparative | 20×150 | 10 | DC901520-0 |
| Preparative | 20×250 | 10 | DC902520-0 |
| Preparative | 30×100 | 10 | DC901030-0 |
| Preparative | 30×150 | 10 | DC901530-0 |
| Preparative | 30X200 | 10 | DC902030-0 |
| Preparative | 30×250 | 10 | DC902530-0 |
| Preparative | 50×150 | 10 | DC901550-0 |
| Preparative | 50×250 | 10 | DC902550-0 |
| Guard cartridge | 20×20 | 10 | DC900220-0 |
| Guard cartridge | 20×10 | 10 | DC900120-0S |
| Guard cartridge | 20×10 | 10 | DC900120-0 |
| Cartridge Holder | 20x10 | | CH-200 |
| Column Type | Dimension (mm) | Particle Size (µm) | Durashell C18 (2)-L |
| | | | Reverse Phase Columns for Small Molecules, |
| Analytical | 2.1×30 | 5 | DC950302-2L |
| Analytical | 2.1×50 | 5 | DC950502-2L |
| Analytical | 2.1×100 | 5 | DC951002-2L |
| Analytical | 2.1×150 | 5 | DC951502-2L |
| Guard cartridge | 2.1×10 ,4/pk | 5 | DC950102-2LS |
| Guard cartridge | 2.1×10 ,4/pk | 5 | DC950102-2L |
| Analytical | 3.0x30 | 5 | DC950303-2L |
| Analytical | 3.0x50 | 5 | DC950503-2L |
| Analytical | 3.0x100 | 5 | DC951003-2L |
| Analytical | 3.0x150 | 5 | DC951503-2L |
| Analytical | 4.6×50 | 5 | DC950505-2L |
| Analytical | 4.6×100 | 5 | DC951005-2L |
| Analytical | 4.6×150 | 5 | DC951505-2L |
| Analytical | 4.6×200 | 5 | DC952005-2L |
| Analytical | 4.6×250 | 5 | DC952505-2L |
| Guard Cartridge | 4.6×10, 4/pk | 5 | DC950105-2LS |
| Guard Cartridge | 4.6×10, 4/pk | 5 | DC950105-2L |
| Fast analysis | 2.1×30 | 3 | DC930302-2L |
| Fast analysis | 2.1×50 | 3 | DC930502-2L |
| Fast analysis | 2.1×100 | 3 | DC931002-2L |
| Fast analysis | 2.1×150 | 3 | DC931502-2L |
| Guard cartridge | 2.1×10 ,4/pk | 3 | DC930102-2LS |
| Guard cartridge | 2.1×10 ,4/pk | 3 | DC930102-2L |
| Analytical | 3.0x30 | 3 | DC930303-2L |
| Analytical | 3.0x50 | 3 | DC930503-2L |
| Analytical | 3.0x100 | 3 | DC931003-2L |
| Analytical | 3.0x150 | 3 | DC931503-2L |
| Guard cartridge | 3.0×10 ,4/pk | 3 | DC930103-2LS |
| Guard cartridge | 3.0×10 ,4/pk | 3 | DC930103-2L |
| Fast analysis | 4.6×50 | 3 | DC930505-2L |
| Fast analysis | 4.6×100 | 3 | DC931005-2L |
| Fast analysis | 4.6×150 | 3 | DC931505-2L |
| Guard cartridge | 4.6×10;4/pk | 3 | DC930105-2LS |
| Guard cartridge | 4.6×10;4/pk | 3 | DC930105-2L |
| Cartridge Holder | 2.1, 3.0, 4.6 | | CH-100 |
| Semi-preparative | 10×150 | 5 | DC951510-2L |
| Semi-preparative | 10×250 | 5 | DC952510-2L |
| Preparative | 20×50 | 5 | DC950520-2L |
| Preparative | 20×100 | 5 | DC951020-2L |
| Preparative | 20×150 | 5 | DC951520-2L |
| Preparative | 20×250 | 5 | DC952520-2L |
| Preparative | 30×100 | 5 | DC951030-2L |
| Preparative | 30×150 | 5 | DC951530-2L |
| Preparative | 30×250 | 5 | DC952530-2L |
| Guard cartridge | 10×10 | 5 | DC950110-2LS |
| Guard cartridge | 20×10 | 5 | DC950120-2L |
| Guard cartridge | 20×20 | 5 | DC950220-2L |
| Semi-preparative | 4.6x150 | 10 | DC901505-2L |
| Semi-preparative | 10×150 | 10 | DC901510-2L |
| Semi-preparative | 4.6X250 | 10 | DC902505-2L |
| Semi-preparative | 10×250 | 10 | DC902510-2L |
| Preparative | 20×50 | 10 | DC900520-2L |
| Preparative | 20×150 | 10 | DC901520-2L |
| Preparative | 20×250 | 10 | DC902520-2L |
| Preparative | 30×100 | 10 | DC901030-2L |
| Preparative | 30×150 | 10 | DC901530-2L |
| Preparative | 30X200 | 10 | DC902030-2L |
| Preparative | 30×250 | 10 | DC902530-2L |
| Preparative | 50×150 | 10 | DC901550-2L |
| Preparative | 50×250 | 10 | DC902550-2L |
| Guard cartridge | 20×20 | 10 | DC900220-2L |
| Guard cartridge | 20×10 | 10 | DC900120-2LS |
| Guard cartridge | 20×10 | 10 | DC900120-2L |
| Cartridge Holder | 20x10 | | CH-200 |
| Column Type | Dimension (mm) | Particle Size (µm) | Durashell RP |
| | | | Reverse Phase Columns for Small Molecules |
| Analytical | 2.1×30 | 5 | DS950302-0 |
| Analytical | 2.1×50 | 5 | DS950502-0 |
| Analytical | 2.1×100 | 5 | DS951002-0 |
| Analytical | 2.1×150 | 5 | DS951502-0 |
| Analytical | 3.0x30 | 5 | DS950303-0 |
| Analytical | 3.0x50 | 5 | DS950503-0 |
| Analytical | 3.9x150 | 5 | DS9515039-0 |
| Analytical | 4.6×50 | 5 | DS950505-0 |
| Analytical | 4.6×100 | 5 | DS951005-0 |
| Analytical | 4.6×150 | 5 | DS951505-0 |
| Analytical | 4.6×200 | 5 | DS952005-0 |
| Analytical | 4.6×250 | 5 | DS952505-0 |
| Guard Column | 4.6×10, 4/pk | 5 | DS950105-0 |
| Fast analysis | 2.1×30 | 3 | DS930302-0 |
| Fast analysis | 2.1×50 | 3 | DS930502-0 |
| Fast analysis | 2.1×100 | 3 | DS931002-0 |
| Analytical | 3.0x50 | 3 | DS930503-0 |
| Fast analysis | 4.6×50 | 3 | DS930505-0 |
| Fast analysis | 4.6×100 | 3 | DS931005-0 |
| Fast analysis | 4.6×150 | 3 | DS931505-0 |
| Guard Column | 4.6×10;4/pk | 3 | DS930105-0 |
| Cartridge Holder | 2.1, 3.0, 4.6 | | CH-100 |
| Preparative | 21.2×150 | 5 | DS951520-0 |
| Preparative | 21.2×250 | 5 | DS952520-0 |
| Semi-preparative | 4.6X200 | 10 | DS902005-0 |
| Semi-preparative | 4.6X250 | 10 | DS902505-0 |
| Semi-preparative | 10×250 | 10 | DS902510-0 |
| Preparative | 20×250 | 10 | DS902520-0 |
| Preparative | 30×150 | 10 | DS901530-0 |
| Preparative | 50×250 | 10 | DS902550-0 |
| Cartridge Holder | 20x10 | | CH-200 |
| Column Type | Dimension (mm) | Particle Size (µm) | Durashell C8 |
| | | | Reverse Phase Columns for Small Molecules |
| Analytical | 2.1×30 | 5 | DC850302-0 |
| Analytical | 2.1×50 | 5 | DC850502-0 |
| Analytical | 2.1×100 | 5 | DC851002-0 |
| Analytical | 2.1×150 | 5 | DC851502-0 |
| Guard cartridge | 2.1×10 ,4/pk | 5 | DC850102-0S |
| Guard cartridge | 2.1×10 ,4/pk | 5 | DC850102-0 |
| Analytical | 3.0x30 | 5 | DC850303-0 |
| Analytical | 3.0x50 | 5 | DC850503-0 |
| Analytical | 3.0x100 | 5 | DC851003-0 |
| Analytical | 3.0x150 | 5 | DC851503-0 |
| Analytical | 4.6×50 | 5 | DC850505-0 |
| Analytical | 4.6×100 | 5 | DC851005-0 |
| Analytical | 4.6×150 | 5 | DC851505-0 |
| Analytical | 4.6×200 | 5 | DC852005-0 |
| Analytical | 4.6×250 | 5 | DC852505-0 |
| Guard Cartridge | 4.6×10, 4/pk | 5 | DC850105-0S |
| Guard Cartridge | 4.6×10, 4/pk | 5 | DC850105-0 |
| Fast analysis | 2.1×30 | 3 | DC830302-0 |
| Fast analysis | 2.1×50 | 3 | DC830502-0 |
| Fast analysis | 2.1×100 | 3 | DC831002-0 |
| Fast analysis | 2.1×150 | 3 | DC831502-0 |
| Guard cartridge | 2.1×10 ,4/pk | 3 | DC830102-0S |
| Guard cartridge | 2.1×10 ,4/pk | 3 | DC830102-0 |
| Analytical | 3.0x30 | 3 | DC830303-0 |
| Analytical | 3.0x50 | 3 | DC830503-0 |
| Analytical | 3.0x100 | 3 | DC831003-0 |
| Analytical | 3.0x150 | 3 | DC831503-0 |
| Guard cartridge | 3.0×10 ,4/pk | 3 | DC830103-0S |
| Guard cartridge | 3.0×10 ,4/pk | 3 | DC830103-0 |
| Fast analysis | 4.6×50 | 3 | DC830505-0 |
| Fast analysis | 4.6×100 | 3 | DC831005-0 |
| Fast analysis | 4.6×150 | 3 | DC831505-0 |
| Guard cartridge | 4.6×10;4/pk | 3 | DC830105-0S |
| Guard cartridge | 4.6×10;4/pk | 3 | DC830105-0 |
| Cartridge Holder | 2.1, 3.0, 4.6 | | CH-100 |
| Semi-preparative | 10×150 | 5 | DC851510-0 |
| Semi-preparative | 10×250 | 5 | DC852510-0 |
| Preparative | 20×50 | 5 | DC850520-0 |
| Preparative | 20×100 | 5 | DC851020-0 |
| Preparative | 20×150 | 5 | DC851520-0 |
| Preparative | 20×250 | 5 | DC852520-0 |
| Preparative | 30×100 | 5 | DC851030-0 |
| Preparative | 30×150 | 5 | DC851530-0 |
| Preparative | 30×250 | 5 | DC852530-0 |
| Guard cartridge | 10×10 | 5 | DC850110-0S |
| Guard cartridge | 20×10 | 5 | DC850120-0 |
| Guard cartridge | 20×20 | 5 | DC850220-0 |
| Semi-preparative | 4.6x150 | 10 | DC801505-0 |
| Semi-preparative | 10×150 | 10 | DC801510-0 |
| Semi-preparative | 4.6X250 | 10 | DC802505-0 |
| Semi-preparative | 10×250 | 10 | DC802510-0 |
| Preparative | 20×50 | 10 | DC800520-0 |
| Preparative | 20×150 | 10 | DC801520-0 |
| Preparative | 20×250 | 10 | DC802520-0 |
| Preparative | 30×100 | 10 | DC801030-0 |
| Preparative | 30×150 | 10 | DC801530-0 |
| Preparative | 30X200 | 10 | DC802030-0 |
| Preparative | 30×250 | 10 | DC802530-0 |
| Preparative | 50×150 | 10 | DC801550-0 |
| Preparative | 50×250 | 10 | DC802550-0 |
| Guard cartridge | 20×20 | 10 | DC800220-0 |
| Guard cartridge | 20×10 | 10 | DC800120-0S |
| Guard cartridge | 20×10 | 10 | DC800120-0 |
| Cartridge Holder | 20x10 | | CH-200 |
| Column Type | Dimension (mm) | Particle Size (µm) | Durashell C8 (2)-L |
| | | | Reverse Phase Columns for Small Molecules, |
| Analytical | 2.1×30 | 5 | DC850302-2L |
| Analytical | 2.1×50 | 5 | DC850502-2L |
| Analytical | 2.1×100 | 5 | DC851002-2L |
| Analytical | 2.1×150 | 5 | DC851502-2L |
| Guard cartridge | 2.1×10 ,4/pk | 5 | DC850102-2LS |
| Guard cartridge | 2.1×10 ,4/pk | 5 | DC850102-2L |
| Analytical | 3.0x30 | 5 | DC850303-2L |
| Analytical | 3.0x50 | 5 | DC850503-2L |
| Analytical | 3.0x100 | 5 | DC851003-2L |
| Analytical | 3.0x150 | 5 | DC851503-2L |
| Analytical | 4.6×50 | 5 | DC850505-2L |
| Analytical | 4.6×100 | 5 | DC851005-2L |
| Analytical | 4.6×150 | 5 | DC851505-2L |
| Analytical | 4.6×200 | 5 | DC852005-2L |
| Analytical | 4.6×250 | 5 | DC852505-2L |
| Guard Cartridge | 4.6×10, 4/pk | 5 | DC850105-2LS |
| Guard Cartridge | 4.6×10, 4/pk | 5 | DC850105-2L |
| Fast analysis | 2.1×30 | 3 | DC830302-2L |
| Fast analysis | 2.1×50 | 3 | DC830502-2L |
| Fast analysis | 2.1×100 | 3 | DC831002-2L |
| Fast analysis | 2.1×150 | 3 | DC831502-2L |
| Guard cartridge | 2.1×10 ,4/pk | 3 | DC830102-2LS |
| Guard cartridge | 2.1×10 ,4/pk | 3 | DC830102-2L |
| Analytical | 3.0x30 | 3 | DC830303-2L |
| Analytical | 3.0x50 | 3 | DC830503-2L |
| Analytical | 3.0x100 | 3 | DC831003-2L |
| Analytical | 3.0x150 | 3 | DC831503-2L |
| Guard cartridge | 3.0×10 ,4/pk | 3 | DC830103-2LS |
| Guard cartridge | 3.0×10 ,4/pk | 3 | DC830103-2L |
| Fast analysis | 4.6×50 | 3 | DC830505-2L |
| Fast analysis | 4.6×100 | 3 | DC831005-2L |
| Fast analysis | 4.6×150 | 3 | DC831505-2L |
| Guard cartridge | 4.6×10;4/pk | 3 | DC830105-2LS |
| Guard cartridge | 4.6×10;4/pk | 3 | DC830105-2L |
| Cartridge Holder | 2.1, 3.0, 4.6 | | CH-100 |
| Semi-preparative | 10×150 | 5 | DC851510-2L |
| Semi-preparative | 10×250 | 5 | DC852510-2L |
| Preparative | 20×50 | 5 | DC850520-2L |
| Preparative | 20×100 | 5 | DC851020-2L |
| Preparative | 20×150 | 5 | DC851520-2L |
| Preparative | 20×250 | 5 | DC852520-2L |
| Preparative | 30×100 | 5 | DC851030-2L |
| Preparative | 30×150 | 5 | DC851530-2L |
| Preparative | 30×250 | 5 | DC852530-2L |
| Guard cartridge | 10×10 | 5 | DC850110-2LS |
| Guard cartridge | 20×10 | 5 | DC850120-2L |
| Guard cartridge | 20×20 | 5 | DC850220-2L |
| Semi-preparative | 4.6x150 | 10 | DC801505-2L |
| Semi-preparative | 10×150 | 10 | DC801510-2L |
| Semi-preparative | 4.6X250 | 10 | DC802505-2L |
| Semi-preparative | 10×250 | 10 | DC802510-2L |
| Preparative | 20×50 | 10 | DC800520-2L |
| Preparative | 20×150 | 10 | DC801520-2L |
| Preparative | 20×250 | 10 | DC802520-2L |
| Preparative | 30×100 | 10 | DC801030-2L |
| Preparative | 30×150 | 10 | DC801530-2L |
| Preparative | 30X200 | 10 | DC802030-2L |
| Preparative | 30×250 | 10 | DC802530-2L |
| Preparative | 50×150 | 10 | DC801550-2L |
| Preparative | 50×250 | 10 | DC802550-2L |
| Guard cartridge | 20×20 | 10 | DC800220-2L |
| Guard cartridge | 20×10 | 10 | DC800120-2LS |
| Guard cartridge | 20×10 | 10 | DC800120-2L |
| Cartridge Holder | 20x10 | | CH-200 |
| Column Type | Dimension (mm) | Particle Size (µm) | Durashell NH2 |
| | | | Reverse Phase Columns for Small Molecules |
| Analytical | 2.1×30 | 5 | DN950302-0 |
| Analytical | 2.1×50 | 5 | DN950502-0 |
| Analytical | 2.1×100 | 5 | DN951002-0 |
| Analytical | 2.1×150 | 5 | DN951502-0 |
| Guard cartridge | 2.1×10 ,4/pk | 5 | DN950102-0S |
| Guard cartridge | 2.1×10 ,4/pk | 5 | DN950102-0 |
| Analytical | 3.0x30 | 5 | DN950303-0 |
| Analytical | 3.0x50 | 5 | DN950503-0 |
| Analytical | 3.0x100 | 5 | DN951003-0 |
| Analytical | 3.0x150 | 5 | DN951503-0 |
| Analytical | 4.6×50 | 5 | DN950505-0 |
| Analytical | 4.6×100 | 5 | DN951005-0 |
| Analytical | 4.6×150 | 5 | DN951505-0 |
| Analytical | 4.6×200 | 5 | DN952005-0 |
| Analytical | 4.6×250 | 5 | DN952505-0 |
| Guard Cartridge | 4.6×10, 4/pk | 5 | DN950105-0S |
| Guard Cartridge | 4.6×10, 4/pk | 5 | DN950105-0 |
| Fast analysis | 2.1×30 | 3 | DN930302-0 |
| Fast analysis | 2.1×50 | 3 | DN930502-0 |
| Fast analysis | 2.1×100 | 3 | DN931002-0 |
| Fast analysis | 2.1×150 | 3 | DN931502-0 |
| Guard cartridge | 2.1×10 ,4/pk | 3 | DN930102-0S |
| Guard cartridge | 2.1×10 ,4/pk | 3 | DN930102-0 |
| Analytical | 3.0x30 | 3 | DN930303-0 |
| Analytical | 3.0x50 | 3 | DN930503-0 |
| Analytical | 3.0x100 | 3 | DN931003-0 |
| Analytical | 3.0x150 | 3 | DN931503-0 |
| Guard cartridge | 3.0×10 ,4/pk | 3 | DN930103-0S |
| Guard cartridge | 3.0×10 ,4/pk | 3 | DN930103-0 |
| Fast analysis | 4.6×50 | 3 | DN930505-0 |
| Fast analysis | 4.6×100 | 3 | DN931005-0 |
| Fast analysis | 4.6×150 | 3 | DN931505-0 |
| Guard cartridge | 4.6×10;4/pk | 3 | DN930105-0S |
| Guard cartridge | 4.6×10;4/pk | 3 | DN930105-0 |
| Cartridge Holder | 2.1, 3.0, 4.6 | | CH-100 |
| Semi-preparative | 10×150 | 5 | DN951510-0 |
| Semi-preparative | 10×250 | 5 | DN952510-0 |
| Preparative | 20×50 | 5 | DN950520-0 |
| Preparative | 20×100 | 5 | DN951020-0 |
| Preparative | 20×150 | 5 | DN951520-0 |
| Preparative | 20×250 | 5 | DN952520-0 |
| Preparative | 30×100 | 5 | DN951030-0 |
| Preparative | 30×150 | 5 | DN951530-0 |
| Preparative | 30×250 | 5 | DN952530-0 |
| Guard cartridge | 10×10 | 5 | DN950110-0S |
| Guard cartridge | 20×10 | 5 | DN950120-0 |
| Guard cartridge | 20×20 | 5 | DN950220-0 |
| Semi-preparative | 4.6x150 | 10 | DN901505-0 |
| Semi-preparative | 10×150 | 10 | DN901510-0 |
| Semi-preparative | 4.6X250 | 10 | DN902505-0 |
| Semi-preparative | 10×250 | 10 | DN902510-0 |
| Preparative | 20×50 | 10 | DN900520-0 |
| Preparative | 20×150 | 10 | DN901520-0 |
| Preparative | 20×250 | 10 | DN902520-0 |
| Preparative | 30×100 | 10 | DN901030-0 |
| Preparative | 30×150 | 10 | DN901530-0 |
| Preparative | 30X200 | 10 | DN902030-0 |
| Preparative | 30×250 | 10 | DN902530-0 |
| Preparative | 50×150 | 10 | DN901550-0 |
| Preparative | 50×250 | 10 | DN902550-0 |
| Guard cartridge | 20×20 | 10 | DN900220-0 |
| Guard cartridge | 20×10 | 10 | DN900120-0S |
| Guard cartridge | 20×10 | 10 | DN900120-0 |
| Cartridge Holder | 20x10 | | CH-200 |
| Column Type | Dimension (mm) | Particle Size (µm) | Durashell Phenyl |
| | | | Reverse Phase Columns for Small Molecules |
| Analytical | 2.1×30 | 5 | DC650302-0 |
| Analytical | 2.1×50 | 5 | DC650502-0 |
| Analytical | 2.1×100 | 5 | DC651002-0 |
| Analytical | 2.1×150 | 5 | DC651502-0 |
| Guard cartridge | 2.1×10 ,4/pk | 5 | DC650102-0S |
| Guard cartridge | 2.1×10 ,4/pk | 5 | DC650102-0 |
| Analytical | 3.0x30 | 5 | DC650303-0 |
| Analytical | 3.0x50 | 5 | DC650503-0 |
| Analytical | 3.0x100 | 5 | DC651003-0 |
| Analytical | 3.0x150 | 5 | DC651503-0 |
| Analytical | 4.6×50 | 5 | DC650505-0 |
| Analytical | 4.6×100 | 5 | DC651005-0 |
| Analytical | 4.6×150 | 5 | DC651505-0 |
| Analytical | 4.6×200 | 5 | DC652005-0 |
| Analytical | 4.6×250 | 5 | DC652505-0 |
| Guard Cartridge | 4.6×10, 4/pk | 5 | DC650105-0S |
| Guard Cartridge | 4.6×10, 4/pk | 5 | DC650105-0 |
| Fast analysis | 2.1×30 | 3 | DC630302-0 |
| Fast analysis | 2.1×50 | 3 | DC630502-0 |
| Fast analysis | 2.1×100 | 3 | DC631002-0 |
| Fast analysis | 2.1×150 | 3 | DC631502-0 |
| Guard cartridge | 2.1×10 ,4/pk | 3 | DC630102-0S |
| Guard cartridge | 2.1×10 ,4/pk | 3 | DC630102-0 |
| Analytical | 3.0x30 | 3 | DC630303-0 |
| Analytical | 3.0x50 | 3 | DC630503-0 |
| Analytical | 3.0x100 | 3 | DC631003-0 |
| Analytical | 3.0x150 | 3 | DC631503-0 |
| Guard cartridge | 3.0×10 ,4/pk | 3 | DC630103-0S |
| Guard cartridge | 3.0×10 ,4/pk | 3 | DC630103-0 |
| Fast analysis | 4.6×50 | 3 | DC630505-0 |
| Fast analysis | 4.6×100 | 3 | DC631005-0 |
| Fast analysis | 4.6×150 | 3 | DC631505-0 |
| Guard cartridge | 4.6×10;4/pk | 3 | DC630105-0S |
| Guard cartridge | 4.6×10;4/pk | 3 | DC630105-0 |
| Cartridge Holder | 2.1, 3.0, 4.6 | | CH-100 |
| Semi-preparative | 10×150 | 5 | DC651510-0 |
| Semi-preparative | 10×250 | 5 | DC652510-0 |
| Preparative | 20×50 | 5 | DC650520-0 |
| Preparative | 20×100 | 5 | DC651020-0 |
| Preparative | 20×150 | 5 | DC651520-0 |
| Preparative | 20×250 | 5 | DC652520-0 |
| Preparative | 30×100 | 5 | DC651030-0 |
| Preparative | 30×150 | 5 | DC651530-0 |
| Preparative | 30×250 | 5 | DC652530-0 |
| Guard cartridge | 10×10 | 5 | DC650110-0S |
| Guard cartridge | 20×10 | 5 | DC650120-0 |
| Guard cartridge | 20×20 | 5 | DC650220-0 |
| Semi-preparative | 4.6x150 | 10 | DC601505-0 |
| Semi-preparative | 10×150 | 10 | DC601510-0 |
| Semi-preparative | 4.6X250 | 10 | DC602505-0 |
| Semi-preparative | 10×250 | 10 | DC602510-0 |
| Preparative | 20×50 | 10 | DC600520-0 |
| Preparative | 20×150 | 10 | DC601520-0 |
| Preparative | 20×250 | 10 | DC602520-0 |
| Preparative | 30×100 | 10 | DC601030-0 |
| Preparative | 30×150 | 10 | DC601530-0 |
| Preparative | 30X200 | 10 | DC602030-0 |
| Preparative | 30×250 | 10 | DC602530-0 |
| Preparative | 50×150 | 10 | DC601550-0 |
| Preparative | 50×250 | 10 | DC602550-0 |
| Guard cartridge | 20×20 | 10 | DC600220-0 |
| Guard cartridge | 20×10 | 10 | DC600120-0S |
| Guard cartridge | 20×10 | 10 | DC600120-0 |
| Cartridge Holder | 20x10 | | CH-200 |
| Column Type | Dimension (mm) | Particle Size (µm) | Unisol C18 |
| --- | --- | --- | --- |
| | | | universal RP; compatible with 100% water; 100Å, 410 m2/g, C%=17 |
| Fast analysis | 2.1×30 | 2.5 | UO920302-0 |
| Fast analysis | 2.1×50 | 2.5 | UO920502-0 |
| Fast analysis | 2.1×100 | 2.5 | UO921002-0 |
| Fast analysis | 3.0x30 | 2.5 | UO920303-0 |
| Fast analysis | 3.0x50 | 2.5 | UO920503-0 |
| Fast analysis | 3.0x100 | 2.5 | UO921003-0 |
| Fast analysis | 4.6×50 | 2.5 | UO920505-0 |
| Fast analysis | 4.6×100 | 2.5 | UO921005-0 |
| Analytical | 2.1×30 | 5 | UO950302-0 |
| Analytical | 2.1×50 | 5 | UO950502-0 |
| Analytical | 2.1×100 | 5 | UO951002-0 |
| Analytical | 2.1×150 | 5 | UO951502-0 |
| Analytical | 3.0x30 | 5 | UO950303-0 |
| Analytical | 3.0x50 | 5 | UO950503-0 |
| Analytical | 3.0x100 | 5 | UO951003-0 |
| Analytical | 3.0x150 | 5 | UO951503-0 |
| Analytical | 4.6×50 | 5 | UO950505-0 |
| Analytical | 4.6×100 | 5 | UO951005-0 |
| Analytical | 4.6×150 | 5 | UO951505-0 |
| Analytical | 4.6×200 | 5 | UO952005-0 |
| Analytical | 4.6×250 | 5 | UO952505-0 |
| Guard Cartridge | 4.6×10, 4/pk | 5 | UO950105-0 |
| Fast analysis | 2.1×20 | 3 | UO930202-0 |
| Fast analysis | 2.1×30 | 3 | UO930302-0 |
| Fast analysis | 2.1×50 | 3 | UO930502-0 |
| Fast analysis | 2.1×100 | 3 | UO931002-0 |
| Fast analysis | 2.1×150 | 3 | UO931502-0 |
| Analytical | 3.0x30 | 3 | UO930303-0 |
| Analytical | 3.0x50 | 3 | UO930503-0 |
| Analytical | 3.0x100 | 3 | UO931003-0 |
| Analytical | 3.0x150 | 3 | UO931503-0 |
| Fast analysis | 4.6×50 | 3 | UO930505-0 |
| Fast analysis | 4.6×100 | 3 | UO931005-0 |
| Fast analysis | 4.6×150 | 3 | UO931505-0 |
| Guard cartridge | 4.6×10, 4/pk | 3 | UO930105-0 |
| Cartridge Holder | 2.1, 3.0, 4.6 | | CH-100 |
| Semi-preparative | 10×150 | 5 | UO951510-0 |
| Semi-preparative | 10×250 | 5 | UO952510-0 |
| Preparative | 20×50 | 5 | UO950520-0 |
| Preparative | 20×100 | 5 | UO951020-0 |
| Preparative | 20×150 | 5 | UO951520-0 |
| Preparative | 20×250 | 5 | UO952520-0 |
| Preparative | 30×100 | 5 | UO951030-0 |
| Preparative | 30×150 | 5 | UO951530-0 |
| Preparative | 30×250 | 5 | UO952530-0 |
| Guard cartridge | 20×10 | 5 | UO950120-0 |
| Guard cartridge | 20×20 | 5 | UO950220-0 |
| Semi-preparative | 10×150 | 10 | UO901510-0 |
| Semi-preparative | 10×250 | 10 | UO902510-0 |
| Preparative | 20×50 | 10 | UO900520-0 |
| Preparative | 20×150 | 10 | UO901520-0 |
| Preparative | 20×250 | 10 | UO902520-0 |
| Preparative | 30×100 | 10 | UO901030-0 |
| Preparative | 30×150 | 10 | UO901530-0 |
| Preparative | 30×250 | 10 | UO902530-0 |
| Preparative | 50×150 | 10 | UO901550-0 |
| Preparative | 50×250 | 10 | UO902550-0 |
| Guard cartridge | 20×10 | 10 | UO900120-0 |
| Cartridge Holder | 20x10 | | CH-200 |
| Column Type | Dimension (mm) | Particle Size (µm) | Unisol C18 (2) |
| | | | universal RP; compatible with 100% water; 100Å, 410 m2/g, C%=17 |
| Fast analysis | 2.1×30 | 2.5 | UO920302-2 |
| Fast analysis | 2.1×50 | 2.5 | UO920502-2 |
| Fast analysis | 2.1×100 | 2.5 | UO921002-2 |
| Fast analysis | 3.0x30 | 2.5 | UO920303-2 |
| Fast analysis | 3.0x50 | 2.5 | UO920503-2 |
| Fast analysis | 3.0x100 | 2.5 | UO921003-2 |
| Fast analysis | 4.6×50 | 2.5 | UO920505-2 |
| Fast analysis | 4.6×100 | 2.5 | UO921005-2 |
| Analytical | 2.1×30 | 5 | UO950302-2 |
| Analytical | 2.1×50 | 5 | UO950502-2 |
| Analytical | 2.1×100 | 5 | UO951002-2 |
| Analytical | 2.1×150 | 5 | UO951502-2 |
| Analytical | 3.0x30 | 5 | UO950303-2 |
| Analytical | 3.0x50 | 5 | UO950503-2 |
| Analytical | 3.0x100 | 5 | UO951003-2 |
| Analytical | 3.0x150 | 5 | UO951503-2 |
| Analytical | 4.6×50 | 5 | UO950505-2 |
| Analytical | 4.6×100 | 5 | UO951005-2 |
| Analytical | 4.6×150 | 5 | UO951505-2 |
| Analytical | 4.6×200 | 5 | UO952005-2 |
| Analytical | 4.6×250 | 5 | UO952505-2 |
| Guard Cartridge | 4.6×10, 4/pk | 5 | UO950105-2 |
| Fast analysis | 2.1×20 | 3 | UO930202-2 |
| Fast analysis | 2.1×30 | 3 | UO930302-2 |
| Fast analysis | 2.1×50 | 3 | UO930502-2 |
| Fast analysis | 2.1×100 | 3 | UO931002-2 |
| Fast analysis | 2.1×150 | 3 | UO931502-2 |
| Analytical | 3.0x30 | 3 | UO930303-2 |
| Analytical | 3.0x50 | 3 | UO930503-2 |
| Analytical | 3.0x100 | 3 | UO931003-2 |
| Analytical | 3.0x150 | 3 | UO931503-2 |
| Fast analysis | 4.6×50 | 3 | UO930505-2 |
| Fast analysis | 4.6×100 | 3 | UO931005-2 |
| Fast analysis | 4.6×150 | 3 | UO931505-2 |
| Guard cartridge | 4.6×10, 4/pk | 3 | UO930105-2 |
| Cartridge Holder | 2.1, 3.0, 4.6 | | CH-100 |
| Semi-preparative | 10×150 | 5 | UO951510-2 |
| Semi-preparative | 10×250 | 5 | UO952510-2 |
| Preparative | 20×50 | 5 | UO950520-2 |
| Preparative | 20×100 | 5 | UO951020-2 |
| Preparative | 20×150 | 5 | UO951520-2 |
| Preparative | 20×250 | 5 | UO952520-2 |
| Preparative | 30×100 | 5 | UO951030-2 |
| Preparative | 30×150 | 5 | UO951530-2 |
| Preparative | 30×250 | 5 | UO952530-2 |
| Guard cartridge | 20×10 | 5 | UO950120-2 |
| Guard cartridge | 20×20 | 5 | UO950220-2 |
| Semi-preparative | 10×150 | 10 | UO901510-2 |
| Semi-preparative | 10×250 | 10 | UO902510-2 |
| Preparative | 20×50 | 10 | UO900520-2 |
| Preparative | 20×150 | 10 | UO901520-2 |
| Preparative | 20×250 | 10 | UO902520-2 |
| Preparative | 30×100 | 10 | UO901030-2 |
| Preparative | 30×150 | 10 | UO901530-2 |
| Preparative | 30×250 | 10 | UO902530-2 |
| Preparative | 50×150 | 10 | UO901550-2 |
| Preparative | 50×250 | 10 | UO902550-2 |
| Guard cartridge | 20×10 | 10 | UO900120-2 |
| Cartridge Holder | 20x10 | | CH-200 |
| Column Type | Dimension (mm) | Particle Size (µm) | Unisol Amide (HILIC) |
| | | | unique selectivity; 100Å, 410 m2/g, |
| Analytical | 2.1×30 | 5 | VH950302-0 |
| Analytical | 2.1×50 | 5 | VH950502-0 |
| Analytical | 2.1×100 | 5 | VH951002-0 |
| Analytical | 2.1×150 | 5 | VH951502-0 |
| Analytical | 3.0×30 | 5 | VH950303-0 |
| Analytical | 3.0×50 | 5 | VH950503-0 |
| Analytical | 3.0×100 | 5 | VH951003-0 |
| Analytical | 3.0×150 | 5 | VH951503-0 |
| Analytical | 4.6×50 | 5 | VH950505-0 |
| Analytical | 4.6×100 | 5 | VH951005-0 |
| Analytical | 4.6×150 | 5 | VH951505-0 |
| Analytical | 4.6×200 | 5 | VH952005-0 |
| Analytical | 4.6×250 | 5 | VH952505-0 |
| Guard Cartridge | 4.6×10, 4/pk | 5 | VH950105-0 |
| Fast analysis | 2.1×30 | 3 | VH930302-0 |
| Fast analysis | 2.1×50 | 3 | VH930502-0 |
| Fast analysis | 2.1×100 | 3 | VH931002-0 |
| Fast analysis | 2.1×150 | 3 | VH931502-0 |
| Fast analysis | 3.0×30 | 3 | VH930303-0 |
| Fast analysis | 3.0×50 | 3 | VH930503-0 |
| Fast analysis | 3.0×100 | 3 | VH931003-0 |
| Fast analysis | 3.0×150 | 3 | VH931503-0 |
| Fast analysis | 4.6×50 | 3 | VH930505-0 |
| Fast analysis | 4.6×100 | 3 | VH931005-0 |
| Fast analysis | 4.6×150 | 3 | VH931505-0 |
| Guard cartridge | 4.6×10 , 4/pk | 3 | VH930105-0 |
| Semi-preparative | 10×150 | 5 | VH951510-0 |
| Semi-preparative | 10×250 | 5 | VH952510-0 |
| Preparative | 20×50 | 5 | VH950520-0 |
| Preparative | 20×100 | 5 | VH951020-0 |
| Preparative | 20×150 | 5 | VH951520-0 |
| Preparative | 20×250 | 5 | VH952520-0 |
| Preparative | 30×100 | 5 | VH951030-0 |
| Preparative | 30×150 | 5 | VH951530-0 |
| Preparative | 30×250 | 5 | VH952530-0 |
| Semi-preparative | 10×150 | 10 | VH901510-0 |
| Semi-preparative | 10×250 | 10 | VH902510-0 |
| Preparative | 20×50 | 10 | VH900520-0 |
| Preparative | 20×150 | 10 | VH901520-0 |
| Preparative | 20×250 | 10 | VH902520-0 |
| Preparative | 30×100 | 10 | VH901030-0 |
| Preparative | 30×150 | 10 | VH901530-0 |
| Preparative | 30×250 | 10 | VH902530-0 |
| Preparative | 50×150 | 10 | VH901550-0 |
| Preparative | 50×250 | 10 | VH902550-0 |
| Guard cartridge | 20×20 | 5 | VH950220-0 |
| Guard cartridge | 20×10 | 10 | VH900120-0 |
| Cartridge Holder | 20×10 | | CH-200 |
| Cartridge Holder | ID: 2.1, 3.0, 4.6 | | CH-100 |
| Column Type | Dimension (mm) | Particle Size (µm) | Unisol Amide (HILIC) |
| | | | Ultra Pure Silica; Pore Size:300 Å; Surface Area:45m2/g |
| Analytical | 2.1×30 | 5 | VH950302-T |
| Analytical | 2.1×50 | 5 | VH950502-T |
| Analytical | 2.1×100 | 5 | VH951002-T |
| Analytical | 2.1×150 | 5 | VH951502-T |
| Analytical | 3.0×30 | 5 | VH950303-T |
| Analytical | 3.0×50 | 5 | VH950503-T |
| Analytical | 3.0×100 | 5 | VH951003-T |
| Analytical | 3.0×150 | 5 | VH951503-T |
| Analytical | 4.6×50 | 5 | VH950505-T |
| Analytical | 4.6×100 | 5 | VH951005-T |
| Analytical | 4.6×150 | 5 | VH951505-T |
| Analytical | 4.6×200 | 5 | VH952005-T |
| Analytical | 4.6×250 | 5 | VH952505-T |
| Guard Cartridge | 4.6×10, 4/pk | 5 | VH950105-T |
| Cartridge Holder | ID: 2.1, 3.0, 4.6 | | CH-100 |
| Column Type | Dimension (mm) | Particle Size (µm) | Venusil ASB C18 |
| --- | --- | --- | --- |
| | | | extreme low pH tolerance (0.8-7.5), low bleed; 150 Å, 200m2/g; C%=12 |
| Analytical | 2.1×30 | 5 | VS950302-0 |
| Analytical | 2.1×50 | 5 | VS950502-0 |
| Analytical | 2.1×100 | 5 | VS951002-0 |
| Analytical | 2.1×150 | 5 | VS951502-0 |
| Analytical | 3.0x30 | 5 | VS950303-0 |
| Analytical | 3.0x50 | 5 | VS950503-0 |
| Analytical | 3.0x100 | 5 | VS951003-0 |
| Analytical | 3.0x150 | 5 | VS951503-0 |
| Analytical | 4.6×50 | 5 | VS950505-0 |
| Analytical | 4.6×100 | 5 | VS951005-0 |
| Analytical | 4.6×150 | 5 | VS951505-0 |
| Analytical | 4.6×200 | 5 | VS952005-0 |
| Analytical | 4.6×250 | 5 | VS952505-0 |
| Guard Cartridge | 4.6×10, 4/pk | 5 | VS950105-0 |
| Fast analysis | 2.1×20 | 3 | VS930202-0 |
| Fast analysis | 2.1×30 | 3 | VS930302-0 |
| Fast analysis | 2.1×50 | 3 | VS930502-0 |
| Fast analysis | 2.1×100 | 3 | VS931002-0 |
| Fast analysis | 2.1×150 | 3 | VS931502-0 |
| Analytical | 3.0x30 | 3 | VS930303-0 |
| Analytical | 3.0x50 | 3 | VS930503-0 |
| Analytical | 3.0x100 | 3 | VS931003-0 |
| Analytical | 3.0x150 | 3 | VS931503-0 |
| Guard cartridge | 3.0×10,4/pk | 3 | VS930103-0 |
| Fast analysis | 4.6×50 | 3 | VS930505-0 |
| Fast analysis | 4.6×100 | 3 | VS931005-0 |
| Fast analysis | 4.6×150 | 3 | VS931505-0 |
| Guard cartridge | 4.6×10 | 3 | VS930105-0 |
| Cartridge Holder | 2.1, 3.0, 4.6 | | CH-100 |
| Semi-preparative | 10×150 | 5 | VS951510-0 |
| Semi-preparative | 10×250 | 5 | VS952510-0 |
| Preparative | 20×50 | 5 | VS950520-0 |
| Preparative | 20×100 | 5 | VS951020-0 |
| Preparative | 20×150 | 5 | VS951520-0 |
| Preparative | 20×250 | 5 | VS952520-0 |
| Preparative | 30×100 | 5 | VS951030-0 |
| Preparative | 30×150 | 5 | VS951530-0 |
| Preparative | 30×250 | 5 | VS952530-0 |
| Guard cartridge | 20×10 | 5 | VS950120-0 |
| Semi-preparative | 10×150 | 10 | VS901510-0 |
| Semi-preparative | 10×250 | 10 | VS902510-0 |
| Preparative | 20×50 | 10 | VS900520-0 |
| Preparative | 20×150 | 10 | VS901520-0 |
| Preparative | 20×250 | 10 | VS902520-0 |
| Preparative | 30×100 | 10 | VS901030-0 |
| Preparative | 30×150 | 10 | VS901530-0 |
| Preparative | 30×250 | 10 | VS902530-0 |
| Preparative | 50×150 | 10 | VS901550-0 |
| Preparative | 50×250 | 10 | VS902550-0 |
| Guard cartridge | 20×10 | 10 | VS900120-0 |
| Cartridge Holder | 20x10 | | CH-200 |
| Column Type | Dimension (mm) | Particle Size (µm) | Venusil ASB C8 |
| | | | C8 for low pH and low bleed; 150 Å, 200m2/g, C%=7 |
| Analytical | 2.1×30 | 5 | VS850302-0 |
| Analytical | 2.1×50 | 5 | VS850502-0 |
| Analytical | 2.1×100 | 5 | VS851002-0 |
| Analytical | 2.1×150 | 5 | VS851502-0 |
| Analytical | 3.0x30 | 5 | VS850303-0 |
| Analytical | 3.0x50 | 5 | VS850503-0 |
| Analytical | 3.0x100 | 5 | VS851003-0 |
| Analytical | 3.0x150 | 5 | VS851503-0 |
| Analytical | 4.6×50 | 5 | VS850505-0 |
| Analytical | 4.6×100 | 5 | VS851005-0 |
| Analytical | 4.6×150 | 5 | VS851505-0 |
| Analytical | 4.6×200 | 5 | VS852005-0 |
| Analytical | 4.6×250 | 5 | VS852505-0 |
| Guard Cartridge | 4.6×10, 4/pk | 5 | VS850105-0 |
| Cartridge Holder | ID: 2.1, 3.0, 4.6 | 5 | CH-100 |
| Fast analysis | 2.1×20 | 3 | VS830202-0 |
| Fast analysis | 2.1×30 | 3 | VS830302-0 |
| Fast analysis | 2.1×50 | 3 | VS830502-0 |
| Fast analysis | 2.1×100 | 3 | VS831002-0 |
| Fast analysis | 2.1×150 | 3 | VS831502-0 |
| Analytical | 3.0x30 | 3 | VS830303-0 |
| Analytical | 3.0x50 | 3 | VS830503-0 |
| Analytical | 3.0x100 | 3 | VS831003-0 |
| Analytical | 3.0x150 | 3 | VS831503-0 |
| Guard cartridge | 3.0×10 | 3 | VS830103-0 |
| Fast analysis | 4.6×50 | 3 | VS830505-0 |
| Fast analysis | 4.6×100 | 3 | VS831005-0 |
| Fast analysis | 4.6×150 | 3 | VS831505-0 |
| Guard cartridge | 4.6×10, 4/pk | 3 | VS830105-0 |
| Column Type | Dimension (mm) | Particle Size (µm) | Venusil ASB C18 |
| | | | extreme low pH tolerance (0.8-7.5), low bleed; Pore Size:300Å; Surface Area: 45 m2/g |
| Analytical | 2.1×30 | 5 | VS950302-T |
| Analytical | 2.1×50 | 5 | VS950502-T |
| Analytical | 2.1×100 | 5 | VS951002-T |
| Analytical | 2.1×150 | 5 | VS951502-T |
| Analytical | 3.0x30 | 5 | VS950303-T |
| Analytical | 3.0x50 | 5 | VS950503-T |
| Analytical | 3.0x100 | 5 | VS951003-T |
| Analytical | 3.0x150 | 5 | VS951503-T |
| Analytical | 4.6×50 | 5 | VS950505-T |
| Analytical | 4.6×100 | 5 | VS951005-T |
| Analytical | 4.6×150 | 5 | VS951505-T |
| Analytical | 4.6×200 | 5 | VS952005-T |
| Analytical | 4.6×250 | 5 | VS952505-T |
| Guard Cartridge | 4.6×10, 4/pk | 5 | VS950105-T |
| Semi-Prep | 10×150 | 5 | VS951510-T |
| Semi-Prep | 10×250 | 5 | VS952510-T |
| Semi-Prep | 20×50 | 5 | VS950520-T |
| Semi-Prep | 20×150 | 5 | VS951520-T |
| Semi-Prep | 20×250 | 5 | VS952520-T |
| Guard Cartridge | 20×10 | 5 | VS950120-T |
| | | | |
| Column Type | Dimension (mm) | Particle Size (µm) | Venusil ASB C8 |
| | | | C8 for low pH and low bleed; Pore Size:300Å; Surface Area: 45 m2/g |
| Analytical | 2.1×30 | 5 | VS850302-T |
| Analytical | 2.1×50 | 5 | VS850502-T |
| Analytical | 2.1×100 | 5 | VS851002-T |
| Analytical | 2.1×150 | 5 | VS851502-T |
| Analytical | 3.0x30 | 5 | VS850303-T |
| Analytical | 3.0x50 | 5 | VS850503-T |
| Analytical | 3.0x100 | 5 | VS851003-T |
| Analytical | 3.0x150 | 5 | VS851503-T |
| Analytical | 4.6×50 | 5 | VS850505-T |
| Analytical | 4.6×100 | 5 | VS851005-T |
| Analytical | 4.6×150 | 5 | VS851505-T |
| Analytical | 4.6×200 | 5 | VS852005-T |
| Analytical | 4.6×250 | 5 | VS852505-T |
| Guard Cartridge | 4.6×10, 4/pk | 5 | VS850105-T |
| Cartridge Holder | ID: 2.1, 3.0, 4.6 | 5 | CH-100 |
| Semi-Prep | 10×150 | 5 | VS851510-T |
| Semi-Prep | 10×250 | 5 | VS852510-T |
| Semi-Prep | 20×50 | 5 | VS850520-T |
| Semi-Prep | 20×150 | 5 | VS851520-T |
| Semi-Prep | 20×250 | 5 | VS852520-T |
| Guard Cartridge | 20×10 | 5 | VS850120-T |
| Column Type | Dimension (mm) | Particle Size (µm) | Venusil AQ C18 |
| --- | --- | --- | --- |
| | | | for high aqueous applications; compatible with 100% water; 100Å, 380 m2/g, C%=18 |
| Analytical | 2.1×30 | 5 | VA950302-0 |
| Analytical | 2.1×50 | 5 | VA950502-0 |
| Analytical | 2.1×100 | 5 | VA951002-0 |
| Analytical | 2.1×150 | 5 | VA951502-0 |
| Analytical | 3.0x30 | 5 | VA950303-0 |
| Analytical | 3.0x50 | 5 | VA950503-0 |
| Analytical | 3.0x100 | 5 | VA951003-0 |
| Analytical | 3.0x150 | 5 | VA951503-0 |
| Analytical | 4.6×50 | 5 | VA950505-0 |
| Analytical | 4.6×100 | 5 | VA951005-0 |
| Analytical | 4.6×150 | 5 | VA951505-0 |
| Analytical | 4.6×200 | 5 | VA952005-0 |
| Analytical | 4.6×250 | 5 | VA952505-0 |
| Guard Cartridge | 4.6×10, 4/pk | 5 | VA950105-0 |
| Fast analysis | 2.1×20 | 3 | VA930202-0 |
| Fast analysis | 2.1×30 | 3 | VA930302-0 |
| Fast analysis | 2.1×50 | 3 | VA930502-0 |
| Fast analysis | 2.1×100 | 3 | VA931002-0 |
| Fast analysis | 2.1×150 | 3 | VA931502-0 |
| Analytical | 3.0x30 | 3 | VA930303-0 |
| Analytical | 3.0x50 | 3 | VA930503-0 |
| Analytical | 3.0x100 | 3 | VA931003-0 |
| Analytical | 3.0x150 | 3 | VA931503-0 |
| Fast analysis | 4.6×50 | 3 | VA930505-0 |
| Fast analysis | 4.6×100 | 3 | VA931005-0 |
| Fast analysis | 4.6×150 | 3 | VA931505-0 |
| Guard cartridge | 4.6×10, 4/pk | 3 | VA930105-0 |
| Cartridge Holder | 2.1, 3.0, 4.6 | | CH-100 |
| Semi-preparative | 10×150 | 5 | VA951510-0 |
| Semi-preparative | 10×250 | 5 | VA952510-0 |
| Preparative | 20×50 | 5 | VA950520-0 |
| Preparative | 20×150 | 5 | VA951520-0 |
| Preparative | 20×250 | 5 | VA952520-0 |
| Preparative | 30×100 | 5 | VA951030-0 |
| Preparative | 30×150 | 5 | VA951530-0 |
| Preparative | 30×250 | 5 | VA952530-0 |
| Guard cartridge | 20×10 | 5 | VA950120-0 |
| Analytical | 3.9×300 | 10 | VA9030039-0 |
| Analytical | 4.0×50 | 10 | VA900504-0 |
| Analytical | 4.0×150 | 10 | VA901504-0 |
| Analytical | 4.6×250 | 10 | VA902505-0 |
| Semi-preparative | 10×150 | 10 | VA901510-0 |
| Semi-preparative | 10×250 | 10 | VA902510-0 |
| Preparative | 21.2×50 | 10 | VA900520-0 |
| Preparative | 21.2×150 | 10 | VA901520-0 |
| Preparative | 21.2×250 | 10 | VA902520-0 |
| Preparative | 30×100 | 10 | VA901030-0 |
| Preparative | 30×150 | 10 | VA901530-0 |
| Preparative | 30×200 | 10 | VA902030-0 |
| Preparative | 30×250 | 10 | VA902530-0 |
| Preparative | 50×150 | 10 | VA901550-0 |
| Preparative | 50×250 | 10 | VA902550-0 |
| Guard cartridge | 21.2×10 | 10 | VA900120-0 |
| Guard cartridge | 10×10 | 10 | VA900110-0S |
| Column Type | Dimension (mm) | Particle Size (µm) | Venusil XBP C18 (2) |
| --- | --- | --- | --- |
| | | | ultra surface inertness and reproducibility; balanced retention; 100Å, 380 m2/g, C%=19 |
| Analytical | 2.1×30 | 5 | VX950302-2 |
| Analytical | 2.1×50 | 5 | VX950502-2 |
| Analytical | 2.1×100 | 5 | VX951002-2 |
| Analytical | 2.1×150 | 5 | VX951502-2 |
| Analytical | 3.0x30 | 5 | VX950303-2 |
| Analytical | 3.0x50 | 5 | VX950503-2 |
| Analytical | 3.0x100 | 5 | VX951003-2 |
| Analytical | 3.0x150 | 5 | VX951503-2 |
| Analytical | 4.6×50 | 5 | VX950505-2 |
| Analytical | 4.6×100 | 5 | VX951005-2 |
| Analytical | 4.6×150 | 5 | VX951505-2 |
| Analytical | 4.6×200 | 5 | VX952005-2 |
| Analytical | 4.6×250 | 5 | VX952505-2 |
| Guard Cartridge | 4.6×10, 4/pk | 5 | VX950105-2 |
| Fast analysis | 2.1×20 | 3 | VX930202-2 |
| Fast analysis | 2.1×30 | 3 | VX930302-2 |
| Fast analysis | 2.1×50 | 3 | VX930502-2 |
| Fast analysis | 2.1×100 | 3 | VX931002-2 |
| Fast analysis | 2.1×150 | 3 | VX931502-2 |
| Analytical | 3.0x30 | 3 | VX930303-2 |
| Analytical | 3.0x50 | 3 | VX930503-2 |
| Analytical | 3.0x100 | 3 | VX931003-2 |
| Analytical | 3.0x150 | 3 | VX931503-2 |
| Guard cartridge | 3.0×10 pk of 4 | 3 | VX930103-2 |
| Fast analysis | 4.6×50 | 3 | VX930505-2 |
| Fast analysis | 4.6×100 | 3 | VX931005-2 |
| Fast analysis | 4.6×150 | 3 | VX931505-2 |
| Guard cartridge | 4.6×10 | 3 | VX930105-2 |
| Cartridge Holder | 2.1, 3.0, 4.6 | | CH-100 |
| Semi-preparative | 10×150 | 5 | VX951510-2 |
| Semi-preparative | 10×250 | 5 | VX952510-2 |
| Preparative | 20×50 | 5 | VX950520-2 |
| Preparative | 20×100 | 5 | VX951020-2 |
| Preparative | 20×150 | 5 | VX951520-2 |
| Preparative | 20×250 | 5 | VX952520-2 |
| Preparative | 30×100 | 5 | VX951030-2 |
| Preparative | 30×150 | 5 | VX951530-2 |
| Preparative | 30×250 | 5 | VX952530-2 |
| Guard cartridge | 20×10 | 5 | VX950120-2 |
| Guard cartridge | 20×20 | 5 | VX950220-2 |
| Semi-preparative | 10×150 | 10 | VX901510-2 |
| Semi-preparative | 10×250 | 10 | VX902510-2 |
| Preparative | 20×50 | 10 | VX900520-2 |
| Preparative | 20×150 | 10 | VX901520-2 |
| Preparative | 20×250 | 10 | VX902520-2 |
| Preparative | 30×100 | 10 | VX901030-2 |
| Preparative | 30×150 | 10 | VX901530-2 |
| Preparative | 30×250 | 10 | VX902530-2 |
| Preparative | 50×150 | 10 | VX901550-2 |
| Preparative | 50×250 | 10 | VX902550-2 |
| Guard cartridge | 20×20 | 10 | VX902020-2 |
| Cartridge Holder | 20x10 | | CH-200 |
| Column Type | Dimension (mm) | Particle Size (µm) | Venusil XBP(L) C18 |
| --- | --- | --- | --- |
| | | | same as XBP C18 with larger pore size; 150Å, 200 m2/g; C%=15 |
| Analytical | 2.1×30 | 5 | VX950302-L |
| Analytical | 2.1×50 | 5 | VX950502-L |
| Analytical | 2.1×100 | 5 | VX951002-L |
| Analytical | 2.1×150 | 5 | VX951502-L |
| Analytical | 3.0x30 | 5 | VX950303-L |
| Analytical | 3.0x50 | 5 | VX950503-L |
| Analytical | 3.0x100 | 5 | VX951003-L |
| Analytical | 3.0x150 | 5 | VX951503-L |
| Analytical | 4.6×50 | 5 | VX950505-L |
| Analytical | 4.6×100 | 5 | VX951005-L |
| Analytical | 4.6×150 | 5 | VX951505-L |
| Analytical | 4.6×200 | 5 | VX952005-L |
| Analytical | 4.6×250 | 5 | VX952505-L |
| Guard Cartridge | 4.6×10, 4/pk | 5 | VX950105-L |
| Semi-preparative | 10×250 | 5 | VX952510-L |
| Preparative | 20×250 | 5 | VX952520-L |
| Cartridge Holder | 20x10 | | CH-200 |
| Column Type | Dimension (mm) | Particle Size (µm) | Venusil XBP(L) C8 |
| | | | Pore Size:150Å,Surface Area:200 m2/g; |
| Analytical | 2.1×30 | 5 | VX850302-L |
| Analytical | 2.1×50 | 5 | VX850502-L |
| Analytical | 2.1×100 | 5 | VX851002-L |
| Analytical | 2.1×150 | 5 | VX851502-L |
| Analytical | 4.6×50 | 5 | VX850505-L |
| Analytical | 4.6×100 | 5 | VX851005-L |
| Analytical | 4.6×150 | 5 | VX851505-L |
| Analytical | 4.6×250 | 5 | VX852505-L |
| Semi-preparative | 10×250 | 5 | VX852510-L |
| Preparative | 21.2×250 | 5 | VX852520-L |
| Guard Cartridge | 4.6×10, 4/pk | 5 | VX850105-L |
| Column Type | Dimension (mm) | Particle Size (µm) | Venusil XBP(L) Silica |
| | | | Pore Size:150Å,Surface Area:200 m2/g; |
| Analytical | 2.1×30 | 5 | VSi950302-L |
| Analytical | 2.1×50 | 5 | VSi950502-L |
| Analytical | 2.1×100 | 5 | VSi951002-L |
| Analytical | 2.1×150 | 5 | VSi951502-L |
| Analytical | 4.6×50 | 5 | VSi950505-L |
| Analytical | 4.6×100 | 5 | VSi951005-L |
| Analytical | 4.6×150 | 5 | VSi951505-L |
| Analytical | 4.6×250 | 5 | VSi952505-L |
| Column Type | Dimension (mm) | Particle Size (µm) | Optimix C18/C8 |
| --- | --- | --- | --- |
| Analytical | 2.1×30 | 5 | OP950302-OC |
| Analytical | 2.1×50 | 5 | OP950502-OC |
| Analytical | 2.1×100 | 5 | OP951002-OC |
| Analytical | 2.1×150 | 5 | OP951502-OC |
| Analytical | 4.6×50 | 5 | OP950505-OC |
| Analytical | 4.6×100 | 5 | OP951005-OC |
| Analytical | 4.6×150 | 5 | OP951505-OC |
| Analytical | 4.6×200 | 5 | OP952005-OC |
| Analytical | 4.6×250 | 5 | OP952505-OC |
| Guard cartridge 4/pk | 4.6×10 | 5 | OP950105-OC |
| Fast analysis | 2.1×30 | 3 | OP930302-OC |
| Fast analysis | 2.1×50 | 3 | OP930502-OC |
| Fast analysis | 2.1×100 | 3 | OP931002-OC |
| Fast analysis | 2.1×150 | 3 | OP931502-OC |
| Fast analysis | 4.6×50 | 3 | OP930505-OC |
| Fast analysis | 4.6×100 | 3 | OP931005-OC |
| Fast analysis | 4.6×150 | 3 | OP931505-OC |
| Guard cartridge | 4.6×10 | 3 | OP930105-OC |
| Column Type | Dimension (mm) | Particle Size(µm) | Optimix C18/amide |
| Analytical | 2.1×30 | 5 | OP950302-AM |
| Analytical | 2.1×50 | 5 | OP950502-AM |
| Analytical | 2.1×100 | 5 | OP951002-AM |
| Analytical | 2.1×150 | 5 | OP951502-AM |
| Analytical | 4.6×50 | 5 | OP950505-AM |
| Analytical | 4.6×100 | 5 | OP951005-AM |
| Analytical | 4.6×150 | 5 | OP951505-AM |
| Analytical | 4.6×200 | 5 | OP952005-AM |
| Analytical | 4.6×250 | 5 | OP952505-AM |
| Guard cartridge 4/pk | 4.6×10 | 5 | OP950105-AM |
| Fast analysis | 2.1×30 | 3 | OP930302-AM |
| Fast analysis | 2.1×50 | 3 | OP930502-AM |
| Fast analysis | 2.1×100 | 3 | OP931002-AM |
| Fast analysis | 2.1×150 | 3 | OP931502-AM |
| Fast analysis | 4.6×50 | 3 | OP930505-AM |
| Fast analysis | 4.6×100 | 3 | OP931005-AM |
| Fast analysis | 4.6×150 | 3 | OP931505-AM |
| Guard cartridge | 4.6×10 | 3 | OP930105-AM |
| Column Type | Dimension (mm) | Particle Size (µm) | Optimix C18/phenyl |
| Analytical | 2.1×30 | 5 | OP950302-PH |
| Analytical | 2.1×50 | 5 | OP950502-PH |
| Analytical | 2.1×100 | 5 | OP951002-PH |
| Analytical | 2.1×150 | 5 | OP951502-PH |
| Analytical | 4.6×50 | 5 | OP950505-PH |
| Analytical | 4.6×100 | 5 | OP951005-PH |
| Analytical | 4.6×150 | 5 | OP951505-PH |
| Analytical | 4.6×200 | 5 | OP952005-PH |
| Analytical | 4.6×250 | 5 | OP952505-PH |
| Guard cartridge 4/pk | 4.6×10 | 5 | OP950105-PH |
| Fast analysis | 2.1×30 | 3 | OP930302-PH |
| Fast analysis | 2.1×50 | 3 | OP930502-PH |
| Fast analysis | 2.1×100 | 3 | OP931002-PH |
| Fast analysis | 2.1×150 | 3 | OP931502-PH |
| Fast analysis | 4.6×50 | 3 | OP930505-PH |
| Fast analysis | 4.6×100 | 3 | OP931005-PH |
| Fast analysis | 4.6×150 | 3 | OP931505-PH |
| Guard cartridge | 4.6×10 | 3 | OP930105-PH |
| Column Type | Dimension (mm) | Particle Size (µm) | Optimix C18/CN |
| Analytical | 2.1×30 | 5 | OP950302-CN |
| Analytical | 2.1×50 | 5 | OP950502-CN |
| Analytical | 2.1×100 | 5 | OP951002-CN |
| Analytical | 2.1×150 | 5 | OP951502-CN |
| Analytical | 4.6×50 | 5 | OP950505-CN |
| Analytical | 4.6×100 | 5 | OP951005-CN |
| Analytical | 4.6×150 | 5 | OP951505-CN |
| Analytical | 4.6×200 | 5 | OP952005-CN |
| Analytical | 4.6×250 | 5 | OP952505-CN |
| Guard cartridge 4/pk | 4.6×10 | 5 | OP950105-CN |
| Fast analysis | 2.1×30 | 3 | OP930302-CN |
| Fast analysis | 2.1×50 | 3 | OP930502-CN |
| Fast analysis | 2.1×100 | 3 | OP931002-CN |
| Fast analysis | 2.1×150 | 3 | OP931502-CN |
| Fast analysis | 4.6×50 | 3 | OP930505-CN |
| Fast analysis | 4.6×100 | 3 | OP931005-CN |
| Fast analysis | 4.6×150 | 3 | OP931505-CN |
| Guard cartridge | 4.6×10 | 3 | OP930105-CN |
| Column Type | Dimension (mm) | Particle Size (µm) | Optimix C18/SCX |
| Analytical | 2.1×30 | 5 | OP950302-SC |
| Analytical | 2.1×50 | 5 | OP950502-SC |
| Analytical | 2.1×100 | 5 | OP951002-SC |
| Analytical | 2.1×150 | 5 | OP951502-SC |
| Analytical | 4.6×50 | 5 | OP950505-SC |
| Analytical | 4.6×100 | 5 | OP951005-SC |
| Analytical | 4.6×150 | 5 | OP951505-SC |
| Analytical | 4.6×200 | 5 | OP952005-SC |
| Analytical | 4.6×250 | 5 | OP952505-SC |
| Guard cartridge 4/pk | 4.6×10 | 5 | OP950105-SC |
| Fast analysis | 2.1×30 | 3 | OP930302-SC |
| Fast analysis | 2.1×50 | 3 | OP930502-SC |
| Fast analysis | 2.1×100 | 3 | OP931002-SC |
| Fast analysis | 2.1×150 | 3 | OP931502-SC |
| Fast analysis | 4.6×50 | 3 | OP930502-SC |
| Fast analysis | 4.6×100 | 3 | OP931002-SC |
| Fast analysis | 4.6×150 | 3 | OP931505-SC |
| Guard cartridge | 4.6×10 | 3 | OP930105-SC |
| Column Type | Dimension (mm) | Particle Size (µm) | Optimix C18/SAX |
| Analytical | 2.1×30 | 5 | OP950302-SA |
| Analytical | 2.1×50 | 5 | OP950502-SA |
| Analytical | 2.1×100 | 5 | OP951002-SA |
| Analytical | 2.1×150 | 5 | OP951502-SA |
| Analytical | 4.6×50 | 5 | OP950505-SA |
| Analytical | 4.6×100 | 5 | OP951005-SA |
| Analytical | 4.6×150 | 5 | OP951505-SA |
| Analytical | 4.6×200 | 5 | OP952005-SA |
| Analytical | 4.6×250 | 5 | OP952505-SA |
| Guard cartridge 4/pk | 4.6×10 | 5 | OP950105-SA |
| Fast analysis | 2.1×30 | 3 | OP930302-SA |
| Fast analysis | 2.1×50 | 3 | OP930502-SA |
| Fast analysis | 2.1×100 | 3 | OP931002-SA |
| Fast analysis | 2.1×150 | 3 | OP931502-SA |
| Fast analysis | 4.6×50 | 3 | OP930502-SA |
| Fast analysis | 4.6×100 | 3 | OP931002-SA |
| Fast analysis | 4.6×150 | 3 | OP931505-SA |
| Guard cartridge | 4.6×10 | 3 | OP930105-SA |
| Column Type | Dimension (mm) | Particle Size (µm) | Optimix C18/Nitrophenyl |
| Analytical | 2.1×30 | 5 | OP950302-NP |
| Analytical | 2.1×50 | 5 | OP950502-NP |
| Analytical | 2.1×100 | 5 | OP951002-NP |
| Analytical | 2.1×150 | 5 | OP951502-NP |
| Analytical | 4.6×50 | 5 | OP950505-NP |
| Analytical | 4.6×100 | 5 | OP951005-NP |
| Analytical | 4.6×150 | 5 | OP951505-NP |
| Analytical | 4.6×200 | 5 | OP952005-NP |
| Analytical | 4.6×250 | 5 | OP952505-NP |
| Guard cartridge 4/pk | 4.6×10 | 5 | OP950105-NP |
| Fast analysis | 2.1×30 | 3 | OP930302-NP |
| Fast analysis | 2.1×50 | 3 | OP930502-NP |
| Fast analysis | 2.1×100 | 3 | OP931002-NP |
| Fast analysis | 2.1×150 | 3 | OP931502-NP |
| Fast analysis | 4.6×50 | 3 | OP930502-NP |
| Fast analysis | 4.6×100 | 3 | OP931002-NP |
| Fast analysis | 4.6×150 | 3 | OP931505-NP |
| Guard cartridge | 4.6×10 | 3 | OP930105-NP |
Column Type
Dimension (mm)
Particle Size (µm)
Promosil -C18
General C18,
100Å, 320
m2/g; C%=19
Analytical
2.1×30
5
PM950302-0
Analytical
2.1×50
5
PM950502-0
Analytical
2.1×100
5
PM951002-0
Analytical
2.1×150
5
PM951502-0
Analytical
3.0x30
5
PM950303-0
Analytical
3.0x50
5
PM950503-0
Analytical
3.0x100
5
PM951003-0
Analytical
3.0x150
5
PM951503-0
Analytical
4.6×50
5
PM950505-0
Analytical
4.6×100
5
PM951005-0
Analytical
4.6×150
5
PM951505-0
Analytical
4.6×200
5
PM952005-0
Analytical
4.6×250
5
PM952505-0
Guard cartridge,
4.6×10 pack of 4
5
PM950105-0
Guard cartridge Holder
ID: 2.1, 3.0, 4.6
CH-100
Semi-preparative
10×150
5
PM951510-0
Semi-preparative
10×250
5
PM952510-0
Preparative
20×50
5
PM950520-0
Preparative
20×100
5
PM951020-0
Preparative
20×150
5
PM951520-0
Preparative
20×250
5
PM952520-0
Preparative
30×100
5
PM951030-0
Preparative
30×150
5
PM951530-0
Preparative
30×250
5
PM952530-0
Semi-preparative
10×150
10
PM901510-0
Semi-preparative
10×250
10
PM902510-0
Preparative
20×150
10
PM901520-0
Preparative
20×250
10
PM902520-0
Preparative
30×150
10
PM901530-0
Preparative
30×250
10
PM902530-0
Preparative
50x150
10
PM901550-0
Preparative
50x250
10
PM902550-0
Preparative Guard
20x10
10
PM900120-0
Preparative Guard
20x20
10
PM900220-0
Preparative Guard
20x10
5
PM950120-0
Preparative Guard
20×20
5
PM950220-0
Column Type
Dimension (mm)
Particle Size (µm)
Promosil -C8
General C8, 100Å, 320 m2/g; C%=10
Analytical
2.1×30
5
PM850302-0
Analytical
2.1×50
5
PM850502-0
Analytical
2.1×100
5
PM851002-0
Analytical
2.1×150
5
PM851502-0
Analytical
3.0x30
5
PM850303-0
Analytical
3.0x50
5
PM850503-0
Analytical
3.0x100
5
PM851003-0
Analytical
3.0x150
5
PM851503-0
Analytical
4.6×50
5
PM850505-0
Analytical
4.6×100
5
PM851005-0
Analytical
4.6×150
5
PM851505-0
Analytical
4.6×200
5
PM852005-0
Analytical
4.6×250
5
PM852505-0
Guard cartridge,
4.6×10
5
PM850105-0
Guard cartridge Holder
ID: 2.1, 3.0, 4.6
CH-100
Column Type
Dimension (mm)
Particle Size (µm)
Promosil -CN
high purity; 100 Å, 320m2/g, C%=5
Analytical
2.1×30
5
PM550302-0
Analytical
2.1×50
5
PM550502-0
Analytical
2.1×100
5
PM551002-0
Analytical
2.1×150
5
PM551502-0
Analytical
3.0x30
5
PM550303-0
Analytical
3.0x50
5
PM550503-0
Analytical
3.0x100
5
PM551003-0
Analytical
3.0x150
5
PM551503-0
Analytical
4.6×50
5
PM550505-0
Analytical
4.6×100
5
PM551005-0
Analytical
4.6×150
5
PM551505-0
Analytical
4.6×200
5
PM552005-0
Analytical
4.6×250
5
PM552505-0
Guard cartridge,
4.6×10 , 4/pk
5
PM550105-0
Guard cartridge Holder
Holder 2.1,3.0,4.6
CH-100
Column Type
Dimension (mm)
Particle Size (µm)
Promosil-Silica
high purity; 100A; 320m2/g
Analytical
2.1×30
5
PM050302-0
Analytical
2.1×50
5
PM050502-0
Analytical
2.1×100
5
PM051002-0
Analytical
2.1×150
5
PM051502-0
Analytical
3.0x30
5
PM050303-0
Analytical
3.0x50
5
PM050503-0
Analytical
3.0x100
5
PM051003-0
Analytical
3.0x150
5
PM051503-0
Analytical
4.6×50
5
PM050505-0
Analytical
4.6×100
5
PM051005-0
Analytical
4.6×150
5
PM051505-0
Analytical
4.6×200
5
PM052005-0
Analytical
4.6×250
5
PM052505-0
Guard cartridge,
4.6×10 , 4/pk
5
PM050105-0
Guard cartridge Holder
Holder 2.1,3.0,4.6
CH-100
Semi-preparative
10×150
5
PM051510-0
Semi-preparative
10×250
5
PM052510-0
Preparative
20×50
5
PM050520-0
Preparative
20×100
5
PM051020-0
Preparative
20×150
5
PM051520-0
Preparative
20×250
5
PM052520-0
Preparative
30×100
5
PM051030-0
Preparative
30×150
5
PM051530-0
Preparative
30×250
5
PM052530-0
Semi-preparative
10×150
10
PM001510-0
Semi-preparative
10×250
10
PM002510-0
Preparative
20×150
10
PM001520-0
Preparative
20×250
10
PM002520-0
Preparative
30×150
10
PM001530-0
Preparative
30×250
10
PM002530-0
Preparative
50x150
10
PM001550-0
Preparative
50x250
10
PM002550-0
Preparative Guard
20x10
10
PM000120-0
Preparative Guard
20x20
10
PM000220-0
Preparative Guard
20x10
5
PM050120-0
Preparative Guard
20×20
5
PM050220-0
Column Type
Dimension (mm)
Particle Size (µm)
Promosil -NH2
high purity; 100 Å, 320m2/g,
Analytical
2.1×30
5
PM750302-0
Analytical
2.1×50
5
PM750502-0
Analytical
2.1×100
5
PM751002-0
Analytical
2.1×150
5
PM751502-0
Analytical
3.0x30
5
PM750303-0
Analytical
3.0x50
5
PM750503-0
Analytical
3.0x100
5
PM751003-0
Analytical
3.0x150
5
PM751503-0
Analytical
4.6×50
5
PM750505-0
Analytical
4.6×100
5
PM751005-0
Analytical
4.6×150
5
PM751505-0
Analytical
4.6×200
5
PM752005-0
Analytical
4.6×250
5
PM752505-0
Guard cartridge,
4.6×10 , 4/pk
5
PM750105-0
Guard cartridge Holder
Holder 2.1,3.0,4.6
CH-100
Chiral Columns
Dimension
(mm)
Particle
Matrix (μm)
VCA951505-0
4.6×150
5
VCA952505-0
4.6×250
5
VCA950105-0
4.6×10, 4/pk
5
VCA952520-0
21.2×250
5
VCA950120-0
21.2×10
5
VCO951505-0
4.6×150
5
VCO952505-0
4.6×250
5
VCO950105-0
4.6×10, 4/pk
5
VCO952520-0
21.2×250
5
VCO950120-0
21.2×10
5
VCJ951505-0
4.6×150
5
VCJ952505-0
4.6×250
5
VCJ950105-0
4.6×10, 4/pk
5
VCJ952520-0
21.2×250
5
VCJ950120-0
21.2×10
5
AM951505-1
4.6×150
5
AM952505-1
4.6×250
5
AM950105-1
4.6×10, 4/pk
5
AM952520-1
21.2×250
5
AM950120-1
21.2×10
5
| Column Type | Dimension (mm) | Particle Size (µm) | Venusil SCX |
| --- | --- | --- | --- |
| | | | highest purity>99.999%; Surface Area:200m2/g; Pore Size:150Å, |
| Analytical | 2.1×30 | 3 | VSc930302-0 |
| Analytical | 2.1×50 | 3 | VSc930502-0 |
| Analytical | 2.1×100 | 3 | VSc931002-0 |
| Analytical | 2.1×150 | 3 | VSc931502-0 |
| Analytical | 4.6×50 | 3 | VSc930505-0 |
| Analytical | 4.6×100 | 3 | VSc931005-0 |
| Analytical | 4.6×150 | 3 | VSc931505-0 |
| Analytical | 4.6×200 | 3 | VSc932005-0 |
| Analytical | 4.6×250 | 3 | VSc932505-0 |
| Guard cartridge | 4.6×10 4/pk | 3 | VSc930105-0 |
| Column Type | Dimension (mm) | Particle Size (µm) | Venusil SCX |
| | | | highest purity>99.999%; Surface Aera: 50m2/g,Pore Size: 300Å |
| Analytical | 2.1×30 | 3 | VSc930302-T |
| Analytical | 2.1×50 | 3 | VSc930502-T |
| Analytical | 2.1×100 | 3 | VSc931002-T |
| Analytical | 2.1×150 | 3 | VSc931502-T |
| Analytical | 4.6×50 | 3 | VSc930505-T |
| Analytical | 4.6×100 | 3 | VSc931005-T |
| Analytical | 4.6×150 | 3 | VSc931505-T |
| Analytical | 4.6×250 | 3 | VSc932505-T |
| Guard cartridge | 4.6×10 4/pk | 3 | VSc930105-T |
| Column Type | Dimension (mm) | Particle Size (µm) | Venusil SAX |
| | | | high purity>Surface Aera: 200m2/g,Pore Size: 150Å |
| Analytical | 2.1×30 | 3 | VSa930302-0 |
| Analytical | 2.1×50 | 3 | VSa930502-0 |
| Analytical | 2.1×100 | 3 | VSa931002-0 |
| Analytical | 2.1×150 | 3 | VSa931502-0 |
| Analytical | 4.6×50 | 3 | VSa930505-0 |
| Analytical | 4.6×100 | 3 | VSa931005-0 |
| Analytical | 4.6×150 | 3 | VSa931505-0 |
| Analytical | 4.6×250 | 3 | VSa932505-0 |
| Guard cartridge | 4.6×10 4/pk | 3 | VSa930105-0 |
| Column Type | Dimension (mm) | Particle Size (µm) | Venusil SAX |
| | | | high purity>Surface Aera: 50m2/g,Pore Size: 300Å |
| Analytical | 4.6×100 | 3 | VSa931005-T |
| Analytical | 4.6×150 | 3 | VSa931505-T |
| Analytical | 4.6×250 | 3 | VSa932505-T |
| Guard cartridge | 4.6×10 4/pk | 3 | VSa930105-T |
| Column Type | Dimension (mm) | Particle Size (µm) | Venusil SCX |
| --- | --- | --- | --- |
| | | | highest purity>99.999%; Surface Area:200m2/g; Pore Size:150Å, |
| Analytical | 2.1×30 | 5 | VSc950302-0 |
| Analytical | 2.1×50 | 5 | VSc950502-0 |
| Analytical | 2.1×100 | 5 | VSc951002-0 |
| Analytical | 2.1×150 | 5 | VSc951502-0 |
| Analytical | 4.6×50 | 5 | VSc950505-0 |
| Analytical | 4.6×100 | 5 | VSc951005-0 |
| Analytical | 4.6×150 | 5 | VSc951505-0 |
| Analytical | 4.6×200 | 5 | VSc952005-0 |
| Analytical | 4.6×250 | 5 | VSc952505-0 |
| Guard cartridge | 4.6×10 4/pk | 5 | VSc950105-0 |
| Column Type | Dimension (mm) | Particle Size (µm) | Venusil SCX |
| | | | highest purity>99.999%; Surface Aera: 50m2/g,Pore Size: 300Å |
| Analytical | 2.1×30 | 5 | VSc950302-T |
| Analytical | 2.1×50 | 5 | VSc950502-T |
| Analytical | 2.1×100 | 5 | VSc951002-T |
| Analytical | 2.1×150 | 5 | VSc951502-T |
| Analytical | 4.6×50 | 5 | VSc950505-T |
| Analytical | 4.6×100 | 5 | VSc951005-T |
| Analytical | 4.6×150 | 5 | VSc951505-T |
| Analytical | 4.6×250 | 5 | VSc952505-T |
| Guard cartridge | 4.6×10 4/pk | 5 | VSc950105-T |
| Column Type | Dimension (mm) | Particle Size (µm) | Venusil SAX |
| | | | high purity>Surface Aera: 200m2/g,Pore Size: 150Å |
| Analytical | 2.1×30 | 5 | VSa950302-0 |
| Analytical | 2.1×50 | 5 | VSa950502-0 |
| Analytical | 2.1×100 | 5 | VSa951002-0 |
| Analytical | 2.1×150 | 5 | VSa951502-0 |
| Analytical | 4.6×50 | 5 | VSa950505-0 |
| Analytical | 4.6×100 | 5 | VSa951005-0 |
| Analytical | 4.6×150 | 5 | VSa951505-0 |
| Analytical | 4.6×250 | 5 | VSa952505-0 |
| Guard cartridge | 4.6×10 4/pk | 5 | VSa950105-0 |
| Column Type | Dimension (mm) | Particle Size (µm) | Venusil SAX |
| | | | high purity>Surface Aera: 50m2/g,Pore Size: 300Å |
| Analytical | 4.6×100 | 5 | VSa951005-T |
| Analytical | 4.6×150 | 5 | VSa951505-T |
| Analytical | 4.6×250 | 5 | VSa952505-T |
| Guard cartridge | 4.6×10 4/pk | 5 | VSa950105-T |
Column Type
Dimension (mm)
Particle Size (µm)
Venusil HLP (C18-Amide)
Great for basic compounds, improved perfornance for polar compounds and steric isomers; Surface Area: 320m2/g, Pore Size: 100Å, C%=19, metal<30PPM, pH 2-8
Analytical
4.6×50
5
VHL950505-0
Analytical
4.6×100
5
VHL951005-0
Analytical
4.6×150
5
VHL951505-0
Analytical
4.6×200
5
VHL952005-0
Analytical
4.6×250
5
VHL952505-0
Guard Cartridge
4.6×10, 4/pk
5
VHL950105-0
Guard Cartridge
4.6×10, 4/pk
5
VHL950105-0S
Semi-preparative
10×150
5
VHL951510-0
Semi-preparative
10×250
5
VHL952510-0
Preparative
21.2×50
5
VHL950520-0
Preparative
21.2×100
5
VHL951020-0
Preparative
21.2×150
5
VHL951520-0
Preparative
21.2×250
5
VHL952520-0
Preparative
30×150
5
VHL951530-0
Preparative
30×250
5
VHL952530-0
Semi-preparative
10×150
10
VHL901510-0
Semi-preparative
10×250
10
VHL902510-0
Preparative
21.2×50
10
VHL900520-0
Preparative
21.2×100
10
VHL901020-0
Preparative
21.2×150
10
VHL901520-0
Preparative
21.2×250
10
VHL902520-0
Preparative
30×150
10
VHL901530-0
Preparative
30×250
10
VHL902530-0
Preparative
50×250
10
VHL902550-0
Column Type
Dimension (mm)
Particle Size (µm)
Venusil PAH (C18-Polymer)
Separation of PAHs and steric isomers of the
aromatic compounds; Surface Area: 320m2/g, Pore Size: 200Å, C%=17, metal<30PPM, pH 1.5-9.0
Analytical
2.1×250
5
VP952502-L
Analytical
4.6×250
5
VP952505-L
Analytical
4.6×150
5
VP951505-L
Guard Cartridge
2.1×10, 4/pk
5
VP950102-L
Guard Cartridge
4.6×10, 4/pk
5
VP950105-L
Guard Cartridge
2.1×10, 4/pk
5
VP950102-LS
Guard Cartridge
4.6×10, 4/pk
5
VP950105-LS
Column Type
Dimension (mm)
Particle Size (µm)
GF
ultra pure,high porosity;
bonded 120Å,
Analytical
4.6x 150
5
GF151505-0
Analytical
4.6x 250
5
GF152505-0
Analytical
4.6x 150
10
GF101505-0
Analytical
4.6x 250
10
GF102505-0
Semi-prep.
10x150
5
GF151510-0
Semi-prep.
10x250
5
GF152510-0
Semi-prep.
10x150
10
GF101510-0
Semi-prep.
10x250
10
GF102510-0
Column Type
Dimension (mm)
Particle Size (µm)
GF 300
ultra pure,high porosity;
bonded 300Å,
Analytical
4.6x 150
5
GF351505-0
Analytical
4.6x 250
5
GF352505-0
Analytical
4.6x 150
10
GF301505-0
Analytical
4.6x 250
10
GF302505-0
Semi-prep.
10x150
5
GF351510-0
Semi-prep.
10x250
5
GF352510-0
Semi-prep.
10x150
10
GF301510-0
Semi-prep.
10x250
10
GF302510-0
Column Type
Dimension (mm)
Particle Size (µm)
GF amide
ultra pure,high porosity;
bonded with amide 120Å,
Analytical
4.6x 150
5
GF151505-A
Analytical
4.6x 250
5
GF152505-A
Analytical
4.6x 150
10
GF101505-A
Analytical
4.6x 250
10
GF102505-A
Semi-prep.
10x150
5
GF151510-A
Semi-prep.
10x250
5
GF152510-A
Semi-prep.
10x150
10
GF101510-A
Semi-prep.
10x250
10
GF102510-A
Column Type
Dimension (mm)
Particle Size (µm)
GFamide-300
ultra pure,high porosity;
bonded with amide 300Å,
Analytical
4.6x 150
5
GF351505-A
Analytical
4.6x 250
5
GF352505-A
Analytical
4.6x 150
10
GF301505-A
Analytical
4.6x 250
10
GF302505-A
Semi-prep.
10x150
5
GF351510-A
Semi-prep.
10x250
5
GF352510-A
Semi-prep.
10x150
10
GF301510-A
Semi-prep.
10x250
10
GF302510-A
| Column Type | Dimension (mm) | Particle Size (µm) | UPLC Innoval C18 |
| --- | --- | --- | --- |
| | | | low pH tolerance (1.5-9.0); metal impurity <30ppm, 100 Å, 220m2/g; double end-capping; carbon loadng:14%. |
| Analytic | 2.1×30 | 1.9 | IX920302-0 |
| Analytic | 2.1×50 | 1.9 | IX920502-0 |
| Analytic | 2.1×75 | 1.9 | IX920802-0 |
| Analytic | 2.1×100 | 1.9 | IX921002-0 |
| Guard column | 2.1X10, 4/PK | 1.9 | IX920102-0 |
| Analytic | 3.0×30 | 1.9 | IX920303-0 |
| Analytic | 3.0×50 | 1.9 | IX920503-0 |
| Analytic | 3.0×75 | 1.9 | IX920803-0 |
| Analytic | 3.0×100 | 1.9 | IX921003-0 |
| Guard column | 3.0X10, 4/PK | 1.9 | IX920103-0 |
| Analytic | 4.6×30 | 1.9 | IX920305-0 |
| Analytic | 4.6×50 | 1.9 | IX920505-0 |
| Analytic | 4.6×75 | 1.9 | IX920805-0 |
| Analytic | 4.6×100 | 1.9 | IX921005-0 |
| Guard column | 4.6X10, 4/PK | 1.9 | IX920105-0 |
| | | | low pH tolerance (0.8-7.5); metal impurity <30ppm, 100 Å, 220m2/g; no end-capping; carbon loadng:12%. |
| Analytic | 2.1×30 | 1.9 | IS920302-0 |
| Analytic | 2.1×50 | 1.9 | IS920502-0 |
| Analytic | 2.1×75 | 1.9 | IS920802-0 |
| Analytic | 2.1×100 | 1.9 | IS921002-0 |
| Analytic | 3.0×30 | 1.9 | IS920303-0 |
| Analytic | 3.0×50 | 1.9 | IS920503-0 |
| Analytic | 3.0×75 | 1.9 | IS920803-0 |
| Analytic | 3.0×100 | 1.9 | IS921003-0 |
| Analytic | 4.6×30 | 1.9 | IS920305-0 |
| Analytic | 4.6×50 | 1.9 | IS920505-0 |
| Analytic | 4.6×75 | 1.9 | IS920805-0 |
| Analytic | 4.6×100 | 1.9 | IS921005-0 |
| Column Type | Dimension (mm) | Particle Size (µm) | UPLC Innoval AQ C18 |
| | | | low pH tolerance (1.5-9.0); metal impurity <30ppm, 100 Å, 220m2/g; single end-capping; carbon loadng: 12%. |
| Analytic | 2.1×30 | 1.9 | IA920302-0 |
| Analytic | 2.1×50 | 1.9 | IA920502-0 |
| Analytic | 2.1×75 | 1.9 | IA920802-0 |
| Analytic | 2.1×100 | 1.9 | IA921002-0 |
| Analytic | 3.0×30 | 1.9 | IA920303-0 |
| Analytic | 3.0×50 | 1.9 | IA920503-0 |
| Analytic | 3.0×75 | 1.9 | IA920803-0 |
| Analytic | 3.0×100 | 1.9 | IA921003-0 |
| Analytic | 4.6×30 | 1.9 | IA920305-0 |
| Analytic | 4.6×50 | 1.9 | IA920505-0 |
| Analytic | 4.6×75 | 1.9 | IA920805-0 |
| Analytic | 4.6×100 | 1.9 | IA921005-0 |
| | | | low pH tolerance (2.0-8.0); metal impurity <30ppm, 100 Å, 220m2/g; no end-capping; carbon loadng: 8%. |
| Analytic | 2.1×30 | 1.9 | IH920302-0 |
| Analytic | 2.1×50 | 1.9 | IH920502-0 |
| Analytic | 2.1×75 | 1.9 | IH920802-0 |
| Analytic | 2.1×100 | 1.9 | IH921002-0 |
| Analytic | 3.0×30 | 1.9 | IH920303-0 |
| Analytic | 3.0×50 | 1.9 | IH920503-0 |
| Analytic | 3.0×75 | 1.9 | IH920803-0 |
| Analytic | 3.0×100 | 1.9 | IH921003-0 |
| Analytic | 4.6×30 | 1.9 | IH920305-0 |
| Analytic | 4.6×50 | 1.9 | IH920505-0 |
| Analytic | 4.6×75 | 1.9 | IH920805-0 |
| Analytic | 4.6×100 | 1.9 | IH921005-0 |
| | | | low pH tolerance (2.0-8.0); metal impurity <30ppm, 100 Å, 220m2/g; no end-capping. |
| Analytic | 2.1×30 | 1.9 | ISi920302-0 |
| Analytic | 2.1×50 | 1.9 | ISi920502-0 |
| Analytic | 2.1×75 | 1.9 | ISi920802-0 |
| Analytic | 2.1×100 | 1.9 | ISi921002-0 |
| Analytic | 3.0×30 | 1.9 | ISi920303-0 |
| Analytic | 3.0×50 | 1.9 | ISi920503-0 |
| Analytic | 3.0×75 | 1.9 | ISi920803-0 |
| Analytic | 3.0×100 | 1.9 | ISi921003-0 |
| Analytic | 4.6×30 | 1.9 | ISi920305-0 |
| Analytic | 4.6×50 | 1.9 | ISi920505-0 |
| Analytic | 4.6×75 | 1.9 | ISi920805-0 |
| Analytic | 4.6×100 | 1.9 | ISi921005-0 |

| Column Type | Dimension (mm) | Particle Size (µm) | Bonshell C18 |
| --- | --- | --- | --- |
| | | | Alternative to Agilent Poreshell columns. Pore size 90Å; surface area 150 m2/g; carbon loading C%=10%. |
| Fast analysis | 2.1×30 | 2.7 | SC920302-0 |
| Fast analysis | 2.1×50 | 2.7 | SC920502-0 |
| Fast analysis | 2.1×75 | 2.7 | SC920802-0 |
| Fast analysis | 2.1×100 | 2.7 | SC921002-0 |
| Fast analysis | 4.6x30 | 2.7 | SC920305-0 |
| Fast analysis | 4.6x50 | 2.7 | SC920505-0 |
| Fast analysis | 4.6x75 | 2.7 | SC920805-0 |
| Fast analysis | 4.6×100 | 2.7 | SC921005-0 |
| Column Type | Dimension (mm) | Particle Size (µm) | Bonshell ASB C18 |
| | | | Alternative to Agilent Poreshell columns.Non End-capped. Pore size 90Å; surface area 150 m2/g; carbon loading C%=8%. |
| Fast analysis | 2.1×30 | 2.7 | SS920302-0 |
| Fast analysis | 2.1×50 | 2.7 | SS920502-0 |
| Fast analysis | 2.1×75 | 2.7 | SS920802-0 |
| Fast analysis | 2.1×100 | 2.7 | SS921002-0 |
| Fast analysis | 4.6x30 | 2.7 | SS920305-0 |
| Fast analysis | 4.6x50 | 2.7 | SS920505-0 |
| Fast analysis | 4.6x75 | 2.7 | SS920805-0 |
| Fast analysis | 4.6×100 | 2.7 | SS921005-0 |

Column Type
Dimension (mm)
Particle Size (µm)
Innoval ODS-2
General C18(2),
100Å, 320
m2/g; C%=14
Analytical
2.1×30
5
IX950302-2
Analytical
2.1×50
5
IX950502-2
Analytical
2.1×100
5
IX951002-2
Analytical
2.1×150
5
IX951502-2
Analytical
3.0x30
5
IX950303-2
Analytical
3.0x50
5
IX950503-2
Analytical
3.0x100
5
IX951003-2
Analytical
3.0x150
5
IX951503-2
Analytical
4.6×50
5
IX950505-2
Analytical
4.6×100
5
IX951005-2
Analytical
4.6×150
5
IX951505-2
Analytical
4.6×200
5
IX952005-2
Analytical
4.6×250
5
IX952505-2
Guard cartridge,
4.6×10 pack of 4
5
IX950105-2
Guard cartridge Holder
ID: 2.1, 3.0, 4.6
CH-100
Semi-preparative
10×150
5
IX951510-2
Semi-preparative
10×250
5
IX952510-2
Preparative
20×50
5
IX950520-2
Preparative
20×100
5
IX951020-2
Preparative
20×150
5
IX951520-2
Preparative
20×250
5
IX952520-2
Preparative
30×100
5
IX951030-2
Preparative
30×150
5
IX951530-2
Preparative
30×250
5
IX952530-2
Semi-preparative
10×150
10
IX901510-2
Semi-preparative
10×250
10
IX902510-2
Preparative
20×150
10
IX901520-2
Preparative
20×250
10
IX902520-2
Preparative
30×150
10
IX901530-2
Preparative
30×250
10
IX902530-2
Preparative
50x150
10
IX901550-2
Preparative
50x250
10
IX902550-2
Preparative Guard
20x10
10
IX900120-2
Preparative Guard
20x20
10
IX900220-2
Preparative Guard
20x10
5
IX950120-2
Preparative Guard
20×20
5
IX950220-2
Column Type
Dimension (mm)
Particle Size (µm)
Innoval -C8
General C8, 100Å, 220 m2/g; C%=10
Analytical
2.1×30
5
IX850302-0
Analytical
2.1×50
5
IX850502-0
Analytical
2.1×100
5
IX851002-0
Analytical
2.1×150
5
IX851502-0
Analytical
3.0x30
5
IX850303-0
Analytical
3.0x50
5
IX850503-0
Analytical
3.0x100
5
IX851003-0
Analytical
3.0x150
5
IX851503-0
Analytical
4.6×50
5
IX850505-0
Analytical
4.6×100
5
IX851005-0
Analytical
4.6×150
5
IX851505-0
Analytical
4.6×200
5
IX852005-0
Analytical
4.6×250
5
IX852505-0
Guard cartridge,
4.6×10
5
IX850105-0
Guard cartridge Holder
ID: 2.1, 3.0, 4.6
CH-100
Column Type
Dimension (mm)
Particle Size (µm)
Innoval AQ C18
Reverse Phase Columns for Small Molecules
General C8, 100Å, 220 m2/g; C%=15
Analytical
2.1×30
5
IA950302-0
Analytical
2.1×50
5
IA950502-0
Analytical
2.1×100
5
IA951002-0
Analytical
2.1×150
5
IA951502-0
Analytical
3.0x30
5
IA950303-0
Analytical
3.0x50
5
IA950503-0
Analytical
3.0x100
5
IA951003-0
Analytical
3.0x150
5
IA951503-0
Analytical
4.6×50
5
IA950505-0
Analytical
4.6×100
5
IA951005-0
Analytical
4.6×150
5
IA951505-0
Analytical
4.6×200
5
IA952005-0
Analytical
4.6×250
5
IA952505-0
Guard cartridge,
4.6×10
5
IA950105-0
Guard cartridge Holder
ID: 2.1, 3.0, 4.6
CH-100
Guard cartridge,
4.6×10 , 4/pk
5
IX550105-0
Guard cartridge Holder
Holder 2.1,3.0,4.6
CH-100
Column Type
Dimension (mm)
Particle Size (µm)
Innoval-Silica
high purity; 100A; 220m2/g
Analytical
2.1×30
5
ISi950302-0
Analytical
2.1×50
5
ISi950502-0
Analytical
2.1×100
5
ISi951002-0
Analytical
2.1×150
5
ISi951502-0
Analytical
3.0x30
5
ISi950303-0
Analytical
3.0x50
5
ISi950503-0
Analytical
3.0x100
5
ISi951003-0
Analytical
3.0x150
5
ISi951503-0
Analytical
4.6×50
5
ISi950505-0
Analytical
4.6×100
5
ISi951005-0
Analytical
4.6×150
5
ISi951505-0
Analytical
4.6×200
5
ISi952005-0
Analytical
4.6×250
5
ISi952505-0
Guard cartridge,
4.6×10 , 4/pk
5
ISi950105-0
Guard cartridge Holder
Holder 2.1,3.0,4.6
CH-100
Semi-preparative
10×150
5
ISi951510-0
Semi-preparative
10×250
5
ISi952510-0
Preparative
20×50
5
ISi950520-0
Preparative
20×100
5
ISi951020-0
Preparative
20×150
5
ISi951520-0
Preparative
20×250
5
ISi952520-0
Preparative
30×100
5
ISi951030-0
Preparative
30×150
5
ISi951530-0
Preparative
30×250
5
ISi952530-0
Semi-preparative
10×150
10
ISi901510-0
Semi-preparative
10×250
10
ISi902510-0
Preparative
20×150
10
ISi901520-0
Preparative
20×250
10
ISi902520-0
Preparative
30×150
10
ISi901530-0
Preparative
30×250
10
ISi902530-0
Preparative
50x150
10
ISi901550-0
Preparative
50x250
10
ISi902550-0
Preparative Guard
20x10
10
ISi900120-0
Preparative Guard
20x20
10
ISi900220-0
Preparative Guard
20x10
5
ISi950120-0
Preparative Guard
20×20
5
ISi950220-0
Column Type
Dimension (mm)
Particle Size (µm)
Innoval -NH2
high purity; 100 Å, 320m2/g,
Analytical
2.1×30
5
IX750302-0
Analytical
2.1×50
5
IX750502-0
Analytical
2.1×100
5
IX751002-0
Analytical
2.1×150
5
IX751502-0
Analytical
3.0x30
5
IX750303-0
Analytical
3.0x50
5
IX750503-0
Analytical
3.0x100
5
IX751003-0
Analytical
3.0x150
5
IX751503-0
Analytical
4.6×50
5
IX750505-0
Analytical
4.6×100
5
IX751005-0
Analytical
4.6×150
5
IX751505-0
Analytical
4.6×200
5
IX752005-0
Analytical
4.6×250
5
IX752505-0
Guard cartridge,
4.6×10 , 4/pk
5
IX750105-0
Guard cartridge Holder
Holder 2.1,3.0,4.6
CH-100
Innoval ASB Series
Column Type
Dimension (mm)
Particle Size (µm)
Innoval ASB C18
General C18,
100Å, 220
m2/g; C%=12
Analytical
2.1×30
5
IS950302-0
Analytical
2.1×50
5
IS950502-0
Analytical
2.1×100
5
IS951002-0
Analytical
2.1×150
5
IS951502-0
Analytical
3.0x30
5
IS950303-0
Analytical
3.0x50
5
IS950503-0
Analytical
3.0x100
5
IS951003-0
Analytical
3.0x150
5
IS951503-0
Analytical
4.6×50
5
IS950505-0
Analytical
4.6×100
5
IS951005-0
Analytical
4.6×150
5
IS951505-0
Analytical
4.6×200
5
IS952005-0
Analytical
4.6×250
5
IS952505-0
Guard cartridge,
4.6×10 pack of 4
5
IS950105-0
Guard cartridge Holder
ID: 2.1, 3.0, 4.6
CH-100
Semi-preparative
10×150
5
IS951510-0
Semi-preparative
10×250
5
IS952510-0
Preparative
20×50
5
IS950520-0
Preparative
20×100
5
IS951020-0
Preparative
20×150
5
IS951520-0
Preparative
20×250
5
IS952520-0
Preparative
30×100
5
IS951030-0
Preparative
30×150
5
IS951530-0
Preparative
30×250
5
IS952530-0
Semi-preparative
10×150
10
IS901510-0
Semi-preparative
10×250
10
IS902510-0
Preparative
20×150
10
IS901520-0
Preparative
20×250
10
IS902520-0
Preparative
30×150
10
IS901530-0
Preparative
30×250
10
IS902530-0
Preparative
50x150
10
IS901550-0
Preparative
50x250
10
IS902550-0
Preparative Guard
20x10
10
IS900120-0
Preparative Guard
20x20
10
IS900220-0
Preparative Guard
20x10
5
IS950120-0
Preparative Guard
20×20
5
IS950220-0
Column Type
Dimension (mm)
Particle Size (µm)
Innoval ASB C8
General C8, 100Å, 220 m2/g; C%=10
Analytical
2.1×30
5
IS850302-0
Analytical
2.1×50
5
IS850502-0
Analytical
2.1×100
5
IS851002-0
Analytical
2.1×150
5
IS851502-0
Analytical
3.0x30
5
IS850303-0
Analytical
3.0x50
5
IS850503-0
Analytical
3.0x100
5
IS851003-0
Analytical
3.0x150
5
IS851503-0
Analytical
4.6×50
5
IS850505-0
Analytical
4.6×100
5
IS851005-0
Analytical
4.6×150
5
IS851505-0
Analytical
4.6×200
5
IS852005-0
Analytical
4.6×250
5
IS852505-0
Guard cartridge,
4.6×10
5
IS850105-0
Guard cartridge Holder
ID: 2.1, 3.0, 4.6
CH-100
Column Type
Dimension (mm)
Particle Size (µm)
Innoval ASB AQ
Reverse Phase Columns for Small Molecules
General C8, 100Å, 220 m2/g; C%=10
Analytical
2.1×30
5
IS450302-0
Analytical
2.1×50
5
IS450502-0
Analytical
2.1×100
5
IS451002-0
Analytical
2.1×150
5
IS451502-0
Analytical
3.0x30
5
IS450303-0
Analytical
3.0x50
5
IS450503-0
Analytical
3.0x100
5
IS451003-0
Analytical
3.0x150
5
IS451503-0
Analytical
4.6×50
5
IS450505-0
Analytical
4.6×100
5
IS451005-0
Analytical
4.6×150
5
IS451505-0
Analytical
4.6×200
5
IS452005-0
Analytical
4.6×250
5
IS452505-0
Guard cartridge,
4.6×10
5
IS450105-0
Guard cartridge Holder
ID: 2.1, 3.0, 4.6
CH-100
Guard cartridge,
4.6×10 , 4/pk
5
IS450105-0
Guard cartridge Holder
Holder 2.1,3.0,4.6
CH-100
Column Type
Dimension (mm)
Particle Size (µm)
Innoval ASB CN
high purity; 100 Å, 320m2/g, C%=5
Analytical
2.1×30
5
IC950302-0
Analytical
2.1×50
5
IC950502-0
Analytical
2.1×100
5
IC951002-0
Analytical
2.1×150
5
IC951502-0
Analytical
3.0x30
5
IC950303-0
Analytical
3.0x50
5
IC950503-0
Analytical
3.0x100
5
IC951003-0
Analytical
3.0x150
5
IC951503-0
Analytical
4.6×50
5
IC950505-0
Analytical
4.6×100
5
IC951005-0
Analytical
4.6×150
5
IC951505-0
Analytical
4.6×200
5
IC952005-0
Analytical
4.6×250
5
IC952505-0
Guard cartridge,
4.6×10 , 4/pk
5
IC950105-0
Guard cartridge Holder
Holder 2.1,3.0,4.6
CH-100
Column Type
Dimension (mm)
Particle Size (µm)
Innoval ASB Phenyl
high purity; 100 Å, 320m2/g, C%=8
Analytical
2.1×30
5
IS650302-0
Analytical
2.1×50
5
IS650502-0
Analytical
2.1×100
5
IS651002-0
Analytical
2.1×150
5
IS651502-0
Analytical
3.0x30
5
IS650303-0
Analytical
3.0x50
5
IS650503-0
Analytical
3.0x100
5
IS651003-0
Analytical
3.0x150
5
IS651503-0
Analytical
4.6×50
5
IS650505-0
Analytical
4.6×100
5
IS651005-0
Analytical
4.6×150
5
IS651505-0
Analytical
4.6×200
5
IS652005-0
Analytical
4.6×250
5
IS652505-0
Guard cartridge,
4.6×10 , 4/pk
5
IS650105-0
Guard cartridge Holder
Holder 2.1,3.0,4.6
CH-100

| Column Type | Dimension (mm) | Particle Size (µm) | Durashell C18 |
| --- | --- | --- | --- |
| | | | Reverse Phase Columns for Small Molecules |
| Analytical | 2.1×30 | 5 | DC950302-0 |
| Analytical | 2.1×50 | 5 | DC950502-0 |
| Analytical | 2.1×100 | 5 | DC951002-0 |
| Analytical | 2.1×150 | 5 | DC951502-0 |
| Guard cartridge | 2.1×10 ,4/pk | 5 | DC950102-0S |
| Guard cartridge | 2.1×10 ,4/pk | 5 | DC950102-0 |
| Analytical | 3.0x30 | 5 | DC950303-0 |
| Analytical | 3.0x50 | 5 | DC950503-0 |
| Analytical | 3.0x100 | 5 | DC951003-0 |
| Analytical | 3.0x150 | 5 | DC951503-0 |
| Analytical | 4.6×50 | 5 | DC950505-0 |
| Analytical | 4.6×100 | 5 | DC951005-0 |
| Analytical | 4.6×150 | 5 | DC951505-0 |
| Analytical | 4.6×200 | 5 | DC952005-0 |
| Analytical | 4.6×250 | 5 | DC952505-0 |
| Guard Cartridge | 4.6×10, 4/pk | 5 | DC950105-0S |
| Guard Cartridge | 4.6×10, 4/pk | 5 | DC950105-0 |
| Fast analysis | 2.1×30 | 3 | DC930302-0 |
| Fast analysis | 2.1×50 | 3 | DC930502-0 |
| Fast analysis | 2.1×100 | 3 | DC931002-0 |
| Fast analysis | 2.1×150 | 3 | DC931502-0 |
| Guard cartridge | 2.1×10 ,4/pk | 3 | DC930102-0S |
| Guard cartridge | 2.1×10 ,4/pk | 3 | DC930102-0 |
| Analytical | 3.0x30 | 3 | DC930303-0 |
| Analytical | 3.0x50 | 3 | DC930503-0 |
| Analytical | 3.0x100 | 3 | DC931003-0 |
| Analytical | 3.0x150 | 3 | DC931503-0 |
| Guard cartridge | 3.0×10 ,4/pk | 3 | DC930103-0S |
| Guard cartridge | 3.0×10 ,4/pk | 3 | DC930103-0 |
| Fast analysis | 4.6×50 | 3 | DC930505-0 |
| Fast analysis | 4.6×100 | 3 | DC931005-0 |
| Fast analysis | 4.6×150 | 3 | DC931505-0 |
| Guard cartridge | 4.6×10;4/pk | 3 | DC930105-0S |
| Guard cartridge | 4.6×10;4/pk | 3 | DC930105-0 |
| Cartridge Holder | 2.1, 3.0, 4.6 | | CH-100 |
| Semi-preparative | 10×150 | 5 | DC951510-0 |
| Semi-preparative | 10×250 | 5 | DC952510-0 |
| Preparative | 20×50 | 5 | DC950520-0 |
| Preparative | 20×100 | 5 | DC951020-0 |
| Preparative | 20×150 | 5 | DC951520-0 |
| Preparative | 20×250 | 5 | DC952520-0 |
| Preparative | 30×100 | 5 | DC951030-0 |
| Preparative | 30×150 | 5 | DC951530-0 |
| Preparative | 30×250 | 5 | DC952530-0 |
| Guard cartridge | 10×10 | 5 | DC950110-0S |
| Guard cartridge | 20×10 | 5 | DC950120-0 |
| Guard cartridge | 20×20 | 5 | DC950220-0 |
| Semi-preparative | 4.6x150 | 10 | DC901505-0 |
| Semi-preparative | 10×150 | 10 | DC901510-0 |
| Semi-preparative | 4.6X250 | 10 | DC902505-0 |
| Semi-preparative | 10×250 | 10 | DC902510-0 |
| Preparative | 20×50 | 10 | DC900520-0 |
| Preparative | 20×150 | 10 | DC901520-0 |
| Preparative | 20×250 | 10 | DC902520-0 |
| Preparative | 30×100 | 10 | DC901030-0 |
| Preparative | 30×150 | 10 | DC901530-0 |
| Preparative | 30X200 | 10 | DC902030-0 |
| Preparative | 30×250 | 10 | DC902530-0 |
| Preparative | 50×150 | 10 | DC901550-0 |
| Preparative | 50×250 | 10 | DC902550-0 |
| Guard cartridge | 20×20 | 10 | DC900220-0 |
| Guard cartridge | 20×10 | 10 | DC900120-0S |
| Guard cartridge | 20×10 | 10 | DC900120-0 |
| Cartridge Holder | 20x10 | | CH-200 |
| Column Type | Dimension (mm) | Particle Size (µm) | Durashell C18 (2)-L |
| | | | Reverse Phase Columns for Small Molecules, |
| Analytical | 2.1×30 | 5 | DC950302-2L |
| Analytical | 2.1×50 | 5 | DC950502-2L |
| Analytical | 2.1×100 | 5 | DC951002-2L |
| Analytical | 2.1×150 | 5 | DC951502-2L |
| Guard cartridge | 2.1×10 ,4/pk | 5 | DC950102-2LS |
| Guard cartridge | 2.1×10 ,4/pk | 5 | DC950102-2L |
| Analytical | 3.0x30 | 5 | DC950303-2L |
| Analytical | 3.0x50 | 5 | DC950503-2L |
| Analytical | 3.0x100 | 5 | DC951003-2L |
| Analytical | 3.0x150 | 5 | DC951503-2L |
| Analytical | 4.6×50 | 5 | DC950505-2L |
| Analytical | 4.6×100 | 5 | DC951005-2L |
| Analytical | 4.6×150 | 5 | DC951505-2L |
| Analytical | 4.6×200 | 5 | DC952005-2L |
| Analytical | 4.6×250 | 5 | DC952505-2L |
| Guard Cartridge | 4.6×10, 4/pk | 5 | DC950105-2LS |
| Guard Cartridge | 4.6×10, 4/pk | 5 | DC950105-2L |
| Fast analysis | 2.1×30 | 3 | DC930302-2L |
| Fast analysis | 2.1×50 | 3 | DC930502-2L |
| Fast analysis | 2.1×100 | 3 | DC931002-2L |
| Fast analysis | 2.1×150 | 3 | DC931502-2L |
| Guard cartridge | 2.1×10 ,4/pk | 3 | DC930102-2LS |
| Guard cartridge | 2.1×10 ,4/pk | 3 | DC930102-2L |
| Analytical | 3.0x30 | 3 | DC930303-2L |
| Analytical | 3.0x50 | 3 | DC930503-2L |
| Analytical | 3.0x100 | 3 | DC931003-2L |
| Analytical | 3.0x150 | 3 | DC931503-2L |
| Guard cartridge | 3.0×10 ,4/pk | 3 | DC930103-2LS |
| Guard cartridge | 3.0×10 ,4/pk | 3 | DC930103-2L |
| Fast analysis | 4.6×50 | 3 | DC930505-2L |
| Fast analysis | 4.6×100 | 3 | DC931005-2L |
| Fast analysis | 4.6×150 | 3 | DC931505-2L |
| Guard cartridge | 4.6×10;4/pk | 3 | DC930105-2LS |
| Guard cartridge | 4.6×10;4/pk | 3 | DC930105-2L |
| Cartridge Holder | 2.1, 3.0, 4.6 | | CH-100 |
| Semi-preparative | 10×150 | 5 | DC951510-2L |
| Semi-preparative | 10×250 | 5 | DC952510-2L |
| Preparative | 20×50 | 5 | DC950520-2L |
| Preparative | 20×100 | 5 | DC951020-2L |
| Preparative | 20×150 | 5 | DC951520-2L |
| Preparative | 20×250 | 5 | DC952520-2L |
| Preparative | 30×100 | 5 | DC951030-2L |
| Preparative | 30×150 | 5 | DC951530-2L |
| Preparative | 30×250 | 5 | DC952530-2L |
| Guard cartridge | 10×10 | 5 | DC950110-2LS |
| Guard cartridge | 20×10 | 5 | DC950120-2L |
| Guard cartridge | 20×20 | 5 | DC950220-2L |
| Semi-preparative | 4.6x150 | 10 | DC901505-2L |
| Semi-preparative | 10×150 | 10 | DC901510-2L |
| Semi-preparative | 4.6X250 | 10 | DC902505-2L |
| Semi-preparative | 10×250 | 10 | DC902510-2L |
| Preparative | 20×50 | 10 | DC900520-2L |
| Preparative | 20×150 | 10 | DC901520-2L |
| Preparative | 20×250 | 10 | DC902520-2L |
| Preparative | 30×100 | 10 | DC901030-2L |
| Preparative | 30×150 | 10 | DC901530-2L |
| Preparative | 30X200 | 10 | DC902030-2L |
| Preparative | 30×250 | 10 | DC902530-2L |
| Preparative | 50×150 | 10 | DC901550-2L |
| Preparative | 50×250 | 10 | DC902550-2L |
| Guard cartridge | 20×20 | 10 | DC900220-2L |
| Guard cartridge | 20×10 | 10 | DC900120-2LS |
| Guard cartridge | 20×10 | 10 | DC900120-2L |
| Cartridge Holder | 20x10 | | CH-200 |
| Column Type | Dimension (mm) | Particle Size (µm) | Durashell RP |
| | | | Reverse Phase Columns for Small Molecules |
| Analytical | 2.1×30 | 5 | DS950302-0 |
| Analytical | 2.1×50 | 5 | DS950502-0 |
| Analytical | 2.1×100 | 5 | DS951002-0 |
| Analytical | 2.1×150 | 5 | DS951502-0 |
| Analytical | 3.0x30 | 5 | DS950303-0 |
| Analytical | 3.0x50 | 5 | DS950503-0 |
| Analytical | 3.9x150 | 5 | DS9515039-0 |
| Analytical | 4.6×50 | 5 | DS950505-0 |
| Analytical | 4.6×100 | 5 | DS951005-0 |
| Analytical | 4.6×150 | 5 | DS951505-0 |
| Analytical | 4.6×200 | 5 | DS952005-0 |
| Analytical | 4.6×250 | 5 | DS952505-0 |
| Guard Column | 4.6×10, 4/pk | 5 | DS950105-0 |
| Fast analysis | 2.1×30 | 3 | DS930302-0 |
| Fast analysis | 2.1×50 | 3 | DS930502-0 |
| Fast analysis | 2.1×100 | 3 | DS931002-0 |
| Analytical | 3.0x50 | 3 | DS930503-0 |
| Fast analysis | 4.6×50 | 3 | DS930505-0 |
| Fast analysis | 4.6×100 | 3 | DS931005-0 |
| Fast analysis | 4.6×150 | 3 | DS931505-0 |
| Guard Column | 4.6×10;4/pk | 3 | DS930105-0 |
| Cartridge Holder | 2.1, 3.0, 4.6 | | CH-100 |
| Preparative | 21.2×150 | 5 | DS951520-0 |
| Preparative | 21.2×250 | 5 | DS952520-0 |
| Semi-preparative | 4.6X200 | 10 | DS902005-0 |
| Semi-preparative | 4.6X250 | 10 | DS902505-0 |
| Semi-preparative | 10×250 | 10 | DS902510-0 |
| Preparative | 20×250 | 10 | DS902520-0 |
| Preparative | 30×150 | 10 | DS901530-0 |
| Preparative | 50×250 | 10 | DS902550-0 |
| Cartridge Holder | 20x10 | | CH-200 |
| Column Type | Dimension (mm) | Particle Size (µm) | Durashell C8 |
| | | | Reverse Phase Columns for Small Molecules |
| Analytical | 2.1×30 | 5 | DC850302-0 |
| Analytical | 2.1×50 | 5 | DC850502-0 |
| Analytical | 2.1×100 | 5 | DC851002-0 |
| Analytical | 2.1×150 | 5 | DC851502-0 |
| Guard cartridge | 2.1×10 ,4/pk | 5 | DC850102-0S |
| Guard cartridge | 2.1×10 ,4/pk | 5 | DC850102-0 |
| Analytical | 3.0x30 | 5 | DC850303-0 |
| Analytical | 3.0x50 | 5 | DC850503-0 |
| Analytical | 3.0x100 | 5 | DC851003-0 |
| Analytical | 3.0x150 | 5 | DC851503-0 |
| Analytical | 4.6×50 | 5 | DC850505-0 |
| Analytical | 4.6×100 | 5 | DC851005-0 |
| Analytical | 4.6×150 | 5 | DC851505-0 |
| Analytical | 4.6×200 | 5 | DC852005-0 |
| Analytical | 4.6×250 | 5 | DC852505-0 |
| Guard Cartridge | 4.6×10, 4/pk | 5 | DC850105-0S |
| Guard Cartridge | 4.6×10, 4/pk | 5 | DC850105-0 |
| Fast analysis | 2.1×30 | 3 | DC830302-0 |
| Fast analysis | 2.1×50 | 3 | DC830502-0 |
| Fast analysis | 2.1×100 | 3 | DC831002-0 |
| Fast analysis | 2.1×150 | 3 | DC831502-0 |
| Guard cartridge | 2.1×10 ,4/pk | 3 | DC830102-0S |
| Guard cartridge | 2.1×10 ,4/pk | 3 | DC830102-0 |
| Analytical | 3.0x30 | 3 | DC830303-0 |
| Analytical | 3.0x50 | 3 | DC830503-0 |
| Analytical | 3.0x100 | 3 | DC831003-0 |
| Analytical | 3.0x150 | 3 | DC831503-0 |
| Guard cartridge | 3.0×10 ,4/pk | 3 | DC830103-0S |
| Guard cartridge | 3.0×10 ,4/pk | 3 | DC830103-0 |
| Fast analysis | 4.6×50 | 3 | DC830505-0 |
| Fast analysis | 4.6×100 | 3 | DC831005-0 |
| Fast analysis | 4.6×150 | 3 | DC831505-0 |
| Guard cartridge | 4.6×10;4/pk | 3 | DC830105-0S |
| Guard cartridge | 4.6×10;4/pk | 3 | DC830105-0 |
| Cartridge Holder | 2.1, 3.0, 4.6 | | CH-100 |
| Semi-preparative | 10×150 | 5 | DC851510-0 |
| Semi-preparative | 10×250 | 5 | DC852510-0 |
| Preparative | 20×50 | 5 | DC850520-0 |
| Preparative | 20×100 | 5 | DC851020-0 |
| Preparative | 20×150 | 5 | DC851520-0 |
| Preparative | 20×250 | 5 | DC852520-0 |
| Preparative | 30×100 | 5 | DC851030-0 |
| Preparative | 30×150 | 5 | DC851530-0 |
| Preparative | 30×250 | 5 | DC852530-0 |
| Guard cartridge | 10×10 | 5 | DC850110-0S |
| Guard cartridge | 20×10 | 5 | DC850120-0 |
| Guard cartridge | 20×20 | 5 | DC850220-0 |
| Semi-preparative | 4.6x150 | 10 | DC801505-0 |
| Semi-preparative | 10×150 | 10 | DC801510-0 |
| Semi-preparative | 4.6X250 | 10 | DC802505-0 |
| Semi-preparative | 10×250 | 10 | DC802510-0 |
| Preparative | 20×50 | 10 | DC800520-0 |
| Preparative | 20×150 | 10 | DC801520-0 |
| Preparative | 20×250 | 10 | DC802520-0 |
| Preparative | 30×100 | 10 | DC801030-0 |
| Preparative | 30×150 | 10 | DC801530-0 |
| Preparative | 30X200 | 10 | DC802030-0 |
| Preparative | 30×250 | 10 | DC802530-0 |
| Preparative | 50×150 | 10 | DC801550-0 |
| Preparative | 50×250 | 10 | DC802550-0 |
| Guard cartridge | 20×20 | 10 | DC800220-0 |
| Guard cartridge | 20×10 | 10 | DC800120-0S |
| Guard cartridge | 20×10 | 10 | DC800120-0 |
| Cartridge Holder | 20x10 | | CH-200 |
| Column Type | Dimension (mm) | Particle Size (µm) | Durashell C8 (2)-L |
| | | | Reverse Phase Columns for Small Molecules, |
| Analytical | 2.1×30 | 5 | DC850302-2L |
| Analytical | 2.1×50 | 5 | DC850502-2L |
| Analytical | 2.1×100 | 5 | DC851002-2L |
| Analytical | 2.1×150 | 5 | DC851502-2L |
| Guard cartridge | 2.1×10 ,4/pk | 5 | DC850102-2LS |
| Guard cartridge | 2.1×10 ,4/pk | 5 | DC850102-2L |
| Analytical | 3.0x30 | 5 | DC850303-2L |
| Analytical | 3.0x50 | 5 | DC850503-2L |
| Analytical | 3.0x100 | 5 | DC851003-2L |
| Analytical | 3.0x150 | 5 | DC851503-2L |
| Analytical | 4.6×50 | 5 | DC850505-2L |
| Analytical | 4.6×100 | 5 | DC851005-2L |
| Analytical | 4.6×150 | 5 | DC851505-2L |
| Analytical | 4.6×200 | 5 | DC852005-2L |
| Analytical | 4.6×250 | 5 | DC852505-2L |
| Guard Cartridge | 4.6×10, 4/pk | 5 | DC850105-2LS |
| Guard Cartridge | 4.6×10, 4/pk | 5 | DC850105-2L |
| Fast analysis | 2.1×30 | 3 | DC830302-2L |
| Fast analysis | 2.1×50 | 3 | DC830502-2L |
| Fast analysis | 2.1×100 | 3 | DC831002-2L |
| Fast analysis | 2.1×150 | 3 | DC831502-2L |
| Guard cartridge | 2.1×10 ,4/pk | 3 | DC830102-2LS |
| Guard cartridge | 2.1×10 ,4/pk | 3 | DC830102-2L |
| Analytical | 3.0x30 | 3 | DC830303-2L |
| Analytical | 3.0x50 | 3 | DC830503-2L |
| Analytical | 3.0x100 | 3 | DC831003-2L |
| Analytical | 3.0x150 | 3 | DC831503-2L |
| Guard cartridge | 3.0×10 ,4/pk | 3 | DC830103-2LS |
| Guard cartridge | 3.0×10 ,4/pk | 3 | DC830103-2L |
| Fast analysis | 4.6×50 | 3 | DC830505-2L |
| Fast analysis | 4.6×100 | 3 | DC831005-2L |
| Fast analysis | 4.6×150 | 3 | DC831505-2L |
| Guard cartridge | 4.6×10;4/pk | 3 | DC830105-2LS |
| Guard cartridge | 4.6×10;4/pk | 3 | DC830105-2L |
| Cartridge Holder | 2.1, 3.0, 4.6 | | CH-100 |
| Semi-preparative | 10×150 | 5 | DC851510-2L |
| Semi-preparative | 10×250 | 5 | DC852510-2L |
| Preparative | 20×50 | 5 | DC850520-2L |
| Preparative | 20×100 | 5 | DC851020-2L |
| Preparative | 20×150 | 5 | DC851520-2L |
| Preparative | 20×250 | 5 | DC852520-2L |
| Preparative | 30×100 | 5 | DC851030-2L |
| Preparative | 30×150 | 5 | DC851530-2L |
| Preparative | 30×250 | 5 | DC852530-2L |
| Guard cartridge | 10×10 | 5 | DC850110-2LS |
| Guard cartridge | 20×10 | 5 | DC850120-2L |
| Guard cartridge | 20×20 | 5 | DC850220-2L |
| Semi-preparative | 4.6x150 | 10 | DC801505-2L |
| Semi-preparative | 10×150 | 10 | DC801510-2L |
| Semi-preparative | 4.6X250 | 10 | DC802505-2L |
| Semi-preparative | 10×250 | 10 | DC802510-2L |
| Preparative | 20×50 | 10 | DC800520-2L |
| Preparative | 20×150 | 10 | DC801520-2L |
| Preparative | 20×250 | 10 | DC802520-2L |
| Preparative | 30×100 | 10 | DC801030-2L |
| Preparative | 30×150 | 10 | DC801530-2L |
| Preparative | 30X200 | 10 | DC802030-2L |
| Preparative | 30×250 | 10 | DC802530-2L |
| Preparative | 50×150 | 10 | DC801550-2L |
| Preparative | 50×250 | 10 | DC802550-2L |
| Guard cartridge | 20×20 | 10 | DC800220-2L |
| Guard cartridge | 20×10 | 10 | DC800120-2LS |
| Guard cartridge | 20×10 | 10 | DC800120-2L |
| Cartridge Holder | 20x10 | | CH-200 |
| Column Type | Dimension (mm) | Particle Size (µm) | Durashell NH2 |
| | | | Reverse Phase Columns for Small Molecules |
| Analytical | 2.1×30 | 5 | DN950302-0 |
| Analytical | 2.1×50 | 5 | DN950502-0 |
| Analytical | 2.1×100 | 5 | DN951002-0 |
| Analytical | 2.1×150 | 5 | DN951502-0 |
| Guard cartridge | 2.1×10 ,4/pk | 5 | DN950102-0S |
| Guard cartridge | 2.1×10 ,4/pk | 5 | DN950102-0 |
| Analytical | 3.0x30 | 5 | DN950303-0 |
| Analytical | 3.0x50 | 5 | DN950503-0 |
| Analytical | 3.0x100 | 5 | DN951003-0 |
| Analytical | 3.0x150 | 5 | DN951503-0 |
| Analytical | 4.6×50 | 5 | DN950505-0 |
| Analytical | 4.6×100 | 5 | DN951005-0 |
| Analytical | 4.6×150 | 5 | DN951505-0 |
| Analytical | 4.6×200 | 5 | DN952005-0 |
| Analytical | 4.6×250 | 5 | DN952505-0 |
| Guard Cartridge | 4.6×10, 4/pk | 5 | DN950105-0S |
| Guard Cartridge | 4.6×10, 4/pk | 5 | DN950105-0 |
| Fast analysis | 2.1×30 | 3 | DN930302-0 |
| Fast analysis | 2.1×50 | 3 | DN930502-0 |
| Fast analysis | 2.1×100 | 3 | DN931002-0 |
| Fast analysis | 2.1×150 | 3 | DN931502-0 |
| Guard cartridge | 2.1×10 ,4/pk | 3 | DN930102-0S |
| Guard cartridge | 2.1×10 ,4/pk | 3 | DN930102-0 |
| Analytical | 3.0x30 | 3 | DN930303-0 |
| Analytical | 3.0x50 | 3 | DN930503-0 |
| Analytical | 3.0x100 | 3 | DN931003-0 |
| Analytical | 3.0x150 | 3 | DN931503-0 |
| Guard cartridge | 3.0×10 ,4/pk | 3 | DN930103-0S |
| Guard cartridge | 3.0×10 ,4/pk | 3 | DN930103-0 |
| Fast analysis | 4.6×50 | 3 | DN930505-0 |
| Fast analysis | 4.6×100 | 3 | DN931005-0 |
| Fast analysis | 4.6×150 | 3 | DN931505-0 |
| Guard cartridge | 4.6×10;4/pk | 3 | DN930105-0S |
| Guard cartridge | 4.6×10;4/pk | 3 | DN930105-0 |
| Cartridge Holder | 2.1, 3.0, 4.6 | | CH-100 |
| Semi-preparative | 10×150 | 5 | DN951510-0 |
| Semi-preparative | 10×250 | 5 | DN952510-0 |
| Preparative | 20×50 | 5 | DN950520-0 |
| Preparative | 20×100 | 5 | DN951020-0 |
| Preparative | 20×150 | 5 | DN951520-0 |
| Preparative | 20×250 | 5 | DN952520-0 |
| Preparative | 30×100 | 5 | DN951030-0 |
| Preparative | 30×150 | 5 | DN951530-0 |
| Preparative | 30×250 | 5 | DN952530-0 |
| Guard cartridge | 10×10 | 5 | DN950110-0S |
| Guard cartridge | 20×10 | 5 | DN950120-0 |
| Guard cartridge | 20×20 | 5 | DN950220-0 |
| Semi-preparative | 4.6x150 | 10 | DN901505-0 |
| Semi-preparative | 10×150 | 10 | DN901510-0 |
| Semi-preparative | 4.6X250 | 10 | DN902505-0 |
| Semi-preparative | 10×250 | 10 | DN902510-0 |
| Preparative | 20×50 | 10 | DN900520-0 |
| Preparative | 20×150 | 10 | DN901520-0 |
| Preparative | 20×250 | 10 | DN902520-0 |
| Preparative | 30×100 | 10 | DN901030-0 |
| Preparative | 30×150 | 10 | DN901530-0 |
| Preparative | 30X200 | 10 | DN902030-0 |
| Preparative | 30×250 | 10 | DN902530-0 |
| Preparative | 50×150 | 10 | DN901550-0 |
| Preparative | 50×250 | 10 | DN902550-0 |
| Guard cartridge | 20×20 | 10 | DN900220-0 |
| Guard cartridge | 20×10 | 10 | DN900120-0S |
| Guard cartridge | 20×10 | 10 | DN900120-0 |
| Cartridge Holder | 20x10 | | CH-200 |
| Column Type | Dimension (mm) | Particle Size (µm) | Durashell Phenyl |
| | | | Reverse Phase Columns for Small Molecules |
| Analytical | 2.1×30 | 5 | DC650302-0 |
| Analytical | 2.1×50 | 5 | DC650502-0 |
| Analytical | 2.1×100 | 5 | DC651002-0 |
| Analytical | 2.1×150 | 5 | DC651502-0 |
| Guard cartridge | 2.1×10 ,4/pk | 5 | DC650102-0S |
| Guard cartridge | 2.1×10 ,4/pk | 5 | DC650102-0 |
| Analytical | 3.0x30 | 5 | DC650303-0 |
| Analytical | 3.0x50 | 5 | DC650503-0 |
| Analytical | 3.0x100 | 5 | DC651003-0 |
| Analytical | 3.0x150 | 5 | DC651503-0 |
| Analytical | 4.6×50 | 5 | DC650505-0 |
| Analytical | 4.6×100 | 5 | DC651005-0 |
| Analytical | 4.6×150 | 5 | DC651505-0 |
| Analytical | 4.6×200 | 5 | DC652005-0 |
| Analytical | 4.6×250 | 5 | DC652505-0 |
| Guard Cartridge | 4.6×10, 4/pk | 5 | DC650105-0S |
| Guard Cartridge | 4.6×10, 4/pk | 5 | DC650105-0 |
| Fast analysis | 2.1×30 | 3 | DC630302-0 |
| Fast analysis | 2.1×50 | 3 | DC630502-0 |
| Fast analysis | 2.1×100 | 3 | DC631002-0 |
| Fast analysis | 2.1×150 | 3 | DC631502-0 |
| Guard cartridge | 2.1×10 ,4/pk | 3 | DC630102-0S |
| Guard cartridge | 2.1×10 ,4/pk | 3 | DC630102-0 |
| Analytical | 3.0x30 | 3 | DC630303-0 |
| Analytical | 3.0x50 | 3 | DC630503-0 |
| Analytical | 3.0x100 | 3 | DC631003-0 |
| Analytical | 3.0x150 | 3 | DC631503-0 |
| Guard cartridge | 3.0×10 ,4/pk | 3 | DC630103-0S |
| Guard cartridge | 3.0×10 ,4/pk | 3 | DC630103-0 |
| Fast analysis | 4.6×50 | 3 | DC630505-0 |
| Fast analysis | 4.6×100 | 3 | DC631005-0 |
| Fast analysis | 4.6×150 | 3 | DC631505-0 |
| Guard cartridge | 4.6×10;4/pk | 3 | DC630105-0S |
| Guard cartridge | 4.6×10;4/pk | 3 | DC630105-0 |
| Cartridge Holder | 2.1, 3.0, 4.6 | | CH-100 |
| Semi-preparative | 10×150 | 5 | DC651510-0 |
| Semi-preparative | 10×250 | 5 | DC652510-0 |
| Preparative | 20×50 | 5 | DC650520-0 |
| Preparative | 20×100 | 5 | DC651020-0 |
| Preparative | 20×150 | 5 | DC651520-0 |
| Preparative | 20×250 | 5 | DC652520-0 |
| Preparative | 30×100 | 5 | DC651030-0 |
| Preparative | 30×150 | 5 | DC651530-0 |
| Preparative | 30×250 | 5 | DC652530-0 |
| Guard cartridge | 10×10 | 5 | DC650110-0S |
| Guard cartridge | 20×10 | 5 | DC650120-0 |
| Guard cartridge | 20×20 | 5 | DC650220-0 |
| Semi-preparative | 4.6x150 | 10 | DC601505-0 |
| Semi-preparative | 10×150 | 10 | DC601510-0 |
| Semi-preparative | 4.6X250 | 10 | DC602505-0 |
| Semi-preparative | 10×250 | 10 | DC602510-0 |
| Preparative | 20×50 | 10 | DC600520-0 |
| Preparative | 20×150 | 10 | DC601520-0 |
| Preparative | 20×250 | 10 | DC602520-0 |
| Preparative | 30×100 | 10 | DC601030-0 |
| Preparative | 30×150 | 10 | DC601530-0 |
| Preparative | 30X200 | 10 | DC602030-0 |
| Preparative | 30×250 | 10 | DC602530-0 |
| Preparative | 50×150 | 10 | DC601550-0 |
| Preparative | 50×250 | 10 | DC602550-0 |
| Guard cartridge | 20×20 | 10 | DC600220-0 |
| Guard cartridge | 20×10 | 10 | DC600120-0S |
| Guard cartridge | 20×10 | 10 | DC600120-0 |
| Cartridge Holder | 20x10 | | CH-200 |

| Column Type | Dimension (mm) | Particle Size (µm) | Unisol C18 |
| --- | --- | --- | --- |
| | | | universal RP; compatible with 100% water; 100Å, 410 m2/g, C%=17 |
| Fast analysis | 2.1×30 | 2.5 | UO920302-0 |
| Fast analysis | 2.1×50 | 2.5 | UO920502-0 |
| Fast analysis | 2.1×100 | 2.5 | UO921002-0 |
| Fast analysis | 3.0x30 | 2.5 | UO920303-0 |
| Fast analysis | 3.0x50 | 2.5 | UO920503-0 |
| Fast analysis | 3.0x100 | 2.5 | UO921003-0 |
| Fast analysis | 4.6×50 | 2.5 | UO920505-0 |
| Fast analysis | 4.6×100 | 2.5 | UO921005-0 |
| Analytical | 2.1×30 | 5 | UO950302-0 |
| Analytical | 2.1×50 | 5 | UO950502-0 |
| Analytical | 2.1×100 | 5 | UO951002-0 |
| Analytical | 2.1×150 | 5 | UO951502-0 |
| Analytical | 3.0x30 | 5 | UO950303-0 |
| Analytical | 3.0x50 | 5 | UO950503-0 |
| Analytical | 3.0x100 | 5 | UO951003-0 |
| Analytical | 3.0x150 | 5 | UO951503-0 |
| Analytical | 4.6×50 | 5 | UO950505-0 |
| Analytical | 4.6×100 | 5 | UO951005-0 |
| Analytical | 4.6×150 | 5 | UO951505-0 |
| Analytical | 4.6×200 | 5 | UO952005-0 |
| Analytical | 4.6×250 | 5 | UO952505-0 |
| Guard Cartridge | 4.6×10, 4/pk | 5 | UO950105-0 |
| Fast analysis | 2.1×20 | 3 | UO930202-0 |
| Fast analysis | 2.1×30 | 3 | UO930302-0 |
| Fast analysis | 2.1×50 | 3 | UO930502-0 |
| Fast analysis | 2.1×100 | 3 | UO931002-0 |
| Fast analysis | 2.1×150 | 3 | UO931502-0 |
| Analytical | 3.0x30 | 3 | UO930303-0 |
| Analytical | 3.0x50 | 3 | UO930503-0 |
| Analytical | 3.0x100 | 3 | UO931003-0 |
| Analytical | 3.0x150 | 3 | UO931503-0 |
| Fast analysis | 4.6×50 | 3 | UO930505-0 |
| Fast analysis | 4.6×100 | 3 | UO931005-0 |
| Fast analysis | 4.6×150 | 3 | UO931505-0 |
| Guard cartridge | 4.6×10, 4/pk | 3 | UO930105-0 |
| Cartridge Holder | 2.1, 3.0, 4.6 | | CH-100 |
| Semi-preparative | 10×150 | 5 | UO951510-0 |
| Semi-preparative | 10×250 | 5 | UO952510-0 |
| Preparative | 20×50 | 5 | UO950520-0 |
| Preparative | 20×100 | 5 | UO951020-0 |
| Preparative | 20×150 | 5 | UO951520-0 |
| Preparative | 20×250 | 5 | UO952520-0 |
| Preparative | 30×100 | 5 | UO951030-0 |
| Preparative | 30×150 | 5 | UO951530-0 |
| Preparative | 30×250 | 5 | UO952530-0 |
| Guard cartridge | 20×10 | 5 | UO950120-0 |
| Guard cartridge | 20×20 | 5 | UO950220-0 |
| Semi-preparative | 10×150 | 10 | UO901510-0 |
| Semi-preparative | 10×250 | 10 | UO902510-0 |
| Preparative | 20×50 | 10 | UO900520-0 |
| Preparative | 20×150 | 10 | UO901520-0 |
| Preparative | 20×250 | 10 | UO902520-0 |
| Preparative | 30×100 | 10 | UO901030-0 |
| Preparative | 30×150 | 10 | UO901530-0 |
| Preparative | 30×250 | 10 | UO902530-0 |
| Preparative | 50×150 | 10 | UO901550-0 |
| Preparative | 50×250 | 10 | UO902550-0 |
| Guard cartridge | 20×10 | 10 | UO900120-0 |
| Cartridge Holder | 20x10 | | CH-200 |
| Column Type | Dimension (mm) | Particle Size (µm) | Unisol C18 (2) |
| | | | universal RP; compatible with 100% water; 100Å, 410 m2/g, C%=17 |
| Fast analysis | 2.1×30 | 2.5 | UO920302-2 |
| Fast analysis | 2.1×50 | 2.5 | UO920502-2 |
| Fast analysis | 2.1×100 | 2.5 | UO921002-2 |
| Fast analysis | 3.0x30 | 2.5 | UO920303-2 |
| Fast analysis | 3.0x50 | 2.5 | UO920503-2 |
| Fast analysis | 3.0x100 | 2.5 | UO921003-2 |
| Fast analysis | 4.6×50 | 2.5 | UO920505-2 |
| Fast analysis | 4.6×100 | 2.5 | UO921005-2 |
| Analytical | 2.1×30 | 5 | UO950302-2 |
| Analytical | 2.1×50 | 5 | UO950502-2 |
| Analytical | 2.1×100 | 5 | UO951002-2 |
| Analytical | 2.1×150 | 5 | UO951502-2 |
| Analytical | 3.0x30 | 5 | UO950303-2 |
| Analytical | 3.0x50 | 5 | UO950503-2 |
| Analytical | 3.0x100 | 5 | UO951003-2 |
| Analytical | 3.0x150 | 5 | UO951503-2 |
| Analytical | 4.6×50 | 5 | UO950505-2 |
| Analytical | 4.6×100 | 5 | UO951005-2 |
| Analytical | 4.6×150 | 5 | UO951505-2 |
| Analytical | 4.6×200 | 5 | UO952005-2 |
| Analytical | 4.6×250 | 5 | UO952505-2 |
| Guard Cartridge | 4.6×10, 4/pk | 5 | UO950105-2 |
| Fast analysis | 2.1×20 | 3 | UO930202-2 |
| Fast analysis | 2.1×30 | 3 | UO930302-2 |
| Fast analysis | 2.1×50 | 3 | UO930502-2 |
| Fast analysis | 2.1×100 | 3 | UO931002-2 |
| Fast analysis | 2.1×150 | 3 | UO931502-2 |
| Analytical | 3.0x30 | 3 | UO930303-2 |
| Analytical | 3.0x50 | 3 | UO930503-2 |
| Analytical | 3.0x100 | 3 | UO931003-2 |
| Analytical | 3.0x150 | 3 | UO931503-2 |
| Fast analysis | 4.6×50 | 3 | UO930505-2 |
| Fast analysis | 4.6×100 | 3 | UO931005-2 |
| Fast analysis | 4.6×150 | 3 | UO931505-2 |
| Guard cartridge | 4.6×10, 4/pk | 3 | UO930105-2 |
| Cartridge Holder | 2.1, 3.0, 4.6 | | CH-100 |
| Semi-preparative | 10×150 | 5 | UO951510-2 |
| Semi-preparative | 10×250 | 5 | UO952510-2 |
| Preparative | 20×50 | 5 | UO950520-2 |
| Preparative | 20×100 | 5 | UO951020-2 |
| Preparative | 20×150 | 5 | UO951520-2 |
| Preparative | 20×250 | 5 | UO952520-2 |
| Preparative | 30×100 | 5 | UO951030-2 |
| Preparative | 30×150 | 5 | UO951530-2 |
| Preparative | 30×250 | 5 | UO952530-2 |
| Guard cartridge | 20×10 | 5 | UO950120-2 |
| Guard cartridge | 20×20 | 5 | UO950220-2 |
| Semi-preparative | 10×150 | 10 | UO901510-2 |
| Semi-preparative | 10×250 | 10 | UO902510-2 |
| Preparative | 20×50 | 10 | UO900520-2 |
| Preparative | 20×150 | 10 | UO901520-2 |
| Preparative | 20×250 | 10 | UO902520-2 |
| Preparative | 30×100 | 10 | UO901030-2 |
| Preparative | 30×150 | 10 | UO901530-2 |
| Preparative | 30×250 | 10 | UO902530-2 |
| Preparative | 50×150 | 10 | UO901550-2 |
| Preparative | 50×250 | 10 | UO902550-2 |
| Guard cartridge | 20×10 | 10 | UO900120-2 |
| Cartridge Holder | 20x10 | | CH-200 |
| Column Type | Dimension (mm) | Particle Size (µm) | Unisol Amide (HILIC) |
| | | | unique selectivity; 100Å, 410 m2/g, |
| Analytical | 2.1×30 | 5 | VH950302-0 |
| Analytical | 2.1×50 | 5 | VH950502-0 |
| Analytical | 2.1×100 | 5 | VH951002-0 |
| Analytical | 2.1×150 | 5 | VH951502-0 |
| Analytical | 3.0×30 | 5 | VH950303-0 |
| Analytical | 3.0×50 | 5 | VH950503-0 |
| Analytical | 3.0×100 | 5 | VH951003-0 |
| Analytical | 3.0×150 | 5 | VH951503-0 |
| Analytical | 4.6×50 | 5 | VH950505-0 |
| Analytical | 4.6×100 | 5 | VH951005-0 |
| Analytical | 4.6×150 | 5 | VH951505-0 |
| Analytical | 4.6×200 | 5 | VH952005-0 |
| Analytical | 4.6×250 | 5 | VH952505-0 |
| Guard Cartridge | 4.6×10, 4/pk | 5 | VH950105-0 |
| Fast analysis | 2.1×30 | 3 | VH930302-0 |
| Fast analysis | 2.1×50 | 3 | VH930502-0 |
| Fast analysis | 2.1×100 | 3 | VH931002-0 |
| Fast analysis | 2.1×150 | 3 | VH931502-0 |
| Fast analysis | 3.0×30 | 3 | VH930303-0 |
| Fast analysis | 3.0×50 | 3 | VH930503-0 |
| Fast analysis | 3.0×100 | 3 | VH931003-0 |
| Fast analysis | 3.0×150 | 3 | VH931503-0 |
| Fast analysis | 4.6×50 | 3 | VH930505-0 |
| Fast analysis | 4.6×100 | 3 | VH931005-0 |
| Fast analysis | 4.6×150 | 3 | VH931505-0 |
| Guard cartridge | 4.6×10 , 4/pk | 3 | VH930105-0 |
| Semi-preparative | 10×150 | 5 | VH951510-0 |
| Semi-preparative | 10×250 | 5 | VH952510-0 |
| Preparative | 20×50 | 5 | VH950520-0 |
| Preparative | 20×100 | 5 | VH951020-0 |
| Preparative | 20×150 | 5 | VH951520-0 |
| Preparative | 20×250 | 5 | VH952520-0 |
| Preparative | 30×100 | 5 | VH951030-0 |
| Preparative | 30×150 | 5 | VH951530-0 |
| Preparative | 30×250 | 5 | VH952530-0 |
| Semi-preparative | 10×150 | 10 | VH901510-0 |
| Semi-preparative | 10×250 | 10 | VH902510-0 |
| Preparative | 20×50 | 10 | VH900520-0 |
| Preparative | 20×150 | 10 | VH901520-0 |
| Preparative | 20×250 | 10 | VH902520-0 |
| Preparative | 30×100 | 10 | VH901030-0 |
| Preparative | 30×150 | 10 | VH901530-0 |
| Preparative | 30×250 | 10 | VH902530-0 |
| Preparative | 50×150 | 10 | VH901550-0 |
| Preparative | 50×250 | 10 | VH902550-0 |
| Guard cartridge | 20×20 | 5 | VH950220-0 |
| Guard cartridge | 20×10 | 10 | VH900120-0 |
| Cartridge Holder | 20×10 | | CH-200 |
| Cartridge Holder | ID: 2.1, 3.0, 4.6 | | CH-100 |
| Column Type | Dimension (mm) | Particle Size (µm) | Unisol Amide (HILIC) |
| | | | Ultra Pure Silica; Pore Size:300 Å; Surface Area:45m2/g |
| Analytical | 2.1×30 | 5 | VH950302-T |
| Analytical | 2.1×50 | 5 | VH950502-T |
| Analytical | 2.1×100 | 5 | VH951002-T |
| Analytical | 2.1×150 | 5 | VH951502-T |
| Analytical | 3.0×30 | 5 | VH950303-T |
| Analytical | 3.0×50 | 5 | VH950503-T |
| Analytical | 3.0×100 | 5 | VH951003-T |
| Analytical | 3.0×150 | 5 | VH951503-T |
| Analytical | 4.6×50 | 5 | VH950505-T |
| Analytical | 4.6×100 | 5 | VH951005-T |
| Analytical | 4.6×150 | 5 | VH951505-T |
| Analytical | 4.6×200 | 5 | VH952005-T |
| Analytical | 4.6×250 | 5 | VH952505-T |
| Guard Cartridge | 4.6×10, 4/pk | 5 | VH950105-T |
| Cartridge Holder | ID: 2.1, 3.0, 4.6 | | CH-100 |

| Column Type | Dimension (mm) | Particle Size (µm) | Venusil ASB C18 |
| --- | --- | --- | --- |
| | | | extreme low pH tolerance (0.8-7.5), low bleed; 150 Å, 200m2/g; C%=12 |
| Analytical | 2.1×30 | 5 | VS950302-0 |
| Analytical | 2.1×50 | 5 | VS950502-0 |
| Analytical | 2.1×100 | 5 | VS951002-0 |
| Analytical | 2.1×150 | 5 | VS951502-0 |
| Analytical | 3.0x30 | 5 | VS950303-0 |
| Analytical | 3.0x50 | 5 | VS950503-0 |
| Analytical | 3.0x100 | 5 | VS951003-0 |
| Analytical | 3.0x150 | 5 | VS951503-0 |
| Analytical | 4.6×50 | 5 | VS950505-0 |
| Analytical | 4.6×100 | 5 | VS951005-0 |
| Analytical | 4.6×150 | 5 | VS951505-0 |
| Analytical | 4.6×200 | 5 | VS952005-0 |
| Analytical | 4.6×250 | 5 | VS952505-0 |
| Guard Cartridge | 4.6×10, 4/pk | 5 | VS950105-0 |
| Fast analysis | 2.1×20 | 3 | VS930202-0 |
| Fast analysis | 2.1×30 | 3 | VS930302-0 |
| Fast analysis | 2.1×50 | 3 | VS930502-0 |
| Fast analysis | 2.1×100 | 3 | VS931002-0 |
| Fast analysis | 2.1×150 | 3 | VS931502-0 |
| Analytical | 3.0x30 | 3 | VS930303-0 |
| Analytical | 3.0x50 | 3 | VS930503-0 |
| Analytical | 3.0x100 | 3 | VS931003-0 |
| Analytical | 3.0x150 | 3 | VS931503-0 |
| Guard cartridge | 3.0×10,4/pk | 3 | VS930103-0 |
| Fast analysis | 4.6×50 | 3 | VS930505-0 |
| Fast analysis | 4.6×100 | 3 | VS931005-0 |
| Fast analysis | 4.6×150 | 3 | VS931505-0 |
| Guard cartridge | 4.6×10 | 3 | VS930105-0 |
| Cartridge Holder | 2.1, 3.0, 4.6 | | CH-100 |
| Semi-preparative | 10×150 | 5 | VS951510-0 |
| Semi-preparative | 10×250 | 5 | VS952510-0 |
| Preparative | 20×50 | 5 | VS950520-0 |
| Preparative | 20×100 | 5 | VS951020-0 |
| Preparative | 20×150 | 5 | VS951520-0 |
| Preparative | 20×250 | 5 | VS952520-0 |
| Preparative | 30×100 | 5 | VS951030-0 |
| Preparative | 30×150 | 5 | VS951530-0 |
| Preparative | 30×250 | 5 | VS952530-0 |
| Guard cartridge | 20×10 | 5 | VS950120-0 |
| Semi-preparative | 10×150 | 10 | VS901510-0 |
| Semi-preparative | 10×250 | 10 | VS902510-0 |
| Preparative | 20×50 | 10 | VS900520-0 |
| Preparative | 20×150 | 10 | VS901520-0 |
| Preparative | 20×250 | 10 | VS902520-0 |
| Preparative | 30×100 | 10 | VS901030-0 |
| Preparative | 30×150 | 10 | VS901530-0 |
| Preparative | 30×250 | 10 | VS902530-0 |
| Preparative | 50×150 | 10 | VS901550-0 |
| Preparative | 50×250 | 10 | VS902550-0 |
| Guard cartridge | 20×10 | 10 | VS900120-0 |
| Cartridge Holder | 20x10 | | CH-200 |
| Column Type | Dimension (mm) | Particle Size (µm) | Venusil ASB C8 |
| | | | C8 for low pH and low bleed; 150 Å, 200m2/g, C%=7 |
| Analytical | 2.1×30 | 5 | VS850302-0 |
| Analytical | 2.1×50 | 5 | VS850502-0 |
| Analytical | 2.1×100 | 5 | VS851002-0 |
| Analytical | 2.1×150 | 5 | VS851502-0 |
| Analytical | 3.0x30 | 5 | VS850303-0 |
| Analytical | 3.0x50 | 5 | VS850503-0 |
| Analytical | 3.0x100 | 5 | VS851003-0 |
| Analytical | 3.0x150 | 5 | VS851503-0 |
| Analytical | 4.6×50 | 5 | VS850505-0 |
| Analytical | 4.6×100 | 5 | VS851005-0 |
| Analytical | 4.6×150 | 5 | VS851505-0 |
| Analytical | 4.6×200 | 5 | VS852005-0 |
| Analytical | 4.6×250 | 5 | VS852505-0 |
| Guard Cartridge | 4.6×10, 4/pk | 5 | VS850105-0 |
| Cartridge Holder | ID: 2.1, 3.0, 4.6 | 5 | CH-100 |
| Fast analysis | 2.1×20 | 3 | VS830202-0 |
| Fast analysis | 2.1×30 | 3 | VS830302-0 |
| Fast analysis | 2.1×50 | 3 | VS830502-0 |
| Fast analysis | 2.1×100 | 3 | VS831002-0 |
| Fast analysis | 2.1×150 | 3 | VS831502-0 |
| Analytical | 3.0x30 | 3 | VS830303-0 |
| Analytical | 3.0x50 | 3 | VS830503-0 |
| Analytical | 3.0x100 | 3 | VS831003-0 |
| Analytical | 3.0x150 | 3 | VS831503-0 |
| Guard cartridge | 3.0×10 | 3 | VS830103-0 |
| Fast analysis | 4.6×50 | 3 | VS830505-0 |
| Fast analysis | 4.6×100 | 3 | VS831005-0 |
| Fast analysis | 4.6×150 | 3 | VS831505-0 |
| Guard cartridge | 4.6×10, 4/pk | 3 | VS830105-0 |
| Column Type | Dimension (mm) | Particle Size (µm) | Venusil ASB C18 |
| | | | extreme low pH tolerance (0.8-7.5), low bleed; Pore Size:300Å; Surface Area: 45 m2/g |
| Analytical | 2.1×30 | 5 | VS950302-T |
| Analytical | 2.1×50 | 5 | VS950502-T |
| Analytical | 2.1×100 | 5 | VS951002-T |
| Analytical | 2.1×150 | 5 | VS951502-T |
| Analytical | 3.0x30 | 5 | VS950303-T |
| Analytical | 3.0x50 | 5 | VS950503-T |
| Analytical | 3.0x100 | 5 | VS951003-T |
| Analytical | 3.0x150 | 5 | VS951503-T |
| Analytical | 4.6×50 | 5 | VS950505-T |
| Analytical | 4.6×100 | 5 | VS951005-T |
| Analytical | 4.6×150 | 5 | VS951505-T |
| Analytical | 4.6×200 | 5 | VS952005-T |
| Analytical | 4.6×250 | 5 | VS952505-T |
| Guard Cartridge | 4.6×10, 4/pk | 5 | VS950105-T |
| Semi-Prep | 10×150 | 5 | VS951510-T |
| Semi-Prep | 10×250 | 5 | VS952510-T |
| Semi-Prep | 20×50 | 5 | VS950520-T |
| Semi-Prep | 20×150 | 5 | VS951520-T |
| Semi-Prep | 20×250 | 5 | VS952520-T |
| Guard Cartridge | 20×10 | 5 | VS950120-T |
| | | | |
| Column Type | Dimension (mm) | Particle Size (µm) | Venusil ASB C8 |
| | | | C8 for low pH and low bleed; Pore Size:300Å; Surface Area: 45 m2/g |
| Analytical | 2.1×30 | 5 | VS850302-T |
| Analytical | 2.1×50 | 5 | VS850502-T |
| Analytical | 2.1×100 | 5 | VS851002-T |
| Analytical | 2.1×150 | 5 | VS851502-T |
| Analytical | 3.0x30 | 5 | VS850303-T |
| Analytical | 3.0x50 | 5 | VS850503-T |
| Analytical | 3.0x100 | 5 | VS851003-T |
| Analytical | 3.0x150 | 5 | VS851503-T |
| Analytical | 4.6×50 | 5 | VS850505-T |
| Analytical | 4.6×100 | 5 | VS851005-T |
| Analytical | 4.6×150 | 5 | VS851505-T |
| Analytical | 4.6×200 | 5 | VS852005-T |
| Analytical | 4.6×250 | 5 | VS852505-T |
| Guard Cartridge | 4.6×10, 4/pk | 5 | VS850105-T |
| Cartridge Holder | ID: 2.1, 3.0, 4.6 | 5 | CH-100 |
| Semi-Prep | 10×150 | 5 | VS851510-T |
| Semi-Prep | 10×250 | 5 | VS852510-T |
| Semi-Prep | 20×50 | 5 | VS850520-T |
| Semi-Prep | 20×150 | 5 | VS851520-T |
| Semi-Prep | 20×250 | 5 | VS852520-T |
| Guard Cartridge | 20×10 | 5 | VS850120-T |

| Column Type | Dimension (mm) | Particle Size (µm) | Venusil AQ C18 |
| --- | --- | --- | --- |
| | | | for high aqueous applications; compatible with 100% water; 100Å, 380 m2/g, C%=18 |
| Analytical | 2.1×30 | 5 | VA950302-0 |
| Analytical | 2.1×50 | 5 | VA950502-0 |
| Analytical | 2.1×100 | 5 | VA951002-0 |
| Analytical | 2.1×150 | 5 | VA951502-0 |
| Analytical | 3.0x30 | 5 | VA950303-0 |
| Analytical | 3.0x50 | 5 | VA950503-0 |
| Analytical | 3.0x100 | 5 | VA951003-0 |
| Analytical | 3.0x150 | 5 | VA951503-0 |
| Analytical | 4.6×50 | 5 | VA950505-0 |
| Analytical | 4.6×100 | 5 | VA951005-0 |
| Analytical | 4.6×150 | 5 | VA951505-0 |
| Analytical | 4.6×200 | 5 | VA952005-0 |
| Analytical | 4.6×250 | 5 | VA952505-0 |
| Guard Cartridge | 4.6×10, 4/pk | 5 | VA950105-0 |
| Fast analysis | 2.1×20 | 3 | VA930202-0 |
| Fast analysis | 2.1×30 | 3 | VA930302-0 |
| Fast analysis | 2.1×50 | 3 | VA930502-0 |
| Fast analysis | 2.1×100 | 3 | VA931002-0 |
| Fast analysis | 2.1×150 | 3 | VA931502-0 |
| Analytical | 3.0x30 | 3 | VA930303-0 |
| Analytical | 3.0x50 | 3 | VA930503-0 |
| Analytical | 3.0x100 | 3 | VA931003-0 |
| Analytical | 3.0x150 | 3 | VA931503-0 |
| Fast analysis | 4.6×50 | 3 | VA930505-0 |
| Fast analysis | 4.6×100 | 3 | VA931005-0 |
| Fast analysis | 4.6×150 | 3 | VA931505-0 |
| Guard cartridge | 4.6×10, 4/pk | 3 | VA930105-0 |
| Cartridge Holder | 2.1, 3.0, 4.6 | | CH-100 |
| Semi-preparative | 10×150 | 5 | VA951510-0 |
| Semi-preparative | 10×250 | 5 | VA952510-0 |
| Preparative | 20×50 | 5 | VA950520-0 |
| Preparative | 20×150 | 5 | VA951520-0 |
| Preparative | 20×250 | 5 | VA952520-0 |
| Preparative | 30×100 | 5 | VA951030-0 |
| Preparative | 30×150 | 5 | VA951530-0 |
| Preparative | 30×250 | 5 | VA952530-0 |
| Guard cartridge | 20×10 | 5 | VA950120-0 |
| Analytical | 3.9×300 | 10 | VA9030039-0 |
| Analytical | 4.0×50 | 10 | VA900504-0 |
| Analytical | 4.0×150 | 10 | VA901504-0 |
| Analytical | 4.6×250 | 10 | VA902505-0 |
| Semi-preparative | 10×150 | 10 | VA901510-0 |
| Semi-preparative | 10×250 | 10 | VA902510-0 |
| Preparative | 21.2×50 | 10 | VA900520-0 |
| Preparative | 21.2×150 | 10 | VA901520-0 |
| Preparative | 21.2×250 | 10 | VA902520-0 |
| Preparative | 30×100 | 10 | VA901030-0 |
| Preparative | 30×150 | 10 | VA901530-0 |
| Preparative | 30×200 | 10 | VA902030-0 |
| Preparative | 30×250 | 10 | VA902530-0 |
| Preparative | 50×150 | 10 | VA901550-0 |
| Preparative | 50×250 | 10 | VA902550-0 |
| Guard cartridge | 21.2×10 | 10 | VA900120-0 |
| Guard cartridge | 10×10 | 10 | VA900110-0S |

| Column Type | Dimension (mm) | Particle Size (µm) | Venusil XBP C18 (2) |
| --- | --- | --- | --- |
| | | | ultra surface inertness and reproducibility; balanced retention; 100Å, 380 m2/g, C%=19 |
| Analytical | 2.1×30 | 5 | VX950302-2 |
| Analytical | 2.1×50 | 5 | VX950502-2 |
| Analytical | 2.1×100 | 5 | VX951002-2 |
| Analytical | 2.1×150 | 5 | VX951502-2 |
| Analytical | 3.0x30 | 5 | VX950303-2 |
| Analytical | 3.0x50 | 5 | VX950503-2 |
| Analytical | 3.0x100 | 5 | VX951003-2 |
| Analytical | 3.0x150 | 5 | VX951503-2 |
| Analytical | 4.6×50 | 5 | VX950505-2 |
| Analytical | 4.6×100 | 5 | VX951005-2 |
| Analytical | 4.6×150 | 5 | VX951505-2 |
| Analytical | 4.6×200 | 5 | VX952005-2 |
| Analytical | 4.6×250 | 5 | VX952505-2 |
| Guard Cartridge | 4.6×10, 4/pk | 5 | VX950105-2 |
| Fast analysis | 2.1×20 | 3 | VX930202-2 |
| Fast analysis | 2.1×30 | 3 | VX930302-2 |
| Fast analysis | 2.1×50 | 3 | VX930502-2 |
| Fast analysis | 2.1×100 | 3 | VX931002-2 |
| Fast analysis | 2.1×150 | 3 | VX931502-2 |
| Analytical | 3.0x30 | 3 | VX930303-2 |
| Analytical | 3.0x50 | 3 | VX930503-2 |
| Analytical | 3.0x100 | 3 | VX931003-2 |
| Analytical | 3.0x150 | 3 | VX931503-2 |
| Guard cartridge | 3.0×10 pk of 4 | 3 | VX930103-2 |
| Fast analysis | 4.6×50 | 3 | VX930505-2 |
| Fast analysis | 4.6×100 | 3 | VX931005-2 |
| Fast analysis | 4.6×150 | 3 | VX931505-2 |
| Guard cartridge | 4.6×10 | 3 | VX930105-2 |
| Cartridge Holder | 2.1, 3.0, 4.6 | | CH-100 |
| Semi-preparative | 10×150 | 5 | VX951510-2 |
| Semi-preparative | 10×250 | 5 | VX952510-2 |
| Preparative | 20×50 | 5 | VX950520-2 |
| Preparative | 20×100 | 5 | VX951020-2 |
| Preparative | 20×150 | 5 | VX951520-2 |
| Preparative | 20×250 | 5 | VX952520-2 |
| Preparative | 30×100 | 5 | VX951030-2 |
| Preparative | 30×150 | 5 | VX951530-2 |
| Preparative | 30×250 | 5 | VX952530-2 |
| Guard cartridge | 20×10 | 5 | VX950120-2 |
| Guard cartridge | 20×20 | 5 | VX950220-2 |
| Semi-preparative | 10×150 | 10 | VX901510-2 |
| Semi-preparative | 10×250 | 10 | VX902510-2 |
| Preparative | 20×50 | 10 | VX900520-2 |
| Preparative | 20×150 | 10 | VX901520-2 |
| Preparative | 20×250 | 10 | VX902520-2 |
| Preparative | 30×100 | 10 | VX901030-2 |
| Preparative | 30×150 | 10 | VX901530-2 |
| Preparative | 30×250 | 10 | VX902530-2 |
| Preparative | 50×150 | 10 | VX901550-2 |
| Preparative | 50×250 | 10 | VX902550-2 |
| Guard cartridge | 20×20 | 10 | VX902020-2 |
| Cartridge Holder | 20x10 | | CH-200 |

| Column Type | Dimension (mm) | Particle Size (µm) | Venusil XBP(L) C18 |
| --- | --- | --- | --- |
| | | | same as XBP C18 with larger pore size; 150Å, 200 m2/g; C%=15 |
| Analytical | 2.1×30 | 5 | VX950302-L |
| Analytical | 2.1×50 | 5 | VX950502-L |
| Analytical | 2.1×100 | 5 | VX951002-L |
| Analytical | 2.1×150 | 5 | VX951502-L |
| Analytical | 3.0x30 | 5 | VX950303-L |
| Analytical | 3.0x50 | 5 | VX950503-L |
| Analytical | 3.0x100 | 5 | VX951003-L |
| Analytical | 3.0x150 | 5 | VX951503-L |
| Analytical | 4.6×50 | 5 | VX950505-L |
| Analytical | 4.6×100 | 5 | VX951005-L |
| Analytical | 4.6×150 | 5 | VX951505-L |
| Analytical | 4.6×200 | 5 | VX952005-L |
| Analytical | 4.6×250 | 5 | VX952505-L |
| Guard Cartridge | 4.6×10, 4/pk | 5 | VX950105-L |
| Semi-preparative | 10×250 | 5 | VX952510-L |
| Preparative | 20×250 | 5 | VX952520-L |
| Cartridge Holder | 20x10 | | CH-200 |
| Column Type | Dimension (mm) | Particle Size (µm) | Venusil XBP(L) C8 |
| | | | Pore Size:150Å,Surface Area:200 m2/g; |
| Analytical | 2.1×30 | 5 | VX850302-L |
| Analytical | 2.1×50 | 5 | VX850502-L |
| Analytical | 2.1×100 | 5 | VX851002-L |
| Analytical | 2.1×150 | 5 | VX851502-L |
| Analytical | 4.6×50 | 5 | VX850505-L |
| Analytical | 4.6×100 | 5 | VX851005-L |
| Analytical | 4.6×150 | 5 | VX851505-L |
| Analytical | 4.6×250 | 5 | VX852505-L |
| Semi-preparative | 10×250 | 5 | VX852510-L |
| Preparative | 21.2×250 | 5 | VX852520-L |
| Guard Cartridge | 4.6×10, 4/pk | 5 | VX850105-L |
| Column Type | Dimension (mm) | Particle Size (µm) | Venusil XBP(L) Silica |
| | | | Pore Size:150Å,Surface Area:200 m2/g; |
| Analytical | 2.1×30 | 5 | VSi950302-L |
| Analytical | 2.1×50 | 5 | VSi950502-L |
| Analytical | 2.1×100 | 5 | VSi951002-L |
| Analytical | 2.1×150 | 5 | VSi951502-L |
| Analytical | 4.6×50 | 5 | VSi950505-L |
| Analytical | 4.6×100 | 5 | VSi951005-L |
| Analytical | 4.6×150 | 5 | VSi951505-L |
| Analytical | 4.6×250 | 5 | VSi952505-L |

| Column Type | Dimension (mm) | Particle Size (µm) | Optimix C18/C8 |
| --- | --- | --- | --- |
| Analytical | 2.1×30 | 5 | OP950302-OC |
| Analytical | 2.1×50 | 5 | OP950502-OC |
| Analytical | 2.1×100 | 5 | OP951002-OC |
| Analytical | 2.1×150 | 5 | OP951502-OC |
| Analytical | 4.6×50 | 5 | OP950505-OC |
| Analytical | 4.6×100 | 5 | OP951005-OC |
| Analytical | 4.6×150 | 5 | OP951505-OC |
| Analytical | 4.6×200 | 5 | OP952005-OC |
| Analytical | 4.6×250 | 5 | OP952505-OC |
| Guard cartridge 4/pk | 4.6×10 | 5 | OP950105-OC |
| Fast analysis | 2.1×30 | 3 | OP930302-OC |
| Fast analysis | 2.1×50 | 3 | OP930502-OC |
| Fast analysis | 2.1×100 | 3 | OP931002-OC |
| Fast analysis | 2.1×150 | 3 | OP931502-OC |
| Fast analysis | 4.6×50 | 3 | OP930505-OC |
| Fast analysis | 4.6×100 | 3 | OP931005-OC |
| Fast analysis | 4.6×150 | 3 | OP931505-OC |
| Guard cartridge | 4.6×10 | 3 | OP930105-OC |
| Column Type | Dimension (mm) | Particle Size(µm) | Optimix C18/amide |
| Analytical | 2.1×30 | 5 | OP950302-AM |
| Analytical | 2.1×50 | 5 | OP950502-AM |
| Analytical | 2.1×100 | 5 | OP951002-AM |
| Analytical | 2.1×150 | 5 | OP951502-AM |
| Analytical | 4.6×50 | 5 | OP950505-AM |
| Analytical | 4.6×100 | 5 | OP951005-AM |
| Analytical | 4.6×150 | 5 | OP951505-AM |
| Analytical | 4.6×200 | 5 | OP952005-AM |
| Analytical | 4.6×250 | 5 | OP952505-AM |
| Guard cartridge 4/pk | 4.6×10 | 5 | OP950105-AM |
| Fast analysis | 2.1×30 | 3 | OP930302-AM |
| Fast analysis | 2.1×50 | 3 | OP930502-AM |
| Fast analysis | 2.1×100 | 3 | OP931002-AM |
| Fast analysis | 2.1×150 | 3 | OP931502-AM |
| Fast analysis | 4.6×50 | 3 | OP930505-AM |
| Fast analysis | 4.6×100 | 3 | OP931005-AM |
| Fast analysis | 4.6×150 | 3 | OP931505-AM |
| Guard cartridge | 4.6×10 | 3 | OP930105-AM |
| Column Type | Dimension (mm) | Particle Size (µm) | Optimix C18/phenyl |
| Analytical | 2.1×30 | 5 | OP950302-PH |
| Analytical | 2.1×50 | 5 | OP950502-PH |
| Analytical | 2.1×100 | 5 | OP951002-PH |
| Analytical | 2.1×150 | 5 | OP951502-PH |
| Analytical | 4.6×50 | 5 | OP950505-PH |
| Analytical | 4.6×100 | 5 | OP951005-PH |
| Analytical | 4.6×150 | 5 | OP951505-PH |
| Analytical | 4.6×200 | 5 | OP952005-PH |
| Analytical | 4.6×250 | 5 | OP952505-PH |
| Guard cartridge 4/pk | 4.6×10 | 5 | OP950105-PH |
| Fast analysis | 2.1×30 | 3 | OP930302-PH |
| Fast analysis | 2.1×50 | 3 | OP930502-PH |
| Fast analysis | 2.1×100 | 3 | OP931002-PH |
| Fast analysis | 2.1×150 | 3 | OP931502-PH |
| Fast analysis | 4.6×50 | 3 | OP930505-PH |
| Fast analysis | 4.6×100 | 3 | OP931005-PH |
| Fast analysis | 4.6×150 | 3 | OP931505-PH |
| Guard cartridge | 4.6×10 | 3 | OP930105-PH |
| Column Type | Dimension (mm) | Particle Size (µm) | Optimix C18/CN |
| Analytical | 2.1×30 | 5 | OP950302-CN |
| Analytical | 2.1×50 | 5 | OP950502-CN |
| Analytical | 2.1×100 | 5 | OP951002-CN |
| Analytical | 2.1×150 | 5 | OP951502-CN |
| Analytical | 4.6×50 | 5 | OP950505-CN |
| Analytical | 4.6×100 | 5 | OP951005-CN |
| Analytical | 4.6×150 | 5 | OP951505-CN |
| Analytical | 4.6×200 | 5 | OP952005-CN |
| Analytical | 4.6×250 | 5 | OP952505-CN |
| Guard cartridge 4/pk | 4.6×10 | 5 | OP950105-CN |
| Fast analysis | 2.1×30 | 3 | OP930302-CN |
| Fast analysis | 2.1×50 | 3 | OP930502-CN |
| Fast analysis | 2.1×100 | 3 | OP931002-CN |
| Fast analysis | 2.1×150 | 3 | OP931502-CN |
| Fast analysis | 4.6×50 | 3 | OP930505-CN |
| Fast analysis | 4.6×100 | 3 | OP931005-CN |
| Fast analysis | 4.6×150 | 3 | OP931505-CN |
| Guard cartridge | 4.6×10 | 3 | OP930105-CN |
| Column Type | Dimension (mm) | Particle Size (µm) | Optimix C18/SCX |
| Analytical | 2.1×30 | 5 | OP950302-SC |
| Analytical | 2.1×50 | 5 | OP950502-SC |
| Analytical | 2.1×100 | 5 | OP951002-SC |
| Analytical | 2.1×150 | 5 | OP951502-SC |
| Analytical | 4.6×50 | 5 | OP950505-SC |
| Analytical | 4.6×100 | 5 | OP951005-SC |
| Analytical | 4.6×150 | 5 | OP951505-SC |
| Analytical | 4.6×200 | 5 | OP952005-SC |
| Analytical | 4.6×250 | 5 | OP952505-SC |
| Guard cartridge 4/pk | 4.6×10 | 5 | OP950105-SC |
| Fast analysis | 2.1×30 | 3 | OP930302-SC |
| Fast analysis | 2.1×50 | 3 | OP930502-SC |
| Fast analysis | 2.1×100 | 3 | OP931002-SC |
| Fast analysis | 2.1×150 | 3 | OP931502-SC |
| Fast analysis | 4.6×50 | 3 | OP930502-SC |
| Fast analysis | 4.6×100 | 3 | OP931002-SC |
| Fast analysis | 4.6×150 | 3 | OP931505-SC |
| Guard cartridge | 4.6×10 | 3 | OP930105-SC |
| Column Type | Dimension (mm) | Particle Size (µm) | Optimix C18/SAX |
| Analytical | 2.1×30 | 5 | OP950302-SA |
| Analytical | 2.1×50 | 5 | OP950502-SA |
| Analytical | 2.1×100 | 5 | OP951002-SA |
| Analytical | 2.1×150 | 5 | OP951502-SA |
| Analytical | 4.6×50 | 5 | OP950505-SA |
| Analytical | 4.6×100 | 5 | OP951005-SA |
| Analytical | 4.6×150 | 5 | OP951505-SA |
| Analytical | 4.6×200 | 5 | OP952005-SA |
| Analytical | 4.6×250 | 5 | OP952505-SA |
| Guard cartridge 4/pk | 4.6×10 | 5 | OP950105-SA |
| Fast analysis | 2.1×30 | 3 | OP930302-SA |
| Fast analysis | 2.1×50 | 3 | OP930502-SA |
| Fast analysis | 2.1×100 | 3 | OP931002-SA |
| Fast analysis | 2.1×150 | 3 | OP931502-SA |
| Fast analysis | 4.6×50 | 3 | OP930502-SA |
| Fast analysis | 4.6×100 | 3 | OP931002-SA |
| Fast analysis | 4.6×150 | 3 | OP931505-SA |
| Guard cartridge | 4.6×10 | 3 | OP930105-SA |
| Column Type | Dimension (mm) | Particle Size (µm) | Optimix C18/Nitrophenyl |
| Analytical | 2.1×30 | 5 | OP950302-NP |
| Analytical | 2.1×50 | 5 | OP950502-NP |
| Analytical | 2.1×100 | 5 | OP951002-NP |
| Analytical | 2.1×150 | 5 | OP951502-NP |
| Analytical | 4.6×50 | 5 | OP950505-NP |
| Analytical | 4.6×100 | 5 | OP951005-NP |
| Analytical | 4.6×150 | 5 | OP951505-NP |
| Analytical | 4.6×200 | 5 | OP952005-NP |
| Analytical | 4.6×250 | 5 | OP952505-NP |
| Guard cartridge 4/pk | 4.6×10 | 5 | OP950105-NP |
| Fast analysis | 2.1×30 | 3 | OP930302-NP |
| Fast analysis | 2.1×50 | 3 | OP930502-NP |
| Fast analysis | 2.1×100 | 3 | OP931002-NP |
| Fast analysis | 2.1×150 | 3 | OP931502-NP |
| Fast analysis | 4.6×50 | 3 | OP930502-NP |
| Fast analysis | 4.6×100 | 3 | OP931002-NP |
| Fast analysis | 4.6×150 | 3 | OP931505-NP |
| Guard cartridge | 4.6×10 | 3 | OP930105-NP |

Column Type
Dimension (mm)
Particle Size (µm)
Promosil -C18
General C18,
100Å, 320
m2/g; C%=19
Analytical
2.1×30
5
PM950302-0
Analytical
2.1×50
5
PM950502-0
Analytical
2.1×100
5
PM951002-0
Analytical
2.1×150
5
PM951502-0
Analytical
3.0x30
5
PM950303-0
Analytical
3.0x50
5
PM950503-0
Analytical
3.0x100
5
PM951003-0
Analytical
3.0x150
5
PM951503-0
Analytical
4.6×50
5
PM950505-0
Analytical
4.6×100
5
PM951005-0
Analytical
4.6×150
5
PM951505-0
Analytical
4.6×200
5
PM952005-0
Analytical
4.6×250
5
PM952505-0
Guard cartridge,
4.6×10 pack of 4
5
PM950105-0
Guard cartridge Holder
ID: 2.1, 3.0, 4.6
CH-100
Semi-preparative
10×150
5
PM951510-0
Semi-preparative
10×250
5
PM952510-0
Preparative
20×50
5
PM950520-0
Preparative
20×100
5
PM951020-0
Preparative
20×150
5
PM951520-0
Preparative
20×250
5
PM952520-0
Preparative
30×100
5
PM951030-0
Preparative
30×150
5
PM951530-0
Preparative
30×250
5
PM952530-0
Semi-preparative
10×150
10
PM901510-0
Semi-preparative
10×250
10
PM902510-0
Preparative
20×150
10
PM901520-0
Preparative
20×250
10
PM902520-0
Preparative
30×150
10
PM901530-0
Preparative
30×250
10
PM902530-0
Preparative
50x150
10
PM901550-0
Preparative
50x250
10
PM902550-0
Preparative Guard
20x10
10
PM900120-0
Preparative Guard
20x20
10
PM900220-0
Preparative Guard
20x10
5
PM950120-0
Preparative Guard
20×20
5
PM950220-0
Column Type
Dimension (mm)
Particle Size (µm)
Promosil -C8
General C8, 100Å, 320 m2/g; C%=10
Analytical
2.1×30
5
PM850302-0
Analytical
2.1×50
5
PM850502-0
Analytical
2.1×100
5
PM851002-0
Analytical
2.1×150
5
PM851502-0
Analytical
3.0x30
5
PM850303-0
Analytical
3.0x50
5
PM850503-0
Analytical
3.0x100
5
PM851003-0
Analytical
3.0x150
5
PM851503-0
Analytical
4.6×50
5
PM850505-0
Analytical
4.6×100
5
PM851005-0
Analytical
4.6×150
5
PM851505-0
Analytical
4.6×200
5
PM852005-0
Analytical
4.6×250
5
PM852505-0
Guard cartridge,
4.6×10
5
PM850105-0
Guard cartridge Holder
ID: 2.1, 3.0, 4.6
CH-100
Column Type
Dimension (mm)
Particle Size (µm)
Promosil -CN
high purity; 100 Å, 320m2/g, C%=5
Analytical
2.1×30
5
PM550302-0
Analytical
2.1×50
5
PM550502-0
Analytical
2.1×100
5
PM551002-0
Analytical
2.1×150
5
PM551502-0
Analytical
3.0x30
5
PM550303-0
Analytical
3.0x50
5
PM550503-0
Analytical
3.0x100
5
PM551003-0
Analytical
3.0x150
5
PM551503-0
Analytical
4.6×50
5
PM550505-0
Analytical
4.6×100
5
PM551005-0
Analytical
4.6×150
5
PM551505-0
Analytical
4.6×200
5
PM552005-0
Analytical
4.6×250
5
PM552505-0
Guard cartridge,
4.6×10 , 4/pk
5
PM550105-0
Guard cartridge Holder
Holder 2.1,3.0,4.6
CH-100
Column Type
Dimension (mm)
Particle Size (µm)
Promosil-Silica
high purity; 100A; 320m2/g
Analytical
2.1×30
5
PM050302-0
Analytical
2.1×50
5
PM050502-0
Analytical
2.1×100
5
PM051002-0
Analytical
2.1×150
5
PM051502-0
Analytical
3.0x30
5
PM050303-0
Analytical
3.0x50
5
PM050503-0
Analytical
3.0x100
5
PM051003-0
Analytical
3.0x150
5
PM051503-0
Analytical
4.6×50
5
PM050505-0
Analytical
4.6×100
5
PM051005-0
Analytical
4.6×150
5
PM051505-0
Analytical
4.6×200
5
PM052005-0
Analytical
4.6×250
5
PM052505-0
Guard cartridge,
4.6×10 , 4/pk
5
PM050105-0
Guard cartridge Holder
Holder 2.1,3.0,4.6
CH-100
Semi-preparative
10×150
5
PM051510-0
Semi-preparative
10×250
5
PM052510-0
Preparative
20×50
5
PM050520-0
Preparative
20×100
5
PM051020-0
Preparative
20×150
5
PM051520-0
Preparative
20×250
5
PM052520-0
Preparative
30×100
5
PM051030-0
Preparative
30×150
5
PM051530-0
Preparative
30×250
5
PM052530-0
Semi-preparative
10×150
10
PM001510-0
Semi-preparative
10×250
10
PM002510-0
Preparative
20×150
10
PM001520-0
Preparative
20×250
10
PM002520-0
Preparative
30×150
10
PM001530-0
Preparative
30×250
10
PM002530-0
Preparative
50x150
10
PM001550-0
Preparative
50x250
10
PM002550-0
Preparative Guard
20x10
10
PM000120-0
Preparative Guard
20x20
10
PM000220-0
Preparative Guard
20x10
5
PM050120-0
Preparative Guard
20×20
5
PM050220-0
Column Type
Dimension (mm)
Particle Size (µm)
Promosil -NH2
high purity; 100 Å, 320m2/g,
Analytical
2.1×30
5
PM750302-0
Analytical
2.1×50
5
PM750502-0
Analytical
2.1×100
5
PM751002-0
Analytical
2.1×150
5
PM751502-0
Analytical
3.0x30
5
PM750303-0
Analytical
3.0x50
5
PM750503-0
Analytical
3.0x100
5
PM751003-0
Analytical
3.0x150
5
PM751503-0
Analytical
4.6×50
5
PM750505-0
Analytical
4.6×100
5
PM751005-0
Analytical
4.6×150
5
PM751505-0
Analytical
4.6×200
5
PM752005-0
Analytical
4.6×250
5
PM752505-0
Guard cartridge,
4.6×10 , 4/pk
5
PM750105-0
Guard cartridge Holder
Holder 2.1,3.0,4.6
CH-100

Chiral Columns
Dimension
(mm)
Particle
Matrix (μm)
VCA951505-0
4.6×150
5
VCA952505-0
4.6×250
5
VCA950105-0
4.6×10, 4/pk
5
VCA952520-0
21.2×250
5
VCA950120-0
21.2×10
5
VCO951505-0
4.6×150
5
VCO952505-0
4.6×250
5
VCO950105-0
4.6×10, 4/pk
5
VCO952520-0
21.2×250
5
VCO950120-0
21.2×10
5
VCJ951505-0
4.6×150
5
VCJ952505-0
4.6×250
5
VCJ950105-0
4.6×10, 4/pk
5
VCJ952520-0
21.2×250
5
VCJ950120-0
21.2×10
5
AM951505-1
4.6×150
5
AM952505-1
4.6×250
5
AM950105-1
4.6×10, 4/pk
5
AM952520-1
21.2×250
5
AM950120-1
21.2×10
5

| Column Type | Dimension (mm) | Particle Size (µm) | Venusil SCX |
| --- | --- | --- | --- |
| | | | highest purity>99.999%; Surface Area:200m2/g; Pore Size:150Å, |
| Analytical | 2.1×30 | 3 | VSc930302-0 |
| Analytical | 2.1×50 | 3 | VSc930502-0 |
| Analytical | 2.1×100 | 3 | VSc931002-0 |
| Analytical | 2.1×150 | 3 | VSc931502-0 |
| Analytical | 4.6×50 | 3 | VSc930505-0 |
| Analytical | 4.6×100 | 3 | VSc931005-0 |
| Analytical | 4.6×150 | 3 | VSc931505-0 |
| Analytical | 4.6×200 | 3 | VSc932005-0 |
| Analytical | 4.6×250 | 3 | VSc932505-0 |
| Guard cartridge | 4.6×10 4/pk | 3 | VSc930105-0 |
| Column Type | Dimension (mm) | Particle Size (µm) | Venusil SCX |
| | | | highest purity>99.999%; Surface Aera: 50m2/g,Pore Size: 300Å |
| Analytical | 2.1×30 | 3 | VSc930302-T |
| Analytical | 2.1×50 | 3 | VSc930502-T |
| Analytical | 2.1×100 | 3 | VSc931002-T |
| Analytical | 2.1×150 | 3 | VSc931502-T |
| Analytical | 4.6×50 | 3 | VSc930505-T |
| Analytical | 4.6×100 | 3 | VSc931005-T |
| Analytical | 4.6×150 | 3 | VSc931505-T |
| Analytical | 4.6×250 | 3 | VSc932505-T |
| Guard cartridge | 4.6×10 4/pk | 3 | VSc930105-T |
| Column Type | Dimension (mm) | Particle Size (µm) | Venusil SAX |
| | | | high purity>Surface Aera: 200m2/g,Pore Size: 150Å |
| Analytical | 2.1×30 | 3 | VSa930302-0 |
| Analytical | 2.1×50 | 3 | VSa930502-0 |
| Analytical | 2.1×100 | 3 | VSa931002-0 |
| Analytical | 2.1×150 | 3 | VSa931502-0 |
| Analytical | 4.6×50 | 3 | VSa930505-0 |
| Analytical | 4.6×100 | 3 | VSa931005-0 |
| Analytical | 4.6×150 | 3 | VSa931505-0 |
| Analytical | 4.6×250 | 3 | VSa932505-0 |
| Guard cartridge | 4.6×10 4/pk | 3 | VSa930105-0 |
| Column Type | Dimension (mm) | Particle Size (µm) | Venusil SAX |
| | | | high purity>Surface Aera: 50m2/g,Pore Size: 300Å |
| Analytical | 4.6×100 | 3 | VSa931005-T |
| Analytical | 4.6×150 | 3 | VSa931505-T |
| Analytical | 4.6×250 | 3 | VSa932505-T |
| Guard cartridge | 4.6×10 4/pk | 3 | VSa930105-T |

| Column Type | Dimension (mm) | Particle Size (µm) | Venusil SCX |
| --- | --- | --- | --- |
| | | | highest purity>99.999%; Surface Area:200m2/g; Pore Size:150Å, |
| Analytical | 2.1×30 | 5 | VSc950302-0 |
| Analytical | 2.1×50 | 5 | VSc950502-0 |
| Analytical | 2.1×100 | 5 | VSc951002-0 |
| Analytical | 2.1×150 | 5 | VSc951502-0 |
| Analytical | 4.6×50 | 5 | VSc950505-0 |
| Analytical | 4.6×100 | 5 | VSc951005-0 |
| Analytical | 4.6×150 | 5 | VSc951505-0 |
| Analytical | 4.6×200 | 5 | VSc952005-0 |
| Analytical | 4.6×250 | 5 | VSc952505-0 |
| Guard cartridge | 4.6×10 4/pk | 5 | VSc950105-0 |
| Column Type | Dimension (mm) | Particle Size (µm) | Venusil SCX |
| | | | highest purity>99.999%; Surface Aera: 50m2/g,Pore Size: 300Å |
| Analytical | 2.1×30 | 5 | VSc950302-T |
| Analytical | 2.1×50 | 5 | VSc950502-T |
| Analytical | 2.1×100 | 5 | VSc951002-T |
| Analytical | 2.1×150 | 5 | VSc951502-T |
| Analytical | 4.6×50 | 5 | VSc950505-T |
| Analytical | 4.6×100 | 5 | VSc951005-T |
| Analytical | 4.6×150 | 5 | VSc951505-T |
| Analytical | 4.6×250 | 5 | VSc952505-T |
| Guard cartridge | 4.6×10 4/pk | 5 | VSc950105-T |
| Column Type | Dimension (mm) | Particle Size (µm) | Venusil SAX |
| | | | high purity>Surface Aera: 200m2/g,Pore Size: 150Å |
| Analytical | 2.1×30 | 5 | VSa950302-0 |
| Analytical | 2.1×50 | 5 | VSa950502-0 |
| Analytical | 2.1×100 | 5 | VSa951002-0 |
| Analytical | 2.1×150 | 5 | VSa951502-0 |
| Analytical | 4.6×50 | 5 | VSa950505-0 |
| Analytical | 4.6×100 | 5 | VSa951005-0 |
| Analytical | 4.6×150 | 5 | VSa951505-0 |
| Analytical | 4.6×250 | 5 | VSa952505-0 |
| Guard cartridge | 4.6×10 4/pk | 5 | VSa950105-0 |
| Column Type | Dimension (mm) | Particle Size (µm) | Venusil SAX |
| | | | high purity>Surface Aera: 50m2/g,Pore Size: 300Å |
| Analytical | 4.6×100 | 5 | VSa951005-T |
| Analytical | 4.6×150 | 5 | VSa951505-T |
| Analytical | 4.6×250 | 5 | VSa952505-T |
| Guard cartridge | 4.6×10 4/pk | 5 | VSa950105-T |

Column Type
Dimension (mm)
Particle Size (µm)
Venusil HLP (C18-Amide)
Great for basic compounds, improved perfornance for polar compounds and steric isomers; Surface Area: 320m2/g, Pore Size: 100Å, C%=19, metal<30PPM, pH 2-8
Analytical
4.6×50
5
VHL950505-0
Analytical
4.6×100
5
VHL951005-0
Analytical
4.6×150
5
VHL951505-0
Analytical
4.6×200
5
VHL952005-0
Analytical
4.6×250
5
VHL952505-0
Guard Cartridge
4.6×10, 4/pk
5
VHL950105-0
Guard Cartridge
4.6×10, 4/pk
5
VHL950105-0S
Semi-preparative
10×150
5
VHL951510-0
Semi-preparative
10×250
5
VHL952510-0
Preparative
21.2×50
5
VHL950520-0
Preparative
21.2×100
5
VHL951020-0
Preparative
21.2×150
5
VHL951520-0
Preparative
21.2×250
5
VHL952520-0
Preparative
30×150
5
VHL951530-0
Preparative
30×250
5
VHL952530-0
Semi-preparative
10×150
10
VHL901510-0
Semi-preparative
10×250
10
VHL902510-0
Preparative
21.2×50
10
VHL900520-0
Preparative
21.2×100
10
VHL901020-0
Preparative
21.2×150
10
VHL901520-0
Preparative
21.2×250
10
VHL902520-0
Preparative
30×150
10
VHL901530-0
Preparative
30×250
10
VHL902530-0
Preparative
50×250
10
VHL902550-0
Column Type
Dimension (mm)
Particle Size (µm)
Venusil PAH (C18-Polymer)
Separation of PAHs and steric isomers of the
aromatic compounds; Surface Area: 320m2/g, Pore Size: 200Å, C%=17, metal<30PPM, pH 1.5-9.0
Analytical
2.1×250
5
VP952502-L
Analytical
4.6×250
5
VP952505-L
Analytical
4.6×150
5
VP951505-L
Guard Cartridge
2.1×10, 4/pk
5
VP950102-L
Guard Cartridge
4.6×10, 4/pk
5
VP950105-L
Guard Cartridge
2.1×10, 4/pk
5
VP950102-LS
Guard Cartridge
4.6×10, 4/pk
5
VP950105-LS

Column Type
Dimension (mm)
Particle Size (µm)
GF
ultra pure,high porosity;
bonded 120Å,
Analytical
4.6x 150
5
GF151505-0
Analytical
4.6x 250
5
GF152505-0
Analytical
4.6x 150
10
GF101505-0
Analytical
4.6x 250
10
GF102505-0
Semi-prep.
10x150
5
GF151510-0
Semi-prep.
10x250
5
GF152510-0
Semi-prep.
10x150
10
GF101510-0
Semi-prep.
10x250
10
GF102510-0
Column Type
Dimension (mm)
Particle Size (µm)
GF 300
ultra pure,high porosity;
bonded 300Å,
Analytical
4.6x 150
5
GF351505-0
Analytical
4.6x 250
5
GF352505-0
Analytical
4.6x 150
10
GF301505-0
Analytical
4.6x 250
10
GF302505-0
Semi-prep.
10x150
5
GF351510-0
Semi-prep.
10x250
5
GF352510-0
Semi-prep.
10x150
10
GF301510-0
Semi-prep.
10x250
10
GF302510-0
Column Type
Dimension (mm)
Particle Size (µm)
GF amide
ultra pure,high porosity;
bonded with amide 120Å,
Analytical
4.6x 150
5
GF151505-A
Analytical
4.6x 250
5
GF152505-A
Analytical
4.6x 150
10
GF101505-A
Analytical
4.6x 250
10
GF102505-A
Semi-prep.
10x150
5
GF151510-A
Semi-prep.
10x250
5
GF152510-A
Semi-prep.
10x150
10
GF101510-A
Semi-prep.
10x250
10
GF102510-A
Column Type
Dimension (mm)
Particle Size (µm)
GFamide-300
ultra pure,high porosity;
bonded with amide 300Å,
Analytical
4.6x 150
5
GF351505-A
Analytical
4.6x 250
5
GF352505-A
Analytical
4.6x 150
10
GF301505-A
Analytical
4.6x 250
10
GF302505-A
Semi-prep.
10x150
5
GF351510-A
Semi-prep.
10x250
5
GF352510-A
Semi-prep.
10x150
10
GF301510-A
Semi-prep.
10x250
10
GF302510-A